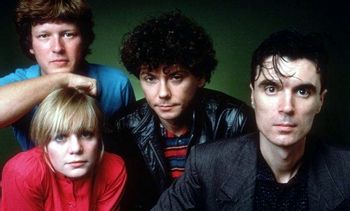 Influences:
Influenced:
David Bowie, Brian Eno, Kate Bush, Peter Gabriel, King Crimson, Fleetwood Mac, Paul McCartney, Pearl Jam, Tears for Fears, Depeche Mode, Radiohead, Phish, White Lies, Widespread Panic, Metric, The Weeknd, Vampire Weekend, Foals, Primus, St. Vincent, The 1975, Bell X1, Kesha, Nelly Furtado, The Pixies, R.E.M., Red Vox, Lady Gaga, Nine Inch Nails, Rush, "Weird Al" Yankovic, Joy Division, Richard Wright (Pink Floyd)...
Letting the days go by, let the water hold me down
Letting the days go by, water flowing underground
Into the blue again, after the money's gone
Once in a lifetime, water flowing underground.
— "Once in a Lifetime"
Talking Heads was an American rock band formed in 1974 in New York City and active until 1991. The band comprised vocalist / guitarist David Byrne, drummer Chris Frantz, bassist Tina Weymouth (married to Frantz), and guitarist / keyboardist Jerry Harrison. Auxiliary musicians also frequently made appearances in concert and on the group's albums.
The musical style of Talking Heads combined elements of post-punk, new wave, punk rock, avant-garde, pop, funk, afrobeat and art rock. Essentially, they're post-punk's Spiritual Antithesis to the likes of Joy Division and The Cure. Frontman and songwriter David Byrne contributed whimsical, esoteric lyrics to the band's songs, and emphasized their showmanship through various multimedia projects and performances. The band worked with famous Record Producer Brian Eno on all their albums between 1978–80, whose influence steered them towards their Signature Style dominated by incredibly dense, hypnotic funk grooves over which Byrne would improvise his vocals. They parted ways with Eno after their masterpiece Remain in Light and continued with a Lighter and Softer sound for the rest of their career, to increasing dissatisfaction from fans and critics. In 1986, they made a movie called True Stories, starring Byrne as the narrator and accompanying a concurrent studio album consisting of the band performing the songs from the movie (ironically, the film itself falls under the trope Talking Heads).
In 1988, Talking Heads announced that they would be taking a hiatus following the release of their eighth album, Naked; three years later, they released the song "Sax and Violins" as a single to promote the soundtrack album to the film Until the End of the World, on which it was included. In December of 1991, the band officially announced that they had parted ways, the end result of longstanding tensions between David Byrne and the rest of the band; shortly after, Frantz, Harrison, and Weymouth regrouped under the name Shrunken Heads to continue live performances. In 1996, under the shortened name the Heads, the three recorded No Talking, Just Head
, an album on which Byrne was replaced by a new guitarist and a variety of guest singers, including Debbie Harry, Shaun Ryder, Michael Hutchence, Andy Partridge and Johnette Napolitano of Concrete Blonde (who sang lead on the accompanying tour). The album was not well received, and its success was hampered by Byrne filing a trademark infringement lawsuit against the band, which delayed its release. The full original lineup has since reunited exactly once, performing three songs for their induction ceremony to the Rock & Roll Hall of Fame in 2002.
Talking Heads is often considered one of the best and most influential bands in popular music since The Beatles, with their first five albums in particular being considered both hallmarks and highlights of the American side of the Post-Punk movement; their progressive-yet-accessible output was particularly noted as playing a major part in shaping popular music as a whole during and after their lifetime, with author Bill Martin writing that "a good deal of the more interesting rock since that time is clearly 'post-Talking Heads' music." In particular, the band is considered in hindsight to be a major influence in the development of Alternative Rock, which they themselves would wind up participating in during the latter years of their career (though the public's awareness of this only came about in hindsight decades later). Even before Remain in Light and before the emergence of alternative rock, the band were already influencing the likes of David Bowie, Peter Gabriel, Fleetwood Mac, Richard Wright of Pink Floyd, Kate Bush, and, sure enough, former Beatle Paul McCartney, as well as popularizing World Music in the West. Even Tim & Eric cited the band, particularly David Byrne's strange mannerisms, as an influence on their comedy.
Four of Talking Heads' albums appeared on Rolling Stone magazine's 2003 list of the 500 Greatest Albums of All Time, and the Channel 4 100 Greatest Albums poll listed one album (Fear of Music) at number 76. In addition, their concert film Stop Making Sense is widely regarded as one of the finest examples of the genre, and later concert films owe quite a lot to it. Rolling Stone later named them the 100th greatest artist of all time on their updated list.
---
Discography:
Studio Albums:
<!—index—>
Live Albums:
<!—/index—>
Compilations:
Sand in the Vaseline: Popular Favorites (1992)note
Once in a Lifetime: The Best of Talking Heads (1992)note
Once in a Lifetime (2003)
The Best of Talking Heads (2004)
Talking Heads (2005)note
Bonus Rarities and Outtakes (2006)
Miscellaneous Works:
"Love → Building on Fire" (1977)note
Stop Making Sense (1984)note
Storytelling Giant (1988)note
"Sax and Violins" (1991)note
No Talking, Just Head (1996)note
---
"And you may say to yourself, 'these are not my beautiful tropes'":
---
Statler:
Same as it ever was.
Waldorf:
Same as it ever was.
Statler:
Yeah...
Both, in unison:
Terrible!
Doh ho ho ho...