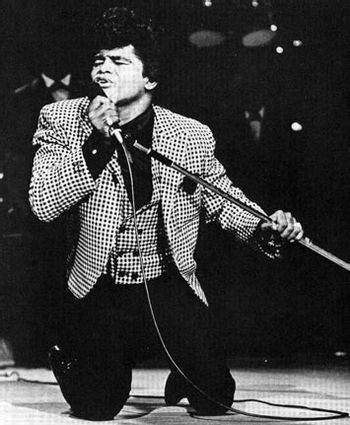 "WOOOW! I feel good!"
note
— James Brown, "I Got You (I Feel Good)"
Also, Soul Brother Number One, Sex Machine, Mr. Dynamite, The King of Soul, Mr. Please-Please-Please, The King of Funk, and last but not least, The Hardest Working Man In Show Business.
James Joseph Brown, Jr. (May 3, 1933 - December 25, 2006) was one of the biggest music stars of all time. This singer, dancer, and bandleader left his mark on rock, R&B, and soul, and practically invented funk music. His live performances were extremely memorable, and Live at the Apollo is considered one of the best albums, let alone live albums, of all time. He was also famous for his social activism, solidifying his influence on African-American culture. Brown's accolades include a Grammy Lifetime Achievement Award, Kennedy Center Honors, and inductions into the Rock & Roll Hall of Fame (as part of its initial class of 1986) and Songwriters Hall of Fame.
Brown's musical output is… prolific, to say the least. Brown actively recorded from 1959 to 1981, with varying amounts of live albums coming out every so often. During his heyday in the late '60s to mid-'70s, he put out anywhere from six to nine singles, and two to four albums, per year. His stage show and presence were bombastic and always brimming with energy. Live recordings became more and more prevalent when Brown stopped recording in the studio.
Brown's music is also the most sampled music catalogue ever. The drum break from "Funky Drummer
" is the most sampled song of all time with over 900 tabulated uses of the song on the site WhoSampled. Several other songs have his, including "Funky President (People It's Bad)", "The Payback", "Get Up, Get Into It, Get Involved" and "Say It Loud - I'm Black and I'm Proud" have each been sampled several hundred times.
He was Michael Jackson's greatest idol when he was a child, as seen by how much his music and dance styles are influenced by James Brown, and Michael paid tribute to him many times throughout his career. James Brown later invited Michael
onstage in 1983.
Sadly died of pneumonia in 2006, on Christmas Day no less. But his legacy lives on and in 2014, a biographical film, Get On Up, was made about his life.
Albums with trope pages:
---
"Papa's got a brand new trope":
---