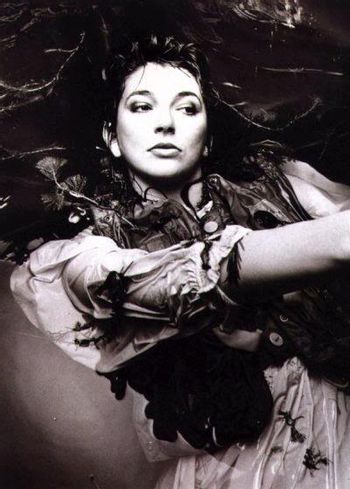 "'Running Up That Hill' has been called the greatest pop song ever. Now, the rational part of my brain says
"Clearly that's rubbish, how can you quantify something like that?"
Thing is... 'Running Up That Hill' clearly is the greatest pop song ever created. I mean, it just
is
."
—
Jack Graham
Catherine "Kate" Bush, CBE (born 30 July 1958) is unique among musicians on the planet. Besides her eccentric music, she is known for her unforgettable voice. At first, it was high-pitched. Her voice got deeper (and arguably better) over the years. Her music cannot be shoehorned into one category. Usually, people just label her as "art rock" or "alternative" and call it a day. She has touched many genres, including pop, electronic, jazz, flamenco, rock, waltz, Renaissance, and disco-funk. Her lyrics are another unique aspect of her music. They are often based on history, films and literature, such as her signature song "Wuthering Heights", which was inspired by the 1970 film and the book.
Kate was a musical prodigy. She was signed by EMI at the age of 16 after being recommended by Pink Floyd's David Gilmour, who was amazed by her voice and talent as a pianist. In 1978, at age 19, she topped the UK Singles Chart for four weeks with her debut song "Wuthering Heights", becoming the first woman to have a UK number-one with a self-written song. She later released her debut album The Kick Inside, which proved that teenagers are capable of releasing quality music.
The success of The Kick Inside forced her to make a quick follow-up album, Lionheart. It contains one of her most well-known songs, "Wow". She followed up with her first tour, called the Tour of Life, which she was very involved in creating. It was quite theatrical. Kate had a costume change after virtually every single song, and she danced and moved gracefully on the stage with a few dancers and mostly eschewed playing piano. Even though it was filmed, only an edited version is available. One-and-a-half hours were left out, so it could be shown on TV. It's highly unlikely that the full concert will be released. Fortunately, some performances can be found on YouTube.
While she liked the experience of touring, it was very exhausting to her, and it detracted from her making new music.
When she was making her third album, she was exposed to drum machines & synthesizers (especially the Fairlight CMI), which became a part of her sound. In 1980, she released it under the name Never for Ever. It included the hit "Babooshka". It was the first album she co-produced. She took complete control of the production in her next album The Dreaming. It was very loud, percussive, and aggressive; a drastic change from the relatively calm music she was known for. It was initially not well-received, but it has been Vindicated by History as one of her masterpieces.
In 1985, her most famous album Hounds of Love was released. It was quite a revolutionary album. It made her famous in America, and it is considered one of the best albums released by a solo female artist. Its lead single "Running Up That Hill (A Deal with God)" was deservedly a major worldwide hit. The album was ahead of its time, and is still influential. The next year, she released her Greatest Hits Album The Whole Story, which is her best-selling album. She also performed the duet "Don't Give Up" with Peter Gabriel on his own bestselling art pop album, So (1986).
Kate continued to make unique music with the release of The Sensual World & The Red Shoes. The latter was accompanied with a short film called The Line, The Cross and the Curve. Kate then took a 12-year hiatus. She took that time to raise her son, and to record her comeback album Aerial, which was very well-received. It sold 1.5 million copies, despite little promotion from Kate. After a contribution to the soundtrack to The Golden Compass, Kate dropped out of the public eye yet again until May 2011, in which an album full of re-recorded songs originally on The Sensual World and The Red Shoes was released. An album of brand new material, entitled 50 Words for Snow, was released on November 21, 2011.
Kate remains one of the most influential female artists ever. If Joni Mitchell paved the way for female musicians, then Kate paved the way for eccentric female musicians. Kate has since passed the torch on to people like Tori Amos, Björk, Lady Gaga, and Florence + the Machine, ensuring that the world will always have creative, eccentric music and musicians. In 2002, her songwriting ability was recognised with an Ivor Novello Award for Outstanding Contribution to British Music. She was also one of the first musicians to develop a following on the internet through the rec.music.gaffa newsgroup on Usenet.
In 2014, she announced she would be doing her first live shows since 1979 with a run of performances at the Hammersmith Apollo in London. The twenty-two concerts, entitled Before The Dawn, sold-out in minutes of being made available to the public, and were critically acclaimed. The concert's live recordings were later made available on CD and vinyl in December 2016.
You can vote for your favourite Kate Bush studio album by heading over to the Best Album Crowner!
---
Discography:
The Kick Inside (1978)
Lionheart (1978)
On Stage (1979, EP containing tracks recorded live in London)
Never for Ever (1980)
The Dreaming (1982)
Hounds Of Love (1985, which contains the sidelong concept piece The Ninth Wave)
The Whole Story (1986, a greatest hits collection that included two new tracks)
The Sensual World (1989)
This Woman's Work (1990, box set compiling her first six albums, but two CDs of additional material)
The Red Shoes (1993)
Aerial (2005, a double album)
Director's Cut (2011, which consisted of re-recordings of songs from The Sensual World and The Red Shoes)
50 Words for Snow (2011)
Before The Dawn (2016, a live album)
Guest appearances
So (1986) by Peter Gabriel (she sings "Don't Give Up" on this album)
The Seer (1986) by Big Country (sings backing vocals on the title track)
---
Tropes of Love:
Works, people, and other things that inspired Kate songs:
The Innocents - "The Infant Kiss"
Elvis Presley - "King of the Mountain"
Joan of Arc - "Joanni"
The Shining - "Get Out of My House"
Peter Pan - "In Search of Peter Pan"
Ulysses - "The Sensual World"
The Vietnam War - "Pull Out the Pin"
Harry Houdini - "Houdini"

Houdini's most famous trick was the Chinese Water Torture Cell. In the song she is Houdini's wife/assistant, and she passes him the key to the locks via a kiss just before he goes into the tank. The line right before that one is, "With a kiss I'd pass the key, and feel your tongue teasing and deceiving..." The tone is foreshadowing Houdini's death during the trick later in the song, which unfortunately is not doing the research — Houdini died of peritonitis.
The 1953 film Houdini starring Janet Leigh and Tony Curtis, does however, end with Houdini dying in the Chinese Water Torture cell and not of peritonitis. If we assume that Kate saw the movie then she most definitely *did* do the research.

The Bride Wore Black - "The Wedding List"
The Abominable Snowman - "Wild Man"
Wilhelm Reich - "Cloudbusting". Specifically, she read a biography by Reich's son, a copy of which appears as a Shout-Out in the music video. See Artistic License for the whole story.
---
And if I only could, I'd make a deal with God, and I'd get him to swap our places
Be running up that road, be running up that hill, with no problems.