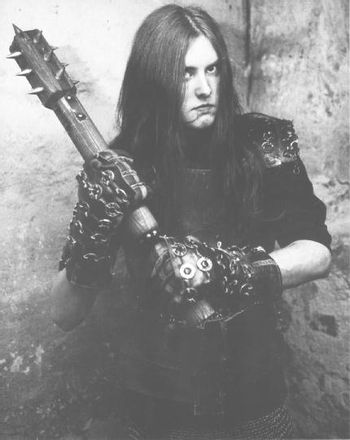 "There's more chaos, war, pollution now than ever before in our recorded history. Of course, we might have known a period with worse conditions, but the Christians burnt all the records that could tell us about it.
"
— Varg Vikernes
Burzum (Black Speech of Mordor for "darkness") was a one-man black metal project by Norwegian musician Varg Vikernes (born February 11, 1973), notorious within music history for burning churches, killing Mayhem's guitarist Euronymous, and being a white supremacist. The project's music has been regarded as some of the most influential black metal ever released, particularly pioneering the ambient variant of the genre.
Founded in 1991, Burzum was initially based in a raw black metal sound, and quickly became prominent within the genre's Norwegian scene. The project was signed to Deathlike Silence Productions, the record label run by Øystein Aarseth (aka Euronymous). Vikernes released four albums under the Burzum name before his arrest in 1994 for the murder of Euronymous (whom he stabbed, allegedly over a contract dispute), as well as the arson of several churches in the area. While in prison, Vikernes recorded two dark ambient albums, the result of being unable to use equipment other than a synthesizer and a tape recorder, which had a more mixed reception from the metal community than the rest of his albums.
Around a decade later, Vikernes was released in 2009 on parole, and continued releasing music from the early to mid-2010s. In 2018, he officially announced the end of Burzum, stating that he had moved on from the project, but tweeted in late 2019 that he intended to release another album under the name. The album, Thulêan Mysteries, was released in early 2020, and Vikernes has confirmed that it will be the final output from Burzum.
Discography:
Burzum (black speech for "Darkness"), 1992
Aske (Norwegian for "Ashes"; EP), 1993
Det som engang var (Norwegian for "What Once Was"), 1993
Hvis lyset tar oss (Norwegian for "If the Light Takes Us"), 1994
Filosofem (Norwegian for "Philosopheme"), 1996
Dauði Baldrs (Old Norse for "Baldr's Death"), 1997
Hliðskjálf (the name of Odin's throne in Norse Mythology), 1999
Belus (Proto-Indo-European name of Baldr/Apollo/Belenus/Belobog, according to Vikernes), 2010
Fallen, 2011
Umskiptar (Old Norse for "Metamorphosis"), 2012
Sôl austan, Mâni vestan (Old Norse for "East of the Sun, West of the Moon"), 2013
The Ways of Yore, 2014
Thulêan Mysteries, 2020
Dauði Baldrs, Hliðskjálf, Sôl austan, Mâni vestan, The Ways of Yore, and Thulêan Mysteries are ambient albums; the remainder are primarily metal (though they typically have at least one ambient song).
---
Varg Vikernes and his music provide the following trope examples:
---
---