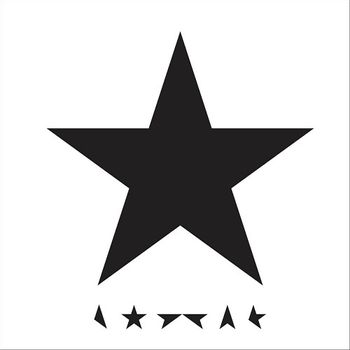 Something happened on the day he died
Spirit rose a meter then stepped aside
Somebody else took his place and bravely cried:
"I'm a Blackstar! I'm a Blackstar!"
★ (pronounced Blackstar) is the twenty-sixth and final studio album by David Bowie, released on January 8th, 2016 (Bowie's 69th birthday) through ISO & Columbia Records.
The album reflects a somewhat new sound for Bowie, being influenced by avant-garde jazz, Progressive Rock, hip-hop acts such as Death Grips and Kendrick Lamar, and electronic acts such as Boards of Canada. Having been diagnosed with liver cancer in 2014, Bowie dedicated the album to exploring his newfound awareness of his mortality, not knowing whether or not he'd survive his ailment and preparing for the possibility of him having to die. Indeed, Bowie's fears would turn out correct; while shooting the music video for "Lazarus", he was informed that his cancer had become terminal. He would die on January 10, 2016, just two days after the album's release.
The record was a commercial success, selling hundreds of thousands of copies in its first week of release and making Bowie the highest-selling vinyl artist of the year. Debuting at No. 1 in both the US and UK and topping the charts in 22 other countries (plus Scotland), it marked Bowie's first album to top the Billboard 200, additionally topping Billboard's Top Alternative Albums, Top Rock Albums, and Top Tastemaker Albums chartsnote for those curious about the exact list of countries where it topped the charts, in addition to the US, UK, and Scotland, it also was a chart-topper in Australia, Austria, Belgium (on both the Ultratop Flanders and Ultratop Wallonia charts), Canada, Croatia, the Czech Republic, Denmark, the Netherlands, Finland, France, Germany, Ireland, Italy, New Zealand, Poland, Portugal, Russia, Spain, Sweden, and Switzerland. ★ would go on to become the 5th best-selling album of 2016 in the world, later being certified double-platinum in the Netherlands, platinum in the UK, Australia, Austria, Belgium, Canada, Denmark, France, Italy, Poland, and Switzerland, and gold in the US, Germany, New Zealand, Portugal, Spain, and Sweden.
★ was supported by three singles: the Title Track, "Lazarus", and "I Can't Give Everything Away". "Lazarus" was the last single to be released during Bowie's lifetime. On a somewhat more trivial note, "★" was, at the time of its release, the longest song to ever chart on the Billboard 100 (running just under ten minutes and peaking at No. 78) until tool broke the record with the 10:21 "Fear Inoculum" in 2019.
---
Tracklist:
Side 1
"★" (9:57)
"'Tis a Pity She Was a Whore" (4:52)
"Lazarus" (6:22)
Side 2
"Sue (Or in a Season of Crime)" (4:40)
"Girl Loves Me" (4:51)
"Dollar Days" (4:44)
"I Can't Give Everything Away" (5:47)
---
Seeing more but troping less:
---