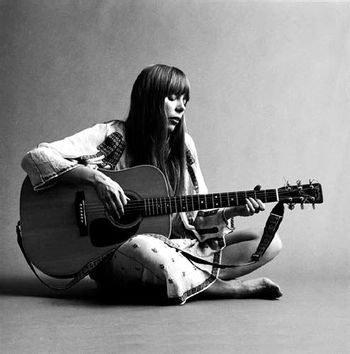 "I want the full hyphen: folk-rock-country-jazz-classical, so finally when you get all the hyphens in, maybe they'll drop them all, and get down to just some American music."
Roberta Joan "Joni" Mitchell (née Anderson, born November 7, 1943) CC is a Canadian singer, song-writer and painter. She was born in Alberta, and began singing around the age of nine, after a case of polio. To get the biographical data out of the way: she made a short attempt to go to college, leaving after a year; in 1965, she gave birth to a girl, but not long after, she gave the girl up for adoption. She married Chuck Mitchell later that same year.
Now on to the important bits. She made her breakthrough in the mid 1960s, relocating to New York City and travelling up and down the Northeast coast, playing in cafes and bars. Many of the songs she had written and sung were covered by other artists during this time, a trend that would continue as her popularity grew. Many of these covers allowed these artists to eclipse Mitchell's own career, including Judy Collins' cover of "Both Sides, Now", which became a top ten hit in 1967.
It wasn't until 1970 that she reached mainstream success, under the guidance of producer David Crosby, of Crosby, Stills, and Nash, winning Grammy Award for Best Folk Performance for her album Clouds. She continued to recieve critical and commercial success, incorporating more and more jazz-influenced songs compared to her previous acoustic work. By the 1980s, her work failed to reach the same success as before, with 1979's Mingus (a collaboration with Charles Mingus) being her first album not to sell at least half a million copies.
This trend continued until the 1990s, particularly after the release of the Grammy-awards CD Turbulent Indigo in 1994. This is largely thanks to a return to her original sound and playing style. Her newfound success would continue until her retirement in 2002, though she later released several new CDs since then. A memoir is also supposedly in the works. She suffered an aneurysm in 2015 that caused her to take a step back from the spotlight as she still has trouble talking.
She was inducted into the Rock & Roll Hall of Fame in 1997 and the Canadian Music Hall Of Fame in 1981. Mitchell also received a Companion Of The Order Of Canada citation and the Governor General's Performing Arts Award for Lifetime Artistic Achievement.
Mitchell musical style consists of non-standard guitar tuning, elaborate orchestration (occasionally verging on Baroque Pop territory), lush vocal harmonies, and borrowing elements from various genres (rock, jazz, New Wave, folk and pop, for starters).
Discography:
Song to a Seagull (1968)
Clouds (1969)
Ladies of the Canyon (1970)
Blue (1971)
For the Roses (1972)
Court and Spark (1974)
Miles of Aisles (1974) (live album)
The Hissing of Summer Lawns (1975)
Hejira (1976)
Don Juan's Reckless Daughter (1977)
Mingus (1979)
Shadows and Light (1980) (live album)
Wild Things Run Fast (1982)
Dog Eat Dog (1985)
Chalk Mark in a Rain Storm (1988)
Night Ride Home (1991)
Turbulent Indigo (1994)
Taming the Tiger (1998)
Both Sides Now (2000)
Travelogue (2002)
Shine (2007)
Amchitka, The 1970 Concert That Launched Greenpeace (2009) (live album)
---
Tropes in her life and work include:
---