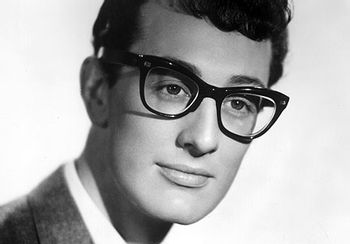 "Yeah... Buddy Holly... check m' out... bad motherfucker. Holly passed it on via The Beatles and via us. He's in everybody... this is not bad for a guy from Lubbock, right?"
Born Charles Hardin Holley, Buddy Holly (September 7, 1936 – February 3, 1959
) was a tragic pioneer of Rock & Roll, and one of the three musicians whose death became known as The Day the Music Died. He was born in Lubbock, Texas, into a family where almost everybody played an instrument and sang Country Music. He got his nickname Buddy as a child. He started learning piano and guitar at 11, and was influenced by country & western, bluegrass, rhythm & blues, and the music of his church. He formed a band with his best friend Bob Montgomery, and got a gig at a local radio station, adding bassist Larry Welborn and drummer Jerry Allison. There he heard, and covered, the first rock songs, just as they were coming out in 1954 and '55, before rock became mainstream.
Decca Records' country music division signed him in early '56 (chopping the 'e' out of his last name), and amidst heavy Executive Meddling, he recorded some material, including an early version of "That'll Be The Day". But Decca didn't know what to do with him, and didn't renew his contract.
In late '56, in need of a fresh start, he contacted independent record producer Norman Petty. Norman advised him to go back home to Lubbock, and put together a band and some songs. Buddy formed the Crickets in early 1957, with Jerry, rhythm guitarist Niki Sullivan, and bassist Joe B. Mauldin. They recorded a new version of "That'll Be the Day", and a B-Side, "I'm Looking for Someone to Love", at Norman's studio in Clovis, New Mexico. These demos landed Buddy two contracts, with Brunswick as The Crickets, and with Coral as a solo artist. (Ironically, both labels were Decca subsidiaries.) Brunswick finally released "That'll Be the Day" in May, and it took a couple of months to take off. Meanwhile, Buddy and the Crickets recorded more songs at Norman's studio. The bulk of Buddy's most famous work was recorded at these sessions, between February and July 1957.
"That'll Be the Day" was their first big hit. They hired Norman as manager, and set off on tour in August 1957. As they toured, more singles from the Clovis sessions were released, including the hits "Peggy Sue" and "Oh Boy!", and after a new session to fill it out, the album The "Chirping" Crickets. They played on American Bandstand and The Ed Sullivan Show, and were international stars by the time they came back home in December. Niki left at this point, sick of touring, and the Crickets continued as a trio. They toured Australia, Britain, and America again in early 1958. Meanwhile, the Clovis sessions produced more singles, including the hit "Maybe Baby". A session in New York produced the hit "Rave On!" and filled out his next album, Buddy Holly. Decca cashed in on his success by releasing his mediocre work from 1956 on the album That'll Be the Day, which would turn out to be the last album released during Buddy's lifetime.
The touring finally slowed down in late spring. Buddy got back to writing and recording, with and without the Crickets. He also met Maria Elena Santiago in June. They married in August of the same year. Back home in Lubbock, he met new friends, including Tommy Allsup, who joined the Crickets on lead guitar. Buddy experimented with pop ballads, recording four songs in New York with an orchestra. On a short tour in October, rifts developed in the band, and Buddy decided to leave Norman Petty and move to New York. The band stayed behind.
In New York, he made many plans: An album with Ray Charles, a gospel album, a country-rock album, a new home for his parents, a studio in Lubbock, maybe even a career in movies. He also made some home demos, known today as the Apartment Tapes, in December '58 and January '59. Meanwhile, the last single released during his lifetime, "It Doesn't Matter Anymore"/"Raining in My Heart", from the New York orchestral sessions, came out on January 5.
He agreed to headline a package tour with J. D. "The Big Bopper" Richardson, Ritchie Valens, and Dion and the Belmonts. He put together a new Crickets, with Tommy Allsup, and a couple of aspiring young Lubbock musicians: Waylon Jennings on bass, and Carl Bunch on drums. The Winter Dance Party tour, beginning on January 23, 1959, was a miserable experience. They played every night, and when they weren't on stage, they were riding a bus through the middle of winter in Wisconsin, Minnesota, and Iowa. Bus after bus broke down, leaving them stranded in the cold. The Big Bopper caught a cold, and Carl Bunch got frostbite and had to go to the hospital. Clothes didn't get washed, and nobody got any rest. After a show in Clear Lake, Iowa, more than 400 miles lay between them and the next stop in Moorhead, Minnesota. Buddy decided to charter a plane for himself and his band, which would give them time to rest and do the laundry. The other musicians found out about the flight, and begged for a ride. The Big Bopper got Waylon's seat, and Ritchie Valens got Tommy's.
And so, just before 1 a.m., February 3, 1959, with bad weather moving in, Buddy, The Big Bopper, and Ritchie Valens took off from an airport in Mason City, Iowa, and flew into history.
His life story was adapted as the film The Buddy Holly Story and the musical Buddy.
Holly was part of the inaugural 1986 class of Rock & Roll Hall of Fame inductees.
Official site
---
Discography during his lifetime:
The "Chirping" Crickets (1957)
Buddy Holly (1958)
That'll Be the Day (1958)
Best CD Collections:
Gold (2005)
Not Fade Away: The Complete Studio Recordings and More (2009), for the hardcore fan
---
Emotional depth and honesty. Before Buddy, rock tended to be about Intercourse with You; but love and lust are different things. Buddy was about love. What mattered most to him were the emotions his characters felt about their love interests.
The self-contained band that wrote its own songs. Previously, agents known as "Artists and Repertoire", or A&R men, would hook up singers with songs, and instruments were played by session musicians. The Beatles are the ones most credited with changing that, but they were actually following the Crickets. (Incidentally, a cover of "That'll Be the Day" was the very first song recorded by the Quarry Men, the Beatles' precursors. And the Fab Four would go on to cover Holly's "Words of Love" on Beatles for Sale years later.)
Multiple simultaneous recording contracts.
Use of the Fender Stratocaster.
Odd percussion: Paradiddles in "Peggy Sue", hands slapping knees in "Everyday", and ride cymbal only in "Well All Right". Also non-traditional instrumentation, like the celesta that's prominently featured in "Everyday".
Dying too soon, leaving everyone to wonder what might have been.
---
"You know my tropes not fade away":
---
"I'm gonna tell you how it's gonna be, you're gonna give your love to me

A love to last more than one day; a love that's love, not fade away....."