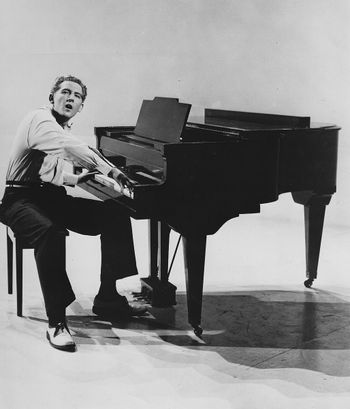 "I chew my nails and I twiddle my thumbs
I'm real nervous, but it sure is fun!
C'mon baby, you drive me crazy
Goodness gracious, great balls of fire!"
— "Great Balls of Fire"
Jerry Lee Lewis (born September 29, 1935) is an American rock and country pioneer, as well as one of the Million Dollar Quartet with Elvis Presley, Carl Perkins and Johnny Cash, fellow Sun Records artists.
Known primarily for such hits as "Great Balls of Fire", "Whole Lotta Shakin' Goin' On", his Signature Style of piano-playing (flamboyant, with a lot of glissando, getting up on the piano, etc.), and the Kissing Cousins scandal (in which his wife was discovered to not only be his first cousin once removed* First cousins have (at least) one grandparent in common. "Once removed" means that one cousin's grandparent is the other's great-grandparent., but also just 13 years old) that almost completely derailed his career. Later on, he reinvented himself as a fairly successful mainstream Country Music artist.
He has his own Biopic, Great Balls of Fire!, where he is portrayed by Dennis Quaid, and appeared in another, Walk the Line, where he is portrayed by Waylon Payne.
Now in his 80s, Lewis continues to perform regularly in the 2020s. As of the passing of Little Richard in May 2020, Lewis is the last surviving rock star from the pre-Beatles era, and the August 2021 passing of Don Everly left Lewis the last living member of the Rock & Roll Hall of Fame's inaugural class of 1986.
Has no relation to the comedian Jerry Lewis.
---
Whole Lotta Tropin' Going On:
---