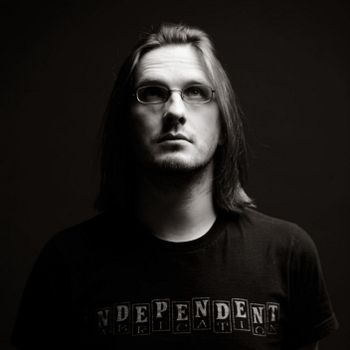 Influenced by:
Pink Floyd, Opeth, Camel, Mike Oldfield, Prince, Donna Summer, ABBA, Karlheinz Stockhausen, Gojira, SunnO, Meshuggah, Tangerine Dream, Aphex Twin, Nine Inch Nails, Neurosis, Can, Squarepusher, Conrad Schnitzler, Klaus Schulze, Neu!, The Cure, Cardiacs, Kate Bush
" "Miserable music makes me happy, and conversely, happy music makes me
fucking
miserable.""
Steven Wilson at the Wiltern, Los Angeles, 2015.
Steven John Wilson (born 3 November 1967) is an English singer, songwriter, composer, multi-instrumentalist, producer, and audio engineer. He is the founder and leader of the band Porcupine Tree, is a founding member of Storm Corrosion alongside Mikael Åkerfeldt, a founding member of No-Man and Blackfield, and has an extensive solo career as well. A primarily self-taught musician and engineer, he's worked with many bands and has had a considerable number of projects over the years. He's been nominated for four Grammys, two with Porcupine Tree and two with Storm Corrosion.
He began receiving guitar lessons for a short period as a child, but he didn't particularly enjoy it, and his parents eventually stopped paying for it. At the age of 11, he began experimenting with some equipment and a nylon string classical guitar he found in his attic, creating a rudimentary form of multi-track recording. His father, an electronic engineer, built him a multi-track tape machine and a vocoder so he could experiment with studio recording. He formed a number of bands with friends through school, but mostly enjoyed experimenting with sound in his spare time.
In 1986, Steven Wilson launched two projects: No Man is an Island (Except the Isle of Man) (a fusion of synth-pop and progressive rock, which would later be shortened to "No-Man") and Porcupine Tree (originally a pastiche of psychedelic rock). No-Man's second single, a cover of the Donovan song "Colours," would win an award in the Melody Maker magazine and land them a record deal with the One Little Indian indie record label. Both No-Man and Porcupine Tree would both go on to release their first releases later and eventually develop a large cult following. In 2008, he began a solo career and has released a string of critically acclaimed albums in the years since. His third and fourth solo albums, "The Raven That Refused to Sing (And Other Stories)" and "Hand. Cannot. Erase.", are regarded as modern classics of the progressive rock genre.
---
Discography:
open/close all folders
Solo Releases
Insurgentes (2008)
Grace for Drowning (2011)
The Raven That Refused to Sing (And Other Stories) (2013)
Hand. Cannot. Erase. (2015)
To the Bone (2017)
The Future Bites (2021)
Altamont
Prayer for the Soul (1983)
Untitled (2002)
Karma
The Joke's on You (1983)
The Last Man to Laugh (1985)
No-Man
Loveblows & Lovecries - A Confession - (1993)
Flowermouth (1994)
Wild Opera (1996)
Returning Jesus (2001)
Together We're Stranger (2003)
Schoolyard Ghosts (2008)
Love You to Bits (2019)
Porcupine Tree
On the Sunday of Life (1991)

Yellow Hedgerow Dreamscape (1992)

Up the Downstair (1993)
The Sky Moves Sideways (1995)
Signify (1997)
Stupid Dream (1999)
Lightbulb Sun (2000)
In Absentia (2002)
Deadwing (2005)
Fear of a Blank Planet (2007)
The Incident (2009)
Incredible Expanding Mindfuck
I.E.M. (1996)
An Escalator to Christmas (1999)
Arcadia Son (2001)
I.E.M. Have Come for Your Children (2001)
Bass Communion
I (1998)
II (1999)
III (2001)
Ghosts on Magnetic Tape (2004)
Indicates Void (2005)
Loss (2006)
Pacific Codex (2008)
Molotov and Haze (2008)
Chiaroscuro (2009)
Cenotaph (2011)
Sisters Oregon (2017)
And No Birds Sing (2021)
Blackfield
Blackfield (2004)
Blackfield II (2007)
Welcome to My DNA (2011)
Blackfield IV (2013)
Blackfield V (2017)
For the Music (2020)
Storm Corrosion
Album Remixes
Caravan:

"In the Land of Grey and Pink" (2011)

Chicago:
Emerson, Lake & Palmer:

Emerson, Lake, and Palmer (2012)
Tarkus (2012)

Gentle Giant:

The Power and the Glory (2014)
Octopus (2015)

Steve Hackett:

Please Don't Touch (2015)
Spectral Mornings (2015)

Hawkwind:

"Warrior on the Edge of Time" (2013)

Jethro Tull:

Aqualung (2011)
Thick as a Brick (2012)
Benefit (2013)
A Passion Play (2014)
War Child (2014)
Minstrel in the Gallery (2015)
Too Old to Rock 'n' Roll: Too Young to Die! (2015)
Stand Up (2016)
Songs from the Wood (2017)
Heavy Horses (2018)
This Was (2018)
Stormwatch (2019)
A (2021)

King Crimson:

Red (2009, and again in 2013)
Lizard (2010)
In the Wake of Poseidon (2010)
Islands (2010)
Starless and Bible Black (2011)
Discipline (2011)
Larks' Tongues in Aspic (2012)
Concertgebouw, Amsterdam, The Netherlands, November 23, 1973 (2014)
Beat (2016)
Three of a Perfect Pair (2016)

Marillion

Misplaced Childhood (2017)

Opeth:
Tears for Fears:
Ultravox
XTC:

Nonsuch (2013)
Drums and Wires (2014)
Oranges and Lemons (2015)
Skylarking (2016)

Yes:
---
Steven Wilson and his works provide examples of the following tropes:
---