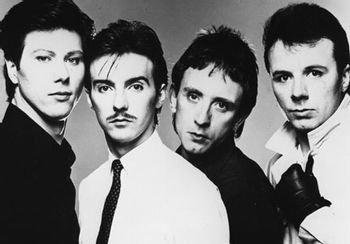 The feeling has gone, only you and I
It means nothing to me,
This means nothing to me,
Oh, Vienna.
"Vienna"
Ultravox is a British Post-Punk/New Wave band, known primarily for their 80's hits such as "Vienna" and "Dancing With Tears in My Eyes". Their best-known lineup includes vocalist Midge Ure, keyboardist Billy Currie, bassist Chris Cross, and drummer Warren Cann.
The band has gone through two significant phases of their career, the first as a five-piece with lead singer John Foxx. They formed in 1974 as a Glam Rock band under the name Tiger Lily before becoming Ultravox! in 1976 and releasing their self-titled debut in 1977, produced by Brian Eno and Steve Lillywhite. Their sound was closer to Roxy Music and David Bowie, but their follow-up Ha!-Ha!-Ha! later that year was aggressive Punk Rock that incorporated synthesizers. They dropped the exclamation point from their name for their third album, Systems of Romance - while none of their records took hold in the charts, Systems of Romance took the band in a more synth-driven, romantic direction that heavily influenced the burgeoning New Romantic scene. Foxx left the band shortly after to pursue a moderately successful solo career, and guitarist Robin Simon left as well.
Following Foxx and Robin's departures, Scottish Glam Rock and Synth-Pop veteran Midge Ure joined the band as frontman, himself a fan of Systems of Romance and a former bandmate of Currie from Visage. Where Foxx was an enigmatic, detached frontman, Ure was more dramatic and aristocratic in his delivery. Their next album Vienna picked up where Systems left off, shifting the band's sound from post-punk to new wave and scoring the band their first and most enduring major hit with the title track. What followed was a six year run of top 10 albums and a second enduring 80's hit, "Dancing With Tears in My Eyes".
In 1984, Ure helped co-write the Band Aid charity single "Do They Know it's Christmas" and released a solo album the year after while the band was taking a break. They returned with U-Vox, but after the sacking of Warren Cann and replacement by Big Country's Mark Brzezicki, fans, critics, and even the band felt the record was unfocused, leading Ure and Chris Cross to depart. Billy Currie headed what was left of the band until finally calling quits in 1988. He attempted a revival in 1992 with none of the other original members and recorded two more albums (changing the lineup again between the first and second 90's albums) before the project dissolved a second time.
Ultravox spontaneously reformed with the classic lineup of Ure, Currie, Cross and Cann in 2009 for a reunion tour. While the band insisted they were not recording new material, their eleventh album Brill!ant was released in 2012 before the band split up a third time, seemingly for good.
---
Principal Members (Founding members in bold)
Sam Blue - lead vocals (1994-1996)
Mark Brzezicki - drums, percussion (1986-1988)
Vinny Burns - guitar (1994-1996)
Warren Cann - drums, electronic percussion, backing vocals, occasional lead vocals (1974-1986; 2008-2017)
Chris Cross - bass, synthesizers, backing vocals (1974-1988; 2008-2017)
Billy Currie - violin, viola, synthesizers, keyboards (1974-2017)
Tony Fenelle - lead vocals, guitar (1992-1994)
John Foxx - lead vocals (1974-1979)
Tony Holmes - drums, percussion (1994-1996)
Gerry Laffy - guitar (1992-1994)
Stevie Shears - guitar (1974-1978)
Robin Simon - guitar, backing vocals (1978-1979)
Midge Ure - lead vocals, guitars, synthesizers (1979-1988; 2008-2017)
Neal Wilkinson - drums, percussion (1992-1994)
Gary Williams - bass (1994-1996)
Jackie Williams - backing vocals (1992-1994)
---
Studio Albums
Ultravox! (1977) - As Ultravox!
Ha!-Ha!-Ha! (1977) - As Ultravox!
Systems of Romance (1978)
Midge Ure era (1979-1988)
Billy Currie era (1992-1996)
Revelation (1993)
Ingenuity (1994)
Classic Lineup reunion (2008-2017)
---
This band provides examples of:
---