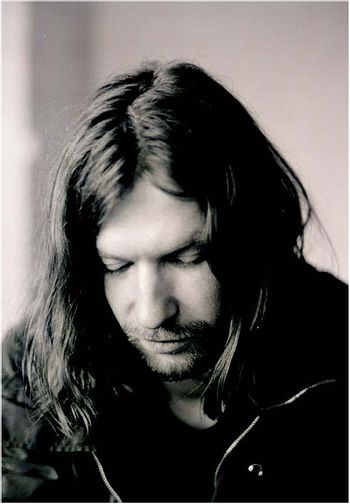 "I'm just some irritating, lying, ginger kid from Cornwall who should have been locked up in some youth detention centre. I just managed to escape and blag it into music."
Richard David James (born 18 August 1971), better known as Aphex Twin (amongst other stage names), is an Irish-born electronic artist and founder of the now-defunct Rephlex Records label. He was raised and spent much of his career based in Cornwall, England but currently resides in Glasgow.
James is highly known and respected for his innovations in the world of electronic music and for the sheer versatility of his output, to the point where he's often regarded as one of if not the most influential artist of the umbrella genre's modern era. His experimentation with sounds and/or visuals has built a surreal style that is truly his own, and his individual persona — eccentric and reclusive, with any information about his personal life muddled up with lies he tells For the Lulz — is arguably just as weird.
He started making music at the age of 11 by tinkering with one of his home computers and hasn't looked back ever since. After some years of false starts, his first album Selected Ambient Works 85-92 was released on February 12, 1992 (a year after Richard started Rephlex Records) to overwhelming critical praise, setting James on the path to fame and serving as a near-unanimously-deemed watershed moment for the genre's success, as well as establishing a blueprint for the whole braindancenote More colloquially referred to as "intelligent dance music" or "IDM"; James prefers the "braindance" label since he thinks "intelligent dance music" comes off as elitist movement.
While he is known in some ways as a Trope Maker for ambient techno thanks to the aforementioned SAW 85-92, his material is very diverse, ranging between pure ambiance (SAW Vol. II), sad and beautiful Lonely Piano Pieces (most of them on Drukqs), ear-splitting drum 'n' bass (...I Care Because You Do, some songs in Drukqs), acid techno (his early AFX/Caustic Window material, plus the Analord 12" series) and his trademark combination of upbeat melodies with complicated beats (Richard D. James Album, Drukqs). His 2014 album Syro (his first full-length release in 13 years!) falls somewhere in-between the last two styles, respectively.
Oddly enough, out of two of his best-known mainstream hits (those would be "Come to Daddy" and "Windowlicker"), the former has experienced Creator Backlash and the latter is a Black Sheep Hit.
As of 2017, Richard has put up a personal Bleep store
with which he aims to rerelease all of his past discography on Warp, including various bonus tracks within the albums in the process.
He has accounts under the Aphex name on sites such as Facebook
, Twitter
and SoundCloud
that are strictly for promotional purposes. The closest thing he has to a regular public profile at the moment is his personal SoundCloud
, where he notably uploaded hundreds of demos and unreleased tracks completely anonymously in the mid-2010s. He still updates the profile occasionally to this day, even conversing with fans in comment sections.
You can now vote for your favourite Aphex release HERE!
---
Discography
open/close all folders
Under Aphex Twin
Studio Albums
Selected Ambient Works 85-92 (1992)
...I Care Because You Do (1995)
Melodies From Mars (1995) (unreleased; however, Richard has suggested in an interview that he is remaking it and planning an official release)
Richard D. James Album (1996)
Drukqs (2001)
Syro (2014)
EPs
Digeridoo (1992)
Xylem Tube (1992)
On (1993)
Ventolin (1995)
Donkey Rhubarb (1995)
Girl/Boy (1996)
Come to Daddy (1997)
Windowlicker (1999)
Analord 10 (2005)
Computer Controlled Acoustic Instruments pt2 (2015)
Cheetah (2016)
Collapse (2018)
Compilations
Classics (1994)
51/13: Aphex Singles Collection (1996)
26 Mixes for Cash (2003)
Chosen Lords (2006)
Under AFX
EPs
Analogue Bubblebath (1991)
Analogue Bubblebath 2 (1991)
Analogue Bubblebath 3 (1992)
Analogue Bubblebath 4 (1994)
Analogue Bubblebath 5 (1995)
Hangable Auto Bulb EP (1995)
Hangable Auto Bulb EP 2 (1995)
Analogue Bubblebath 3.1 (1997)
Smojphace EP (2003)
Analords 1-9, 11 (2005)
AFX / LFO|AFX / LFO split 12" (2005)
Orphaned Deejay Selek 2006-2008 (2015)
Compilations
Hangable Auto Bulb (1995 and 2005 re-release)
Chosen Lords (2006)
Single
Under Caustic Window
Album
Untitled (1994) (formerly unreleased, finally released in 2014)
EPs
Joyrex J4 EP (1992)
Joyrex J5 EP (1992)
Joyrex J9ii (1993)
Single
Compilation
Under misc. aliases
As Bradley Strider
Bradley's Beat (1991)
Bradley's Robot (1993)
As GAK
As Green Calx
Green Calx (1993) (unreleased)
As Polygon Window
Surfing on Sine Waves (1993)
Quoth (1993)
As Power-Pill
As Q-Chastic
Q-Chastic EP (1992) (unreleased)
As The Tuss
Confederation Trough EP (2007)
Rushup Edge (2007)
Collaboration album
Mike (μ-Ziq) & Rich:

Expert Knob Twiddlers (1996)
---
Aphex Tropes:
---
COME ON YOU CUNT, LET'S HAVE SOME APHEX ACID!
---