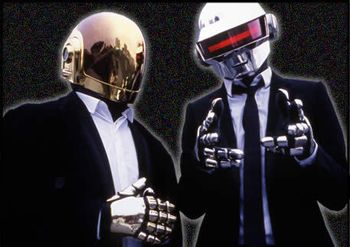 Influenced by:
Influenced:
"Robots don't make people feel like there's an idol on stage. It's more like a rave party where the DJ isn't important. We are two robots in this pyramid with this light show, but everything is [meant] for you to have fun and enjoy yourself."
— Guy-Manuel de Homem-Christo
Daft Punk was one of the most popular electronic bands ever (along with Kraftwerk, Yellow Magic Orchestra and a few others).
Formed in 1993 by Frenchmen Thomas Bangalter (born 3 January 1975) and Guy-Manuel de Homem-Christo (born 8 February 1974), the duo popularized French house music and established many of its elements, to the point where they are sometimes mistakenly credited as having created the genre. Nevertheless, Daft Punk's work definitely furthered the acceptance of electronic music in mainstream culture.
They released four studio albums, alongside film scores, two films of their own creation and several side projects.
1997's Homework (and its live album counterpart Alive 1997) was a showcase of various flavors of house (French, Chicago, acid) that, alongside music videos from Spike Jonze and Michel Gondry, served as many people's introduction to house music and electronica in general. 2001's Discovery expanded on this sound by combining soul and disco samples with slick production, and would later serve as the score for an anime film, Interstella 5555: The 5tory of the 5ecret 5tar 5ystem (directed by the legendary Leiji Matsumoto, a childhood hero of the band).
2005's Human After All was a minimalistic, industrial-influenced album; early attempts to film music videos for the album led to the content being expanded into a feature-length art film, Daft Punk's Electroma, which eschewed use of the album's music to explore its Central Theme of the duality of man and machine. While its repetitive sound divided fans and critics, public opinions warmed up thanks to their second live album, Alive 2007, which recontextualized their first three albums by heading deep into mashup territory in a never-before-seen stage show consisting of a massive glowing pyramid
surrounded by a blinding array of lasers and neon lights
— a template used since by many musicians from all genres.
2013's Random Access Memories served as a love letter to the soul, funk and R&B albums of the '70s and '80s that the band grew up on, and saw ample collaboration with their longtime heroes, including disco pioneer Giorgio Moroder, singer-songwriter Paul Williams, Chic guitarist/songwriter Nile Rodgers, and several internationally renowned musicians and session players, like Nathan East and John "J.R." Robinson.
Also notable among Daft Punk's catalog are several contributions that are often overlooked by casual observers, namely their work done in collaboration with others and their individual work.
The band was tapped by Disney to score TRON: Legacy in 2010; their end product, evocative of electronic music of the '70s and '80s, was made in line with (and as a tribute to) Wendy Carlos' original score for TRON. They additionally co-produced for other artists in later years; they contributed to four songs on Kanye West's Yeezus, and they have featuring credits on Pharrell Williams' single "Gust of Wind" and The Weeknd's "Starboy" and "I Feel It Coming". The duo also contributed eleven mixes for the Guitar Hero Spin-Off DJ Hero, as well as being playable characters in the game.
Both band members also have impressive and influential discographies as solo artists. Thomas Bangalter has produced many dance recordings under his own name and aliases, including the (very-short-lived) supergroup Stardust, which scored an international hit with "Music Sounds Better with You". He is friends with film director Gaspar Noé and has contributed to several of his films, scoring Irréversible, assisting with the sound design of Enter the Void, and providing two songs to the soundtrack of Climax. Guy-Manuel de Homem-Christo also produced Kavinsky's hit song "Nightcall" (best known for its usage in Drive), as well as Sebastien Tellier's album Sexuality.
Finally, Daft Punk embody being The Faceless, having spent the bulk of their careers shrouding themselves in secrecy by appearing in public with masks on. Their most famous masks are the robot costumes they debuted for Discovery, which were progressively updated during each era of their career since. As the page quote suggests, the choice for secrecy was deliberate: it allows the band to enjoy their personal lives while making their music strictly about itself and audience satisfaction, not about themselves. Apart from some very early press photos, Daft Punk allowed a sculptor to carve their likenesses as full-size human statues
, and even chose to do it without helmets, so any further speculation about their identities could be answered by the sculptures.
On February 22, 2021, the duo's publicist revealed that Daft Punk had split up, marking the end of a 28-year partnership. The announcement was accompanied by a short film fittingly titled "Epilogue",
which is taken from the ending of Electroma. Neither Thomas nor Guy-Manuel have stated the reason for the split; however, friend and collaborator Todd Edwards has stated that both remain active separately.
A year after the news, the duo broke their silence to announce 25th-anniversary special editions of Homework and Alive 1997 on social media, also streaming a recording of a 1997 show — with both members unmasked — on Twitch. A year after that in turn, the duo announced a 10th-anniversary edition of Random Access Memories.
---
Discography:
<!—index—>
<!—/index—>
---
Daft Punk provides examples of the following tropes:
---
Hold on... if love is the answer, you're home...
---