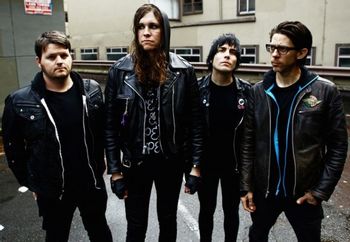 All dressed up and nowhere to go
Walking the streets all alone
Another night to wish that you could forget
Making yourself up as you go along
—"True Trans Soul Rebel"
Against Me! is a Punk Rock band from Gainesville, Florida. Started as a solo acoustic/folk punk project by seventeen-year-old Laura Jane Grace, Against Me! has been a full group since 2001. The lineup has changed over time, with Laura Jane Grace and lead guitarist James Bowman as the only consistent members. The band has released seven studio albums, most recently, Shape Shift With Me in September 2016. They've also released several EPs, two live albums, several demo tapes, and in 2004 a movie of their tour. Grace also released a solo album called Heart Burns and has written a book, Tranny, which was released in November of 2016.
Discography:
Against Me! (1999, EP)
Crime (2001, EP)
Against Me! aka The Acoustic EP (2001, EP)
Against Me! Is Reinventing Axl Rose (2002)
As the Eternal Cowboy (2003)
We're Never Going Home (2004, DVD)
Searching for a Former Clarity (2005)
Americans Abroad!!! Against Me!!! Live in London!!! (2006, Live album)
New Wave (2007)
White Crosses (2010)
Transgender Dysphoria Blues (2014)
23 Live Sex Acts (2015, EP)
Shape Shift with Me (2016)
This band provides examples of:
Worth It: The subject of "Thrash Unreal" is an aging ex-junkie, stuck working a minimum wage job, desperately trying to still get guys half her age to sleep with her, and has a daughter who is very likely going to be a carbon copy of her. The closing lines of the song?

And if she had to live it all over again you know she wouldn't change anything for the world