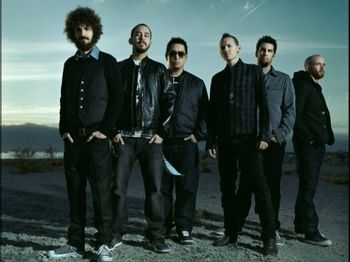 Influences:
What's the point in describing Linkin Park here? In the end, it doesn't even matter.
Linkin Park is a rock band from Agoura Hills, California. Since their formation in 1996, the band has sold more than fifty million albums and won two Grammy Awards.
They achieved mainstream success come the Turn of the Millennium as one of the most popular bands in Nu Metal, with their debut album Hybrid Theory and its follow-up Meteora receiving some of the biggest success the genre has ever seen. Nearing the end of the decade, as the genre started falling out of public favor, the band eschewed the sound in favor of genres like Alternative Rock and Electronic Music from Minutes to Midnight onward (though they did return to their metal roots with The Hunting Party).
Their fanbase has been continuously split as a result of this, but it hasn't deterred the band any from continuing to do what they want with their music, leading to reactions that are more predictable in their hysteria than whatever they choose to put out next.
While their music has been featured in dozens of films, Linkin Park has a particularly strong association with the Transformers series. In addition to providing singles for the first three movies and the video game Rise of the Dark Spark, they collaborated with Steve Jablonsky and Hans Zimmer on the score for Revenge of the Fallen. They are also a popular music source
for anime music videos, inevitably featuring shonen series like Dragon Ball Z (and occasionally not-so-shonen series, namely Neon Genesis Evangelion).
While they were immensely popular, a sizable group grew that wasn't keen on all the screaming and sadness, leading to the common stereotype of Linkin Park being the band du jour of "whiny, angsty teenagers with no good reason to be" the world over.
On July 20, 2017, lead singer Chester Bennington committed suicide, shortly before the band was to start a North American tour promoting their then-latest album One More Light. Following his death, the remaining members of Linkin Park did their first performance without Bennington at a tribute concert for him on October 27, with guest performances and guest vocals from members of Yellowcard, blink-182, Korn, Avenged Sevenfold, System of a Down, Echosmith, Bush, No Doubt, A Day to Remember, Bring Me the Horizon and Sum 41, as well as Kiiara, Julia Michaels, Zedd, Alanis Morissette, Machine Gun Kelly, Steve Aoki, Bebe Rexha... and, of course, the fans.
By Mike Shinoda's own confession, he has intentions on continuing with Linkin Park, though he also noted that it will take time.
He has begun leaning into solo music in the meantime, with an EP-turned-albumnote Originally released as a 3-song EP in January 2018; those 3 songs then became the first 3 of an equivalently named album in June of that year named Post Traumatic and several instrumental hip hop albums under his belt thus far. According to him, he published Post Traumatic, his first main solo project, under his own name because of the personal subject matter of the album, since it dealt with his grief and coping with the death of his bandmate and friend.
Members:
Mike Shinoda - vocals (rapping and singing), rhythm guitar, keyboards, synthesizers, samples, programming (1996—present)
Brad Delson - lead guitar, backing vocals (1996—present), bass (2000)
Rob Bourdon - drums, percussion (1996—present)
Joe "Mr." Hahn - turntables, keyboards, synthesizers, samples, programming, backing vocals (1996—present)
Dave "Phoenix" Farrell - bass, backing vocals (1996—1998; 2000—present)
Former Members:
Mark Wakefield - lead vocals (1996—1998)
Kyle Christner - bass (1998—1999)
Chester Bennington - lead vocals (1999—2017; died in 2017)
Discography:
Hybrid Theorynote (May 1, 1999note )
Hybrid Theory (October 24, 2000)
Reanimation note (July 30, 2002)
Meteora (March 25, 2003)
Collision Course note (November 30, 2004)
Minutes to Midnight (May 14, 2007)
A Thousand Suns (September 8, 2010)
Living Things (June 20, 2012)
Recharged note (October 29, 2013)
The Hunting Party (June 13, 2014)
One More Light (May 19, 2017)
Other Singles: "We Made It" note , "New Divide," and "Not Alone."
---
TROPING IN MY SKIN!
open/close all folders
Tropes A to F
Tropes G to O
Genre Shift: Originally started as Nu Metal outfit, before gradually shifting to the more experimental side of Alternative Rock.
Genre Roulette: Minutes to Midnight. If you need further proof, look at its track order. Within the span of three songs, you'll hear a political hip-hop song featuring a choir and piano, one of the heaviest songs the band ever wrote with Chester coming close to snarling most of the lyrics, and a light alternative ballad about a funeral.
Gray Rain of Depression: Happens during the "In the End" music video, specifically during the song's bridge ("I PUT MY TRUST IN YOU...").
Grief Song: Several, and the band achieved its legendary status for doing songs about dealing with angst and depression. But a special example is "Looking for an Answer", a song Mike wrote (and sang) about how he felt during the aftermath of Chester's suicide.
The Grim Reaper: The music video for "Good Goodbye" features one, played by NBA legend Kareem Abdul-Jabbar.
Hellbent For Leather: The band members are wearing an all-leather outfit in the "What I've Done" music video.
Heterosexual Life-Partners: Mike Shinoda has called his bandmates as his "five best friends". Bassist Phoenix has referred to them as his "brothers". Special mention goes to Mike and co-lead singer Chester Bennington.
Hidden Track:

In Minutes to Midnight, "Shadow of the Day" fades into an ambient instrumental that ends with a backwards cymbal leading directly into "What I've Done". It's likely that this was meant to be the full intro to the latter song, and the band (or their label) indexed it there so that "What I've Done" would match the single version.
A Thousand Suns has separately indexed segues for almost every song.
The Hybrid Theory EP has an untitled instrumental following six minutes of static after "Part of Me" - this track was later reworked into "Session" and included on Meteora.

His Own Worst Enemy: "Given Up" has the line "I'm my own worst enemy".
Hoist by His Own Petard: In "Figure.09": "I think of how I shot myself in the back again."

"Lies Greed Misery" is all about looking forward to watching an adversary screw himself over.

Humongous Mecha:

The cover of Reanimation and some of their music videos, most notably 'Pts.OF.Athrty'. Their song "What I've Done" also appeared in Transformers (as well as several thousand Transformers Armada Starscream AMVs).

The videos for "New Divide" and "Iridescent" feature the Transformers prominently.

The video for "Somewhere I Belong", include Gundam models owned by Mr. Hahn himself. Models include the Sazabi, the Wing Zero Custom and the GP-01 Zephyranthes.

Bandai-Namco returned the favor by featuring "The Catalyst" in Gundam Extreme Vs. In connection, a Linkin Park version of the HGUC [GP-01Fb] was included with the purchase of the A Thousand Suns Japanese edition.

Hypocritical Humor: On "Rnw@y", Phoenix Orion claims he "can't get with the hybrids". He raps this over an industrial rock track.
Instrumentals: Most of which show up on EPs released exclusively for the band's official fan club, Linkin Park Underground. These are the ones that don't:

Although it contains vocal samples (from sample CDs), Hybrid Theory's "Cure for the Itch" is considered an instrumental by the band and fans alike. It's used as the penultimate track of the album, before "Pushing Me Away".
"Session" from Meteora, which was actually nominated for a Grammy Award for Best Instrumental. This track also serves as the penultimate track of the album, preceding "Numb".
"Wake" from Minutes to Midnight. This track opens the album, and segues into "Given Up".
"Lockjaw", a piece Mike Shinoda and Rob Bourdon were commissioned to make by Digidesign to promote ProTools 8. Released exclusively to the Linkin Park Underground fan club.
"Issho ni", a charity track for the 2011 earthquake that devastated Japan.
"Tinfoil", from Living Things. It serves as the album's penultimate track (for the third time) and the intro to the album closure, "Powerless".
"The Summoning" and "Drawbar" (featuring Tom Morello) from The Hunting Party.

Irony: The sample that stopped "She Couldn't" getting released or even being legally mentioned by the band until Hybrid Theory's 20th Anniversary Edition goes "Won't be long till everybody knows" - which describes accurately the way fans shared it widely.
"I Want" Song: Pick any song from the first two albums.
Incredibly Long Note:

Chester's scream on "Given Up" lasts for 17 seconds. It's no wonder he almost always splits it in half when he sang it live.
The LPU 4.0 live recording of "Wish" has a 16-second scream on the bridge.

The Invisible Band: The video for Lost in the Echo.
Kaleidoscope Hair: Mike Shinoda was known for dyeing his hair red, blue, or occasionally bright yellow during the early Hybrid Theory period.
Keet: Despite being most famous for his unapologetically angsty lyrics, Chester Bennington was widely considered to be the funnyman of the group, prone to jumping on things, shouting at random intervals, and performing strange rituals with the stage crew.
Kid Hero: The protagonist of the "From the Inside" music video, who is played by Chester's son.
Large Ham: Chester all the time, whether onstage or on tape. However, Mike isn't that far behind him.
Le Parkour: The "FRGT/10" music video features the protagonist being chased in rooftops doing this.
Let's See YOU Do Better!:

As a response to the typical criticism from fans over "Issho ni", Mike challenged everyone to remix the song as they saw fit (although he didn't provide the stems).
The theme of "Step Up" and "When They Come For Me".

Licensed Game: 8-Bit Rebellion for the iPhone/iPod Touch. There was concern about the game being good, but fans were still looking forward to the new song and midi remixes of their previous hits included. Critic reviews were mixed.

LP RECHARGE, done in collaboration with Power The World/Music for Relief to help raise awareness and funds for sustainable energy and solutions to energy poverty, with certain purchasable in-game items counting as a donation. Unlike 8-Bit Rebellion, LP RECHARGE is a social Facebook game with an upcoming mobile version.

Lighter and Softer:

Image-wise, they came off as the least offensive of all the Nu Metal bands at the time of their debut. They had made it a point to not swear on Hybrid Theory and Meteora, maintained a professional work ethic with a reputation as Nice Guys, and rarely indulged in typical rock-star hedonism (especially given Chester's Dark and Troubled Past). That doesn't mean their music wasn't just as dark and heavy as the others.
The music on One More Light is far poppier and lighter than their earlier work, but their lyrical themes remain just as heavy.

Light Is Not Good: The lyrics for "Iridescent" have this to say:

And in the burst of light that blinded every angel
As if the sky had blown the heavens into stars
You felt the gravity of temper grace, falling into empty space
No one there to catch you in their arms

Little Miss Badass: In the "Good Goodbye" music video, Chester was having a winning streak until a little girl appears during the climax. She proceeded to trash him.
Long-Runner Line-up: Type 2, from 2000 (when Dave "Phoenix" Farrell re-joined the band after departing in 1998) to Chester Bennington's death in 2017.
Loony Fan/Stalker with a Crush: Chester and his wife Talinda had one of these for about a year, who managed to hack their emails and steal / taunt them with personal information after Chester inadvertently published his personal email address. The hacker, Devon Townsend, happened to be employed by a subcontractor for the US Department of Energy's nuclear security and research program, with access to nuclear materials – and spent most of her work days messing with the Benningtons' data from an unmonitored workstation. The breach exposed massive gaps in her employer's security standards, resulting in a federal investigation. Townsend was eventually caught and jailed for two years.
Loudness War: All their albums, with Living Things being the most audibly affected.

Shinoda acknowledged the bad mixing of Living Things by releasing the Acapellas and Instrumentals for digital download from iTunes and Amazon, so that fans could remix it to how they liked it. He already had a great reputation for caring about fans but this increased it tenfold.

Lyrical Cold Open:
Lyrical Dissonance:

The song "What I've Done" sounds like a moody downer, but it's about facing the consequences of your actions and finding forgiveness.
"Bleed It Out" averts this by being actually about writing lyrics, and re-writing them again and again (instead of self-mutilation as many automatically conclude). Chester Bennington and Mike Shinoda vented their lyric writing frustrations by writing more lyrics. This is lampshaded by the opening line "Yeah, here we go for the hundredth time…"
"Waiting for the End" sounds awfully upbeat for being a song about resigning yourself to your regrets.

Madness Mantra: On multiple songs, most notably "Given Up" and "One Step Closer". Also have a tendency to have an ending Punctuated! For! Emphasis!.
Manly Tears: On several occasions, when they attempted to play "Breaking the Habit" live, he broke down and cried. However, while the song's subject matter fits with Chester's past, the lyrics were penned by Mike without Chester's input.

Happened again during a live performance of "One More Light" in May 2017, the morning of Chris Cornell's suicide. Chester, who was close friends with Cornell, almost didn't finish the song. He eventually committed suicide himself on Cornell's birthday two months later, although no one has officially said the events were related.

Metal Scream:

"THESE WOOOOOUUUUNNNNDS, THEY WIIIIILLLLLLLLLLLL NOT HEEEAAAALLLL"
"Given Up" contains a seventeen-second, two pitch scream while "Across the Line" has a prolonged scream lasting eleven seconds. "Wth>You" has a 9 second prolonged COME ON!!! at the beginning.
The chorus of "Blackout" also finds Chester giving his voice a serious work out.
"YOOOOOOOOOUUUUUUUUU TRY TO TAKE THE BEST OF ME! GO AWAY!"
"VICTIMIZED! VICTIMIZED! NEVER AGAIN! VICTIMIZED!!!!!"
"NO CONTROOOOOOOOOOL! NO SURPRIIIIIIIIIIISE!"

Mirror Match: Chester during the "Heavy" music video, illustrating his battle with his own demons. Bonus points for it taking place in front of a literal mirror.
Mondegreen: Of course, the memetic "Try the ketchUP, motherfucker!"
Mohs Scale of Rock and Metal Hardness: Due to their eclectic nature, they go all over the scale. Their nu metal material (from Hybrid Theory, Meteora and The Hunting Party) is generally 6-8, with the softer songs from those albums dropping to 4-5. Minutes to Midnight and Living Things are mostly 3-5 (with the heavier songs being 6-8). A Thousand Suns averages at 2-4. One More Light resides at 1-3.
Myspeld Rökband: The band's name refers to a Lincoln Park in which Chester resided in shortly after joining the band while he was briefly homeless. One of the band members reasoned that the name would also help forge a connection with fans, since there were many cities with a Lincoln Park in them. The name is misspelled not because it was "cool" — it was because lincolnpark.com was already taken.
Neoclassical Punk Zydeco Rockabilly: Their music has pretty much always been a mix of rock, hip-hop, and electronica. Which of these ingredients takes prominence depends on the song.
New Sound Album: Every album since Meteora. Each album goes:

Hybrid Theory: Nu Metal, rap, and rock.
Minutes to Midnight: U2-esque Alternative Rock with almost no rap.
A Thousand Suns: A mix of electronic and experimental rock. More rap than Minutes to Midnight, but not as much as before.
Living Things: A combination of their electronics from A Thousand Suns and some elements from their earlier albums.
The Hunting Party: Back to Nu Metal, though with a bigger emphasis on Alternative Metal and Hard Rock than their first two albums.
One More Light: Straightforward Pop.

Ninja Pirate Zombie Robot: The video for "Iridescent" features Mike as a one-eyed serpent king with spikes growing from his shoulders in a post-apocalyptic world where the rest of the band imitates The Last Supper while the Autobots hang around.
Nobody Loves the Bassist: Phoenix has his share of Butt-Monkey moments:

The first time the band visited Japan, a fan handed him an envelop that was addressed "Dear Mike, Joe, Chester, Brad, Rob, and bass player man."
Mike, meanwhile, often pokes fun at Phoenix and his Twittering on his blog. He even made a banner that says "Blogging Totally Pwns Twittering" for fans of his blog to post on their websites in a response to one of Phoenix's Twitter posts.
He's not even credited on Hybrid Theory, due to having left the band before they started recording in order to fulfill a prior commitment to one of his older bands. He came back to Linkin Park in time for the start of the Hybrid Theory tour.

Not Christian Rock: While some of their lyrics vaguely hint at a higher power and others directly reference God, only a few members of Linkin Park are Christian.
Not So Different: Referenced in Numb:

But I know you were just like me, with someone disappointed in you!

Once per Episode: Their first two albums each featured turntablist Joe Hahn on a solo track.
Older and Wiser: Minutes to Midnight and A Thousand Suns disposes of much of the angst of their earlier work, in place of it being deeper and with more meaningful messages and themes.
Tropes P to Z
---