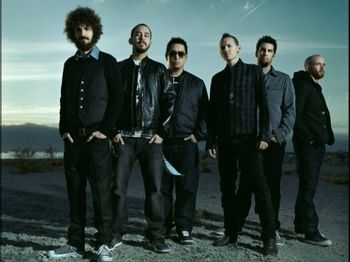 Influences:
Linkin Parknote The name was chosen as a nod to Santa Monica's Lincoln Park, originally spelled "Lincoln Park" but modified to secure the domain "linkinpark.com". Prior band names were Xero and Hybrid Theory; their label told them that the latter name would cause confusion with the British electronic music group Hybrid. is a rock band from Agoura Hills, California. Since their formation in 1996, the band has sold more than fifty million albums and won two Grammy Awards.
The band was originated by members Mike Shinoda, Rob Bourdon and Brad Delson, all high school friends. After graduating, the three then recruited the other current members of the band, with the exception of their original vocalist being Mark Wakefield. Wakefield eventually left in the wake of tension among the band from their lack of success; Chester Bennington was chosen as his replacement, and his vocal chemistry with Shinoda revitalized the band.
They achieved mainstream success come the Turn of the Millennium as one of the most popular bands in Nu Metal, with their debut album Hybrid Theory and its follow-up Meteora receiving some of the biggest success the genre has ever seen. Nearing the end of the decade, as the genre started falling out of public favor, the band eschewed the sound in favor of genres like Alternative Rock and Electronic Music from Minutes to Midnight onward (though they did return to their metal roots with The Hunting Party). Their fanbase has been continuously split as a result of this, but it hasn't deterred the band any from continuing to do what they want with their music, leading to reactions that are more predictable in their hysteria than whatever they choose to put out next.
While their music has been featured in dozens of films, Linkin Park has a particularly strong association with the Transformers series. In addition to providing singles for the first three movies and the video game Rise of the Dark Spark, they collaborated with Steve Jablonsky and Hans Zimmer on the score for Revenge of the Fallen. They are also a popular music source
for anime music videos, inevitably featuring shonen series like Dragon Ball Z (and occasionally not-so-shonen series, namely Neon Genesis Evangelion). They've also sampled Basil Poledouris' score for 1987's No Man's Land for "Frgt/10" on ReAnimation.
While they were immensely popular, a sizable group grew that wasn't keen on all the screaming and sadness, leading to the common stereotype and endless bevy of memes regarding Linkin Park being the band du jour of "whiny, angsty teenagers with no good reason to be" the world over.
On July 20, 2017, lead singer Chester Bennington committed suicide shortly before the band was to start the North American leg of the tour promoting their then-latest album One More Light. Following his death, the tour was cancelled, and the remaining members of Linkin Park did their first performance without Bennington at a tribute concert for him on October 27, with guest performances and guest vocals from members of Yellowcard, blink-182, Korn, Avenged Sevenfold, System of a Down, Echosmith, Bush, No Doubt, A Day to Remember, Bring Me the Horizon and Sum 41, as well as Kiiara, Julia Michaels, Zedd, Alanis Morissette, Machine Gun Kelly, Steve Aoki, Bebe Rexha... and, of course, the fans.
By Mike Shinoda's own confession, he has intentions on continuing with Linkin Park, though he also noted that it will take time.
He has begun leaning into solo music in the meantime, with an EP-turned-albumnote Originally released as a 3-song EP in January 2018; those 3 songs then became the first 3 of an equivalently named album in June of that year named Post Traumatic and three instrumental hip hop albums under his belt thus far. According to him, he published Post Traumatic, his first main solo project, under his own name because of the personal subject matter of the album, since it dealt with his grief and coping with the death of his bandmate and friend.
After that, in April 2020, Dave Farrell confirmed that the band had reunited and were working on new music, bringing the hiatus to a close. That said, however, it's unknown if they will find a new member or stay the way they are now following Chester's passing.
---
Members:
Current
Mike Shinoda - vocals (rapping and singing), rhythm guitar, keyboards, synthesizers, samples, programming (1996—present)
Brad Delson - lead guitar, backing vocals (1996—present), bass (2000)
Rob Bourdon - drums, percussion (1996—present)
Joe "Mr." Hahn - turntables, keyboards, synthesizers, samples, programming, backing vocals (1996—present)
Dave "Phoenix" Farrell - bass, backing vocals (1996—1998; 2000—present)
Former
Mark Wakefield - lead vocals (1996—1998)
Kyle Christner - bass (1998—1999)
Chester Bennington - lead vocals (1999—2017; died in 2017)
Discography:
Hybrid Theorynote (May 1, 1999note )
Hybrid Theory (October 24, 2000)
Reanimation note (July 30, 2002)
Meteora (March 25, 2003)
Collision Course note (November 30, 2004)
Minutes to Midnight (May 14, 2007)
A Thousand Suns (September 8, 2010)
Living Things (June 20, 2012)
Recharged note (October 29, 2013)
The Hunting Party (June 13, 2014)
One More Light (May 19, 2017)
Other Singles: "We Made It" note , "New Divide," and "Not Alone."
---
TROPING IN MY SKIN!
open/close all folders
Tropes A to F
Tropes G to O
Tropes P to Z
---