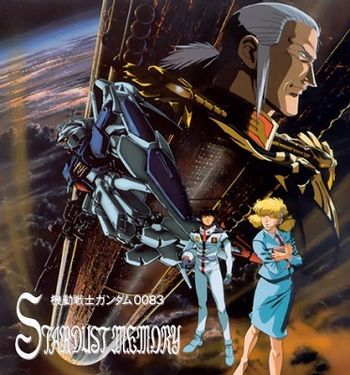 "For the rebirth of the ideals of Zeon... For the success of Operation Stardust! SOLOMON! I! HAVE! RETURNED!!!
"
— Anavel Gato
Mobile Suit Gundam 0083: Stardust Memory is a 13-episode OAV series that serves as a partial bridge between events that happened between the original Mobile Suit Gundam and Mobile Suit Zeta Gundam.
Three years after the defeat of the Principality of Zeon, remnants of their military decide to re-ignite the flames of war by Gundamjacking a top secret Super Prototype, the Gundam GP-02A "Physalis", which is armed with a nuclear bazooka. Rookie Earth Federation pilot Kou Uraki, present during the theft, commandeers another nearby Gundam, the GP-01 "Zephyranthes", in an attempt to recapture the GP-02. Unfortunately, the man Kou finds himself up against is Ace Pilot Anavel Gato, the infamous Nightmare of Solomon, who escapes with the GP-02 intact.
The Federation responds by sending a team to capture or destroy the GP-02, and Kou finds himself assigned to pilot the GP-01 to the task to both recover GP-02 and to go through general testing that was meant for the two Gundams with the designer Nina Purpleton. Thus begins "Operation Stardust", a plan by the Zeon remnants to demonstrate the Earth Federation's impotence and inspire new rebellion against them. Naturally, things are not as simple as they seem at first glance.
The series was released following the success of Gundam 0080 OAV and the movie Mobile Suit Gundam F91. One of the factors that really makes this series stand out is the exceptional mecha designs, which has had a strong influence on how to make Humongous Mecha with a militaristic aesthetic. A manga adaptation by the director called Mobile Suit Gundam 0083: Rebellion started in 2013, which revisits the events of the OVA in a manner not too dissimilar to Mobile Suit Gundam: The Origin, fleshing out the main story and even continuing past the OVA's ending where it is still ongoing.
Not to be confused with the film Stardust Memories.
---
This series provides examples of:
---