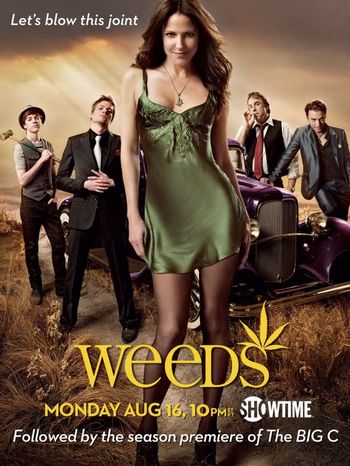 Weeds is a half-hour dramedy series created by Jenji Kohan that aired from 2005 to 2012 on Showtime.
The show initially centered on Nancy Botwin (played by Mary-Louise Parker), a housewife in the fictional suburb of Agrestic, California, who, following the sudden death of her breadwinner husband, turns to dealing marijuana to provide for her sons Silas and Shane, respectively 15 and 10 when the show begins.
The cast is rounded out by her mooching brother-in-law Andy, her Rich Bitch friend/nemesis Celia Hodes, Celia's long-suffering husband and daughter Dean and Isabelle, her supplier Heylia James, Heylia's grow expert nephew Conrad Shepard, and Doug, the perennially drugged-out city councilman who assists Nancy with the monetary aspect of her "business".
The show came down with a bit of Cerebus Syndrome during its run, transitioning from a farcical (if often incredibly dark) comedy to a straight dramedy with plenty of subplots played for drama rather than laughs, starting around the time the setting changed to Ren Mar, California, another fictional town along the border to Mexico. The numerous characters were eventually pared down, and ultimately the show focused primarily on Nancy's family unit and Doug.
Nevertheless, the series garnered critical acclaim for much of its run and became an influential female-centered drama, leading Kohan to write Orange Is the New Black. It has indirectly inspired shows like the British stoner-dramedy Ideal, and even Breaking Badnote Vince Gilligan wrote the series without knowing that a show about a drug-dealing anti-hero already existed; when he learned about it, he did everything he could to prevent his show from looking too similar to Weeds, and he's admitted that had he known about Weeds in advance, he wouldn't have gone through with his show, while the series itself is largely inspired from the 2000 British movie Saving Grace. Weeds even won an Emmy and a Golden Globe and remains one of Showtime's most popular shows.
In November 2019, it was reported that a sequel series was in development at Starz, with Parker returning as Nancy.
Now has a character page that could use some love.
---
This show contains examples of:
open/close all folders
Tropes A-B
Tropes C-D
Tropes E-R
Tropes S-Z
---