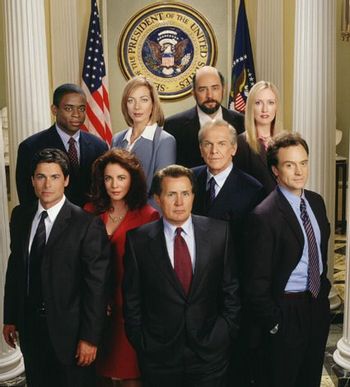 Bartlet:
There's a promise that I ask everyone who works here to make: never doubt that a small group of thoughtful and committed citizens can change the world. You know why?
Will:
It's the only thing that ever has.
The West Wing was a political drama (1999-2006) created by Aaron Sorkin, starring Martin Sheen as the idealized President of the United States, nerdily intellectual Democrat Jed Bartlet. The real focus, however, is on his smart and dedicated staff, who roam the White House endlessly discussing the pressing political issues of the moment. In fact, the President wasn't even originally intended to appear very often, but Sheen was so impressive in the pilot that he was made a regular instead of the original four-episodes-a-season plan.
The rest of the cast includes Stockard Channing as the President's wife Abbey, John Spencer as Chief of Staff Leo McGarry, Allison Janney as White House Press Secretary C.J. Cregg, Bradley Whitford as Deputy Chief of Staff Josh Lyman, Rob Lowe as Deputy Director of Communications Sam Seaborn, Dulé Hill as the President's assistant Charlie, Janel Moloney as Josh's secretary Donna, and Richard Schiff as Director of Communications Toby Ziegler. Additional cast includes Marlee Matlin, who plays political consultant Joey Lucas, and is one of the few times an actual deaf person is cast in a major television program, and Mary-Louise Parker as feminist spokesperson/First Lady's Chief of Staff Amy Gardner.
As per Sorkin's style, the show is wall-to-wall dialogue. The characters spend the entirety of every episode having lengthy, pointed arguments about real concerns such as public education, foreign aid and gun control, in a style of patter which carefully balances sober and didactic with nutty and didactic. All sides of an issue are covered (the show even gave the reason for the US Navy's infamous four-hundred-dollar ashtrays), although the show still has a distinctly liberal bias, with more than a few Republicans being portrayed as arrogant and out of touch. It did get a fair bit of criticism from conservatives for this, but many saw it as the best attempt to date to try to be a truly fair and balanced drama about Washington, D.C.. The show is notorious for the Walk and Talk — to create the illusion of activity in the midst of all this discussion, the characters constantly walk around the White House as they talk, despite the fact that they rarely have any place to go. Its nickname on Television Without Pity was "pedeconferencing", which was also picked up by Sorkin and Schlamme, among others.
It's also notorious for its vanishing characters. The characters played by Rob Lowe and Moira Kelly never officially left; they merely were never seen again, despite the fact that Lowe in particular was an integral part of the White House social order (and had just had a running plot which gave him a perfect way out). This is just a quirk of Sorkin's which even his most ardent fans find irritating and inexplicable. Lowe, it should be noted, returned close to the finale and had his resignation and intermezzo period explained. Mandy is still on her bus to Mandyville.
The first four seasons were written and directed by Aaron Sorkin and Thomas Schlamme. They left at the end of the fourth season, to be replaced by John Wells (of ER fame). Rather than trying to emulate Sorkin's style, Wells decided to emphasize the personal lives of the characters over the politics, and the show moved more to the middle of the Sliding Scale of Idealism Versus Cynicism and dealing with many current events issues. The last two seasons also shifted the plot out of the White House and into the next presidential race, adding Alan Alda and Jimmy Smits as the Republican and Democratic frontrunners (Alda's Emmy would tie the show with Hill Street Blues as the most honored drama in Emmy history). Despite lacking even one mention of superdelegates, the Santos-vs-Vinick campaign is noted for its stunning accuracy and is possibly the single most realistic fictional depiction of an American presidential political campaign anywhere. It's also notable for the fact that the presidential race, written and aired in 2005/06, has a more-than-passing resemblance to the 2008 presidential campaign, with a charismatic young non-white Congressman (Santos/Obama) facing off against a moderate "straight talking" Republican from the American Southwest (Vinick/McCain). The writers have said they based Santos on then-Senator Obama after the latter's speech at the 2004 National Democratic Convention.
After NBC moved the show up against the inexplicable ratings juggernaut Extreme Makeover: Home Edition, ratings declined to the point where, in 2006, it was cancelled. Though the Santos-Vinick Election arc did give a perfect out for its Grand Finale.
Originally on Netflix, the whole series is now streaming on HBOMax as of December 2020.
In 2020, the cast came together on HBO Max to restagenote at Aaron Sorkin's insistence, the event is most emphatically not a reunion "Hartsfield Landing" from Season 3 as part of an initiative to encourage voting ahead of the 2020 US presidential election. Due to John Spencer's passing, Sterling K. Brown stepped in to play Leo.
Here is a Character Sheet, as well as a Best Episode crowner
and an episode recap page that needs love.
No, the Enchanted Rose isn't located here.
---
This show provides examples of:
open/close all folders
# to D
E to I
Early Installment Weirdness:

The staff being rounded up in the Oval Office because the building isn't secure? Very characteristic. Them spending the previous hour collectively idling away their time with trivia and poker with the President? Not so much.
The president tells some representatives of the Christian right to "get your fat asses out of my White House." Later, he's generally a lot more sophisticated. Still pretty satisfying, and arguably justified.
A Secret Service agent draws his gun and tells a guy who'd been harassing Zoe at a bar "Shut up! Swear to God I'll blow your head off" after he's already made the arrest. Ever after, the service is portrayed as an agency with the utmost professionalism and coolness in action. In his defense, the agents had been summoned by their protectee's panic button, and for all they knew these guys were potential kidnappers or something.
In "Ellie", the episode in which we are first introduced to the president's middle daughter, several characters refer to her as Eleanor, rather than her nickname Ellie. Every other time she is mentioned or appears people only ever call her Ellie.
Hoynes has a (bad) Texas accent in one episode of Season One. Thankfully, it was never repeated.
In early Season One, staff meetings with the president in The Oval Office usually had a handful of extras standing around in the background (presumably these were the rest of the president's senior staff). After about halfway through the season, this was done away with and meetings were just our regulars thereafter.
Gilligan Cut:

West Wing likes the variant without an actual cut.

Josh Lyman: Hey, lunatic lady, trust me when I tell you there is absolutely no way you are going to see the President!

President Bartlet: [walks in] Hey, Josh.

Toby claims "nobody here is checking out!" after CJ accuses them of senioritis-like behavior. Cue Josh walking in and announcing his run flipping tails on a nickel 16 times in a row.
An actual cut example occurs when Lloyd Russel attempts to reassure Mandy, despite her familiarity with the White House staff, that they are not gloating over Lloyd removing himself from presidential candidacy. Cut to Josh proclaiming victory is his, declaring he drinks from the keg of victory, and waving his arms triumphantly for applauding staffers.

Girl Friday: Donna

until she quits working for Josh

.
Glasses Pull: Josh (also Cool Shades). Bartlet does this with his reading glasses.
A Glass in the Hand: Josh's story in the episode "Noel."

It's to cover for the fact that he put his hand through the window during a PTSD episode.

Golden Mean Fallacy: Subverted. Democratic moderates are portrayed as weak and ineffective, stalling their party back. Republican moderates are portrayed as benevolent, though.
Good Versus Good: The 2006 presidential election in Season 7. Matthew Santos and Arnold Vinick have differences in values, and the show comes down more on the former's side, but both are unquestionably good men who respect each other.
Good Ol' Boy: Robert Ritchie.
Hair-Trigger Temper: Toby Ziegler is very easy to annoy/anger/enrage. As the man himself once said, "There is literally no one in the world I don't hate right now."

Toby: Why do you call her my wife?

Leo: It bothers you.

Toby: Everything bothers me. But you pick that?

Handcuffed Briefcase: CJ's first day as the President's Chief of Staff includes a Republic of Georgia official who's been sent to sell the US a bunch of nuclear materials his country doesn't want anymore, and he has to awkwardly manage the metal briefcase of paperwork that's handcuffed to him. (Despite being a fairly realistic show about the Presidency, though, the nuclear football never makes an appearance.)
Hannibal Lecture: In an antagonistic rather than villainous example, Leo gets one of these from black Congressman Richardson when he tries to tell him how many young black men will be saved by signing a gun control bill. Richardson responds that Leo cares more about the White House's political capital than gun control, the bill is ineffective, meaningless, and not worth the paper it's printed on, and...

Congressman Richardson: In the meantime, please don't tell me how to be a leader of black men. You look like an idiot.

Happily Married: Jed and Abbey, which is impressive considering they go through (Jed went back on their MS deal and ran for a second term, she thought he got their daughter kidnapped, etc.) Matt and Helen Santos as well.
Head Desk: President Bartlet does this on The Resolute Desk after being tormented for hours by the thrilling tales of an Old Soldier-esque retired diplomat while stuck in the Oval Office waiting on the phone during an international crisis.

Bartlet: Oh, God, I'm sorry, am I still here?

Heroic BSoD: The second season episode "Noel" has Josh undergoing something like this, as it's revealed that he's been suffering from

PTSD

for three weeks.

Sam has a less dramatic one after he discovers his father's infidelities in "Somebody's Going to Emergency, Somebody's Going to Jail."

Heterosexual Life-Partners:

Ed and Larry (who are also Those Two Guys).
The President and Leo.
Josh and Sam.

He's Back!: "Let Bartlet Be Bartlet": "This is more important than reelection. I want to speak now."
He Who Fights Monsters: Leo warns Bartlet about this on a few occasions, most notably after Bartlet is coming apart at the seams over a terrorist attack in "A Proportional Response".
High-Class Call Girl: The series opens with Sam's (unpaid!) dalliance with one, and he keeps up a friendship with her through the first season. See also Retroactive Recognition.
Holding the Floor: In "The Stackhouse Filibuster" a senator filibusters a health care bill for seven hours.
Hollywood Atheist: Averted with Arnold Vinick, who initially appears to have become an atheist because his wife died but who later explains that he was horrified at certain passages in the Old Testament to the point where he couldn't believe in the Judeo-Christian God any more.
Hostage MacGuffin:

Zoey Bartlet

being kidnapped was feared by characters since the beginning. Their fears were realized in the Season Four finale. She's rescued in the second episode of S5 with next to nothing revealed about who kidnapped her or why though.
How We Got Here:

"In the Shadow of Two Gunmen" shows us how everyone came onboard with the Bartlet campaign.
Numerous episodes use this device, starting off with a dramatic scene before the opening titles and coming in with "x days earlier" after the break to explain how things came to that.

Ho Yay: Quite a bit between Santos and Josh.
Hypocritical Humor: Conflicting opinion polls. From Progress Stories:

Amy: This is what you do; you bounce off the subject.

A waiter passes by with a platter

Amy: Ooh! Shrimp!

I Am the Trope:

Twice in Constituency of One: Josh tells Amy 'I am the Principal's office'. Later, Leo tells CJ 'we are the country'.
From "Life on Mars":

Donna: You don't practice law, is all I was saying.

Josh: I don't practice law, I help write the laws. I write the laws, I make the laws, I am the law.

Iconic Item:

A bar napkin. A dinky little bar napkin. A dinky little bar napkin that has "Bartlet For America" in Leo's handwriting on it, highlighting who Leo felt should run for President. And it has a nice frame now.
Bartlet's pen. Placed in his pocket every morning by Mrs. Landingham in all the years she worked with him.

When he cannot understand why he doesn't have a pen in his pocket after her death, it's Charlie who has to gently point it out to him. He has to get his own pen out of her desk. Now he's really on his own.

Gail the goldfish that was given to CJ by Danny Concannon. It was highlighted in multiple episodes and opening credits.

Idiot Ball: It's the only explanation for why Sam and Josh thought it would be fine to light a fire in a White House fireplace using some spruce logs that were just lying around the White House and some kerosene.

Josh and Toby both grab it hard after

Leo's heart attack, to explain why neither of them are getting his job.

If You Ever Do Anything to Hurt Her...: Pres. Bartlet regarding his daughter, Zoey.

Bartlet: Just remember these two things: she's nineteen years old, and the 82nd Airborne works for me.

I Have Nothing to Say to That: Sam Seaborn gets his ass verbally handed to him by Blonde Republican Sex Kitten Ainsley Hayes.
Informed Ability: Josh's status as a Genius Ditz very often makes light of his political genius whenever he grabs hold of the Idiot Ball for the sake of funny. Like his secret plan to fight inflation.

There is a moment when Josh admits to Amy that, in spite of his numerous academic and even political accomplishments, his I.Q. doesn't exactly "break the bank", and that he made up for it in school by studying all the time instead of learning how to interact with other people.

Informed Attractiveness:

C.J. Many men on the show fall all over themselves singing paeans to the character's sexiness. This could potentially be explained by exceptional charisma.
Josh Lyman. Far more than C.J., by the way; he's shown to have fangirls and and a fan website devoted to him where members report "sightings," on top of the multiple love interests he gets across the series.

It's particularly interesting that Josh is generally portrayed as the most attractive male member of the crew, in a group that includes Sam, played by heart-throb Rob Lowe. While this can be explained by the fact that Josh is a bit more extroverted and charismatic than the often nerdy and awkward Sam, there's still a stark disparity between the amount of time spent on Josh's love life and the amount spent on Sam's.
This becomes subverted by the end of the show with numerous characters commenting much to Josh's chagrin on how his boyish looks have faded due to the stress of running a presidential campaign (even Josh himself describes his hairline at the end of season seven as more routed than receding, "like Napoleon out of Moscow").

In The Wake Up Call, Miss World visits the White House and brings to a standstill the business of every male that crosses her path. Mainly because it's utterly hilarious.

Informed Attribute: Josh and C.J. tell Danny that C.J. loves goldfish - meaning the crackers - but they are only seen in her presence once, briefly, in a flashback. It's possible she felt continuing the habit would be disrespectful to Gail, the pet goldfish Danny gave her.
In Medias Res: It's common for episodes to start in the middle of the story and work back to How We Got Here.
Insistent Terminology: Political maneuvering involves a lot of this.

Episode 2x11, "The Leadership Breakfast":

Josh: I see won't be talking about the 993 tax cut.
Leo: We won't be. But we've agreed to call it "tax relief" instead of a tax cut.
Josh: We're calling it tax relief?
Leo: Yeah.
Josh: But we won't be talking about it.
Leo: No.
Josh: Leo, the Patient's Bill of Rights...
Leo: Which we'll be referring to as the "Comprehensive Access and Responsibility Act."
Sam: What's the Comprehensive Access and Responsibility Act?
Leo: It's the Patient's Bill of Rights, but the CARA was introduced in 1999. It's fundamentally the same thing and the Republicans have agreed to discuss changing the name back.
Josh: In exchange for calling tax breaks "tax relief."
Leo: Or "income enhancement."
Toby: Sick people, not getting proper medical care... because they can't afford it... probably don't care that we've agreed to change the name of the bill.
Leo: We've agreed to discuss changing the name of the bill.

In a more serious context, when Bartlet is getting ready to admit that he hid his multiple sclerosis from the voters, he insist that Abbey be referred to as "Mrs. Bartlet" or "the First Lady," not "your wife." Later, Abbey takes it a step farther by telling Babish to call her "Dr. Bartlet," emphasizing her medical credentials.
Sam's not writing a birthday card, it's a birthday message.
Overlapping with You Called Me "X"; It Must Be Serious below, do not refer to the President by anything other than his title unless you want a fight:

Hoynes: Leo, I have had it up to here, with you and your pal! I've been shoved into a broom closet—
Leo: Excuse me! Me and my "pal"?
Hoynes: Yes.
Leo: You are referring to President Bartlet?
Hoynes: Yes!
Leo: Refer to him that way.

One of the aversions that can be counted throughout the series on one hand occurs when the President and Toby are playing a game of chess in the Oval Office while waiting for news on the crisis du jour. Throughout the game, Bartlet teases Toby good-naturedly about his game until Toby comes back with, "You know, old man, the minute they swear the next guy in, you and me are gonna go 'round and 'round."
Early in the first season, Sam insists that people refer to Laurie as a "call girl", not a "hooker". He also gets annoyed when people call her "this girl" or "your friend" instead of using her name.
Discussed and subverted for drama in "Take This Sabbath Day", in which Bartlet invites his old parish priest to the White House and, in giving him a tour of the Oval Office, makes a particular point of insisting that while it's okay to refer to him informally as 'Jed' outside the Oval Office, within the Oval Office he's 'Mr. President', explaining that he is forced to make certain decisions within the office as the President that he might not otherwise be able to make as a man, and that using the title helps distinguish this. When the reasons for the President inviting the priest over become clear — Bartlet's guilt over his failure to stay the execution of a convicted murderer despite his personal opposition to the death penalty for political reasons — there's a certain pointedness in the priest's response:

Priest: Jed, would you like me to hear your confession?

Played double straight when while still reeling from the learning about President Bartlet's

concealed MS diagnosis

, Sam refers to him as simply "Bartlet". Toby immediately calls him on it, "President Bartlet, Sam, come on.". A few scenes later, Sam then passes it on, correcting a political operative who makes the same mistake.

Inspector Javert: Danny Concannon, a sweetheart of a reporter for the Washington Post who's crushing on CJ - but still wants to get to the bottom of this "who was in charge

after the President was shot

?" thing, and the "how did that foreign leader die?" thing.
Insufferable Genius: President Bartlet tries not to be this too much. For instance, when C.J. is making him practice handing off Mars questions to NASA scientists instead of answering with all the trivia he may have memorized:

President Bartlet: Well Stevie, if one of our expert panelists were here, they would tell you the average temperature ranges from 15 degrees to -140.

C.J. Cregg: That happens to be wrong, it ranges from 60 to -225.

President Bartlet: I converted it to Celsius in my head.

Ironic Echo: In "Requiem", Amy Gardner corners President-Elect Santos at Leo's wake over his noncommittal response to nominating a woman as his replacement Vice President and, in a barely veiled manner, accuses him of being a coward for going for the safe option rather than the better one. Santos then notes that she's refused an offer of a place in his administration; when she replies that she has her own agenda to pursue, he rather pointedly notes that it's easier to fire potshots from the outside than work to meaningfully improve things from the inside. Amy thus finds herself in the position of having to face the same accusation of cowardice / fear she basically levelled at Santos moments before.
Ironic Nursery Tune: Or, to be more exact, Ironic Christmas Carol. In "Noel," it turns out that Josh's

PTSD

is triggered by

the sound of music being played, as it sounds like sirens in his head

. As the episode ends, Josh and Donna leave the White House to find a group of people singing "Carol of the Bells" a cappella outside the main gate. It's sung in a clipped, discordant way, with the carolers loudly ringing the bells they're holding and sounding almost robotic.
Irrevocable Message: Toby and Will's very sarcastic first draft lambasting the choice of Bob Russell as veep makes it onto the teleprompter. (Fortunately, Russell has a sense of humor about it.)
Is This Thing Still On?: Bartlet insults Ritchie while his mic is hot.

His staff realizes it was intentional when they note how strange it was for him to use a gun metaphor.

Ivy League for Everyone:

Not so much everyone; Sam went to Princeton for undergrad, Josh went to Harvard (though he wears a Wesleyan shirt at one point), and Ainsley went to Harvard Law. Those who didn't attend Ivy League schools generally went to elite non-Ivy institutions: Bartlet attended Notre Dame and did graduate work at the London School of Economics, while CJ went to Cal-Berkeley and Donna went to Wisconsin-Madison.

This is addressed in a first season episode comparing two candidates for the Supreme Court. One attended Princeton and Harvard Law, the other took law classes at night from City University of New York. They go with the CUNY grad.

Toby's the vaguest educationally, but we know he went to CCNY (City College of New York) when a Supreme Court justice gave a speech there and he mentions he was a student.
Played with in the third season. Ainsley complains that the White House is full of Ivy League elitist Democrats, before Sam points out that Notre Dame, Bartlet's alma mater, isn't in the Ivy League. He then points out that Ainsley herself attended Harvard Law. We also learn that she attended Smith Collegenote .

Bartlet's Republican opponent attended the University of Florida, but the administration and media still heavily question his education, implying that Ainsley may've had a point.

Truth in Television to some extent: the ranks of government are packed with Ivy League policy majors.

I Want My Jetpack: Leo invokes the trope name almost word-for-word in response to a request by NASA for more funding.
I Was Beaten by a Girl

"Toby, come quick! Sam's getting his ass kicked by a girl!"
J to R
S to Z
Sanctuary of Solitude:

Its most epic episode features President Bartlet giving God himself a chewing out in the National Cathedral after the funeral of Mrs. Landingham.

You're a son of a bitch, you know that? She bought her first new car, and you hit her with a drunk driver. What, was that supposed to be funny? "You can't conceive, nor can I, the appalling strangeness of the mercy of God," says Graham Greene. I don't know whose ass he was kissin' there, 'cause I think you're just vindictive.

He tops it off by cursing at God in Latin.

Bartlet: Eas in crucem!Translation note
---
"What's next?"
---