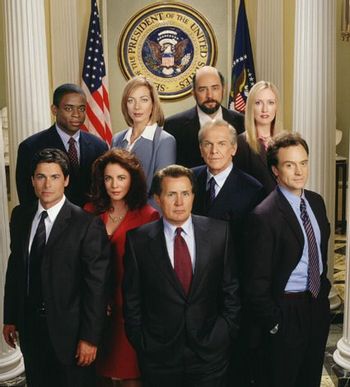 Bartlet:
There's a promise that I ask everyone who works here to make: never doubt that a small group of thoughtful and committed citizens can change the world. You know why?
Will:
It's the only thing that ever has.
The West Wing is a political drama series (1999-2006) created by Aaron Sorkin, starring Martin Sheen as the idealized President of the United States, nerdily intellectual Democrat Jed Bartlet. The real focus, however, is on his smart and dedicated staff, who roam the White House endlessly discussing the pressing political issues of the moment. In fact, the President wasn't even originally intended to appear very often, but Sheen was so impressive in the pilot that he was made a regular instead of the original four-episodes-a-season plan.
The rest of the cast includes Stockard Channing as the President's wife Abbey, John Spencer as Chief of Staff Leo McGarry, Allison Janney as White House Press Secretary C.J. Cregg, Bradley Whitford as Deputy Chief of Staff Josh Lyman, Rob Lowe as Deputy Director of Communications Sam Seaborn, Dulé Hill as the President's assistant Charlie, Janel Moloney as Josh's secretary Donna, and Richard Schiff as Director of Communications Toby Ziegler. Additional cast includes Marlee Matlin, who plays political consultant Joey Lucas, and is one of the few times an actual deaf person is cast in a major television program, and Mary-Louise Parker as feminist spokesperson/First Lady's Chief of Staff Amy Gardner.
As per Sorkin's style, the show is wall-to-wall dialogue. The characters spend the entirety of every episode having lengthy, pointed arguments about real concerns such as public education, foreign aid and gun control, in a style of patter which carefully balances sober and didactic with nutty and didactic. All sides of an issue are covered (the show even gave the reason for the US Navy's infamous four-hundred-dollar ashtrays), although the show still has a distinctly liberal bias, with more than a few Republicans being portrayed as arrogant and out of touch. It did get a fair bit of criticism from conservatives for this, but many saw it as the best attempt to date to try to be a truly fair and balanced drama about Washington, D.C.. The show is notorious for the Walk and Talk — to create the illusion of activity in the midst of all this discussion, the characters constantly walk around the White House as they talk, despite the fact that they rarely have any place to go. Its nickname on Television Without Pity was "pedeconferencing", which was also picked up by Sorkin and Schlamme, among others.
It's also notorious for its vanishing characters. The characters played by Rob Lowe and Moira Kelly never officially left; they merely were never seen again, despite the fact that Lowe in particular was an integral part of the White House social order (and had just had a running plot which gave him a perfect way out). This is just a quirk of Sorkin's which even his most ardent fans find irritating and inexplicable. Lowe, it should be noted, returned close to the finale and had his resignation and intermezzo period explained. Mandy is still on her bus to Mandyville.
The first four seasons were written and directed by Aaron Sorkin and Thomas Schlamme. They left at the end of the fourth season, to be replaced by John Wells (of ER fame). Rather than trying to emulate Sorkin's style, Wells decided to emphasize the personal lives of the characters over the politics, and the show moved more to the middle of the Sliding Scale of Idealism Versus Cynicism and dealing with many current events issues. The last two seasons also shifted the plot out of the White House and into the next presidential race, adding Alan Alda and Jimmy Smits as the Republican and Democratic frontrunners (Alda's Emmy would tie the show with Hill Street Blues as the most honored drama in Emmy history). Despite lacking even one mention of superdelegates, the Santos-vs-Vinick campaign is noted for its stunning accuracy and is possibly the single most realistic fictional depiction of an American presidential political campaign anywhere. It's also notable for the fact that the presidential race, written and aired in 2005/06, has a more-than-passing resemblance to the 2008 presidential campaign, with a charismatic young non-white Congressman (Santos/Obama) facing off against a moderate "straight talking" Republican from the American Southwest (Vinick/McCain). The writers have said they based Santos on then-Senator Obama after the latter's speech at the 2004 National Democratic Convention.
After NBC moved the show up against the inexplicable ratings juggernaut Extreme Makeover: Home Edition, ratings declined to the point where, in 2006, it was cancelled. Though the Santos-Vinick Election arc did give a perfect out for its Grand Finale.
Originally on Netflix, the whole series is now streaming on HBOMax as of December 2020.
In 2020, the cast came together on HBO Max to restagenote at Aaron Sorkin's insistence, the event is most emphatically not a reunion "Hartsfield Landing" from Season 3 as part of an initiative to encourage voting ahead of the 2020 US presidential election. Due to John Spencer's passing, Sterling K. Brown stepped in to play Leo.
No, the Enchanted Rose isn't located here.
---
This show provides examples of:
open/close all folders
# to D
E to I
Early-Installment Weirdness:

In a very early episode, Sam cracks "Like we don't have enough trouble with the first lady and her ouija board," a reference likely inspired by Nancy Reagan's fondness for astrology and setting up the idea that the first lady is a bit of a flake. Then Abbey actually shows up, played by Stockard Channing, and she's a smart, savvy, no-nonsense doctor with not a hint of flakiness about her.
The staff being rounded up in the Oval Office because the building isn't secure? Very characteristic. Them spending the previous hour collectively idling away their time with trivia and poker with the President? Not so much.
The president tells some representatives of the Christian right to "get your fat asses out of my White House." Later, he's generally a lot more sophisticated. Still pretty satisfying, and arguably justified.
A Secret Service agent draws his gun and tells a guy who'd been harassing Zoe at a bar "Shut up! Swear to God I'll blow your head off" after he's already made the arrest. Ever after, the service is portrayed as an agency with the utmost professionalism and coolness in action. In his defense, the agents had been summoned by their protectee's panic button, and for all they knew these guys were potential kidnappers or something.
In "Ellie", the episode in which we are first introduced to the president's middle daughter, several characters refer to her as Eleanor, rather than her nickname Ellie. Every other time she is mentioned or appears people only ever call her Ellie.
Hoynes has a (bad) Texas accent in one episode of Season One. Thankfully, it was never repeated.
In early Season One, staff meetings with the president in The Oval Office usually had a handful of extras standing around in the background (presumably these were the rest of the president's senior staff). After about halfway through the season, this was done away with and meetings were just our regulars thereafter.
J to R
S to Z
Sanctuary of Solitude:

Its most epic episode features President Bartlet giving God himself a chewing out in the National Cathedral after the funeral of Mrs. Landingham.

You're a son of a bitch, you know that? She bought her first new car, and you hit her with a drunk driver. What, was that supposed to be funny? "You can't conceive, nor can I, the appalling strangeness of the mercy of God," says Graham Greene. I don't know whose ass he was kissin' there, 'cause I think you're just vindictive.

He tops it off by cursing at God in Latin.

Bartlet: Eas in crucem!Translation note
---
"What's next?"
---