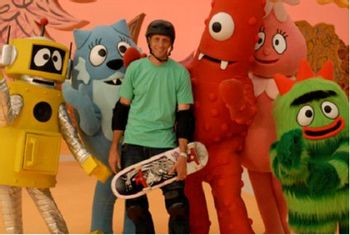 I think that the best things that came out of it were the chance to do Blanche and also I did a
Sesame Street
video that was very satisfying to me. And I don't think I would have been asked to do that if I hadn't reached a little bit higher profile in the 'industry.' That was really rewarding.
What well-known bands or actors acquire when they appear as themselves, or doing their instantly-recognizable acts, on a television program aimed at young children.
Like many things about modern kids' TV, the concept was pioneered on Sesame Street and subsequently became a staple of the many programs inspired by it. The basic idea is to make it easy and fun for parents/guardians to get involved in their kids' educational process; however, over the years, it has spun itself off into a unique celebrity cachet. An appearance on the Street — or nearby programming suburbs — has become almost as potent a sign of stardom as an appearance on Leno's or Letterman's couches.
May involve a certain amount of Bowdlerization to keep things kid-friendly and/or educational. Bleached Underpants sometimes results as well.
Mostly occurs in live-action shows, but an actor or band with a distinctive voice can provide the same effect in animation.
The serious older sibling of Parental Bonus. When a person does this sort of cameo because their children are in the target age for the work in question, that's So My Kids Can Watch. If the celebrity in question did work on a children's show before becoming famous, it would be considered Retroactive Recognition. If the celebrity was a big fan of the show they were cast on growing up (a common case with Long Runners like Sesame Street, Scooby-Doo and SpongeBob SquarePants), or are currently a member of the Periphery Demographic for the show and decide to take this role, their Sesame Street Cred would also make them a Promoted Fanboy. For the inverse (with the Sesame Street, Muppet Show, or related cast only), see Muppet Cameo.
Note: When adding examples, please remember that not all animated series are aimed at young children. Rule of thumb: the closer the age of the show's target audience is to the age of the guest star, the less likely it is to be this trope. Also, remember that nearly all inverted examples of this trope go in Muppet Cameo, not here. Finally, please do not include examples where celebrities are guest-starring as characters other than themselves or not doing immediately recognizable acts.
---
open/close all folders
Examples in fiction:
Comic Books
Film — Live-Action
Live-Action TV
Western Animation
The Misfits in Jem attempt to do this with a kid's show at the start of "Roxy Rumbles". Roxy however can't read the teleprompter as she Never Learned to Read, and won't admit it to anyone but her bandmates (who tease her for it except for Stormer). She ends up getting into a spat with Pizzazz about it on live television and ends up banned from the show.
We Bare Bears: "Anger Management" involves Nom Nom the Koala trying to get on a cutesy kids' show called The Corgis in order to boost his flagging popularity.
Examples in real life:
Advertising
This happened in the Kids' WB! commercial break bumpers from its first and second years. The stars of their primetime block, along with comedian Harland Williams, would announce when the shows were taking breaks and returning.
Back when it was PTV Park, PBS Kids ran a series of interstitials called Another Pointer From Paula Poundstone, in which the comedian Paula Poundstone gave children advice on topics like eating healthy and sticking to your plans.
Anime & Manga
Hitomi Yoshizawa from Morning Musume appeared as herself in a Filler episode of Kirarin Revolution, an anime aimed at young girls. It's justified, as the lead character of said anime was based on and voiced by by Koharu Kusumi, who is also a member of Morning Musume.
Pretty Cure:
The Pretty Series often uses members of idol groups as guest stars, being that the franchise revolves around idols:

DJ KOO (spelled DJ COO in the show proper) is a major character in Pretty Rhythm: Rainbow Live. However, in a strange version of this trope, he wasn't voiced by the person he was based off.
AKB48 member Rina Kawaei played a mini Falulu in PriPara The Movie: Everyone's Desire Let's Go PriParis]. In the same movie, Dewi Sukarno, the former First Lady of India, played Ploria.
Wa-Suta appeared as themselves in the 21st episode of Kiratto Pri☆Chan. It's justified, as they also sing the ending themes for the show.
In another PriChan episode, YouTubers Kan and Aki appear as themselves.

Yo-Kai Watch:

AKB48 appeared as Nya-KB in a few episodes. They also sang one of the ending themes as the group.
In the first movie, comedian Ken Shimura was the voice of Master Nyada and AKB48 member Haruka Shimazaki played the younger version of Nate's grandmother.
Aoi Yūki, a voice actress who mainly stars in otaku-oriented anime, plays Inaho Mizora, a character who herself is an otaku.

In Jewelpet, Aya Hirano is the voice of Garnet, while the Big Damn Movie featured Mana Ashida playing a pink-haired princess version of herself.
Tamagotchi:

Singer Hitomi guest-starred as herself in GO-GO Tamagotchi!, often partnering with the show's Idol Singer Lovelin.
The Gotchi Shinbun web newspaper promoted human characters Yukine and Suzune's appearances as this, since Ai Kayano and Reina Ueda voiced them.

Hatsune Miku appeared As Herself in the children's anime Shinkansen Henkei Robo Shinkalion.
Shima Shima Tora no Shimajirō has these since cameos the Shimajiro No Wao retool that started in 2013. Most notably, in a recent episode, Takashi Fujii aka Matthew Minami makes an appearance as Etiquette Man.
Film — Animated
Film — Live-Action
Live-Action TV
Trope Namer Sesame Street now has its own page.
The Muppet Show was another of Jim Henson's shows that lent itself well to Sesame Street Cred. It had a guest star every episode as a part of its Variety Show format, and had an astonishing number of big name celebrities during its run, to the point that many celebrities such as Gene Simmons considered in a badge of honour - people were more impressed when they heard he'd been on the Muppets than by some of his work.
Gordon Ramsay has Muppet cred, appearing in one of the Muppets' YouTube skits, a seriously funny mashup of Kitchen Nightmares and Hell's Kitchen. See it here.

Sweetums: You sure do say "bleep" a lot.
Gordon: Because this is the bleeping 'Muppets!' There's families bleeping watching!

Inversion: Cookie Monster appeared on The Colbert Report to hang a lampshade on the whole cookies-are-a-sometimes-food thing. ("Me have craaaazy times in '70s and '80s.")

Then there's The Daily Show's own personal Muppet, 'Michael Steele', which started as a stock footage running gag and evolved into an actual Muppet. Meanwhile, the original Muppets have made plenty of other in-character talk show appearances. Not to mention the Scrubs episode with Elmo, Oscar, Telly, and Grover.
They also used Guy Smiley for Mitt Romney.
Also, don't forget Gitmo: Elmo's mustachioed terrorist relative detained at Guantanamo.
Kermit the Frog has Daily Show cred.

Cookie Monster also appeared on Martha Stewart's show Martha Stewart Living. Hilarity really did ensue.
The various artists and musicians who appeared on Mister Rogers' Neighborhood.

In an interesting crossover, Big Bird himself appeared in one episode of Neighborhood, but only after considerable negotiation. Word of God is that Carroll Spinney turned down an initial script that had him taking off the Bird head and demonstrating how he performed the character. As the line between 'make-believe' and reality was likewise important to Fred Rogers (who saw any overlap as deceiving his young audience), Big Bird appeared in character, but only in the Neighborhood of Make-Believe. In a later episode of Sesame Street, Rogers would appear to act as referee for a race between Big Bird and Snuffy in Central Park.
In another crossover, Captain Kangaroo appeared on Mister Rogers' show, followed by Rogers appearing on the Captain's show. A young Tony Hawk also made his TV debut on the latter.
When the Arthur episode "Arthur Meets Mister Rogers" was slated to premiere, an episode of Mister Rogers' Neighborhood was made to promote it that starred Arthur creator Marc Brown and Michael Yarmush, the then-current voice of the eponymous character. However, it wound up airing two years after said Arthur episode was broadcast due to Schedule Slip.

Yo Gabba Gabba!:

The Shins
Low
Hot Hot Heat
Shiny Toy Guns, made even better because of the fact that they were shown as "The Shinys".

Similarly, The Killers were introduced as "Brandon, Dave, Ronnie, and Mark."note

Erykah Badu
Cornelius
Tony Hawk
Jack Black. Gets special mention for having most of an episode dedicated to his appearance, as well as the chance to wear orange spandex despite having a slight beer gut.
Bill Hader (who wanted to do it for his daughter, who ended up being embarrassed that her father appeared on her favorite show)
Glay
Dave Grohl (of the Foo Fighters) appeared at one of the live shows (he was attending it with his daughter) and did the Peanut Butter Stomp.
My Chemical Romance appeared on the 2011 Christmas Episode, billed as "MCR".
Of Montreal
Mos Def
Anthony Bourdain
The Aquabats! (not surprising since the lead singer is the show's creator)
Basement Jaxx
The Flaming Lips
Devo — which is really no surprise, since Mark Mothersbaugh hosts the Mark's Magic Picture segment of the show.
Paul Williams, singing "The Rainbow Connection".
Biz Markie appears during the "Biz's Beat Of The Day" segments.

The Chica Show: Mario Lopez voices Stitches in the show's cartoon segments.
The cast of Star Trek: The Next Generation on Reading Rainbow. Which is fitting, because LeVar Burton hosts Reading Rainbow. Along with the various story narrators — Bill Cosby, Michael Ansara, Hulk Hogan, et al.
This also happened in The Sarah Jane Adventures with the Blue Peter presenters in "Invasion of the Bane".
MI High featured an appearance by Konnie Huq, one of the Blue Peter presenters, in one episode.
Billy Corgan appeared on the last episode filmed of WGN's Bozo, the 40th anniversary show.
Jon Stewart made an appearance on Jack's Big Music Show as a reporter doing a story on Groundhog Day; Jack's Big Music Show is one of his son's favorite shows.
Cheryl Hines appeared on this show as well.
Square One TV featured, among other things, a bunch of music videos by well-known artists about math. Featured bands include the Jets, the Judds, the Fat Boys, Kid 'n' Play, Bobby McFerrin, Gregory Hines and "Weird Al" Yankovic.
Inversion: Dustin the Turkey often appears unexpectedly on various Irish TV shows to insult the presenters (this is entirely in character for him). The most bizarre example would probably be the time he entered the Eurovision Song Contest.
Vicki Lawrence, Dolly Parton, The Rock, Christine Taylor, Jesse Mc Cartney, Iyaz, Rob Reiner, Edie McClurg, John Cena, Jon Cryer, Heather Locklear, Brooke Shields, Robin Roberts, Dr. Phil, Sheryl Crow, Ray Liotta and Larry David are among the guest stars who performed on Hannah Montana.
Wizards of Waverly Place also featured guest appearances by Dwayne Johnson and Rob Reiner, along with Shakira, Wilmer Valderama, Taylor Negron, Curtis "Booger" Armstrong, Jeff Garlin, Julia Duffy, Julie Brown, Lee Meriweather, Adam Carolla, Fred Willard, Cindy Crawford, Misty-May Trainor, Rachel Dratch, Jo Anne Worley, Ted McGinley, and John O'Hurley.
3-2-1 Contact had a few, including Robert Guillaume, Linus Pauling, Suzanne Ciani, Dizzy Gillespie, Sarah Jessica Parker, Gene Wilder, and even Big Bird (Caroll Spinney) himself.
Kylie Minogue is an honorary Wiggle.
Barney & Friends has had its share of guests over the years in videos and episodes, usually local Texan celebrities (where the show is filmed), but it has had a number of nationally known celebrities including astronaut Ken Reightler, Ella Jenkins, Joe Scruggs and author Tomie DePaola. In Barney's First Adventures, Teri Garr and Melissa Gilbert both make appearances.
The Noddy Shop utilized this technique for many of their one-shot characters:

Carol Kane plays Pearlie White, the titular character of "The Tooth Fairy".
Harry Anderson plays Jack Fable, the magician who teaches Daniel Johnson tricks in the episode "The Magic Show".
Gilbert Gottfried plays the epynomous character of "Jack Frost Is Coming To Town".
Betty White played Santa Claus' wife Annabelle in the Christmas Special "Anything Can Happen At Christmas".
Canadian actor Colin Fox played the epynomous character in "The Sandman Cometh".
Gregory Cross, well-known for playing Monsieur Firmin in the Toronto production of The Phantom of the Opera, played Ed Caruso.
The singing voices of the puppets also count, as they were talent from Nashville, Tennesee. Two notable ones were Joseph Wooten (Bass Penguin of The Doo-Wop Penguins), who is part of the Steve Miller Band, and Percy Travis III (Johnny Crawfish), who has worked with Faith Hill.

Odd Squad has had a few members of The Kids in the Hall play characters in Crime at Shapely Manor. In addition, Jack McBrayer appeared in Odd Squad: the Movie as the primary antagonist Weird Tom. Interestingly enough they also snagged Hannah Simone for the role of Weird Emily. Dalila Bela, who played Agent Olive in Season One, would go on to voice Sydney in Ready Jet Go!, while Millie Davis played a part in Orphan Black.
Sam & Cat had guest appearances from Penny Marshall and Brad Williams.
A quickfire challenge on an episode of Top Chef: All Stars has the contestants baking cookies for Cookie Monster, Elmo, and Telly. Elmo requests a cookie with zucchini or carrots in it, and a few of the chefs actually oblige him. The whole sequence is a riot, and it's on the official Top Chef YouTube channel, too.
Ryan's Mystery Playdate, a Nick Jr. show based off Ryan ToysReview, relies on this trope. Once an Episode, a celebrity, athlete, artist, or some other respected adult (or sometimes a child) will be revealed as the eponymous Mystery Playdate and teach Ryan a thing or two. Examples include Tony Hawk, Murray SawChuck, Laurie Hernandez, Tony Gemignani, EvanTubeHD, Maria Menounos, Butch Hartman, and Dave Grohl.
Pee-wee's Playhouse featured guests like Little Richard, Oprah Winfrey, Phil Hartman, John Singleton and Cher.
The Weird Al Show had appearances from many celebrity guest stars, among them Jonathan the Magician, Patton Oswalt, Drew Carrey, Gilbert Gottfried, Dick Clark, Alex Trebek, Hanson, and the Barenaked Ladies.
Canadian television productions for children, no matter if they're animated or live-action, are a notable case, as they usually avert this trope because hiring celebrity guests tend to be more expensive than just using the same pool of actors from the country. Although there have been some exceptions, these instances are few and far between.
Jason Mraz played the titular character in The Fresh Beat Band special The Wizard Of Song.
Charlie Horse Music Pizza starred comedian Dom DeLuise as the chef character Cookie.
Jackanory is a BBC children's show which had mostly British actors, comedians or celebrities (including Liam Neeson, Judi Dench, Rik Mayall, Joanna Lumley and Patrick Stewart) reading a story. It was originally broadcast between 1965-1996, with the final episode featuring the playwright Alan Bennett and has been revived under different names on several occasions since. In its most recent incarnation, as CBBC's Bedtime Stories, some of the more popular episodes have had Tom Hardy telling the stories but the show has also featured David Tennant, Jessica Ennis-Hill, Josh Homme, Suranne Jones and Chris Evans (Captain America, not the radio DJ).
Jonathan Winters plays the titular character in Bloopy's Buddies.
The Netflix puppet series Waffles And Mochi has Michelle Obama in a major role, along with guest spots from Jack Black, Rashida Jones, Common, Zach Galifianakis, Tan France, Gaten Matarazzo, Sia, Mandy Moore, José Andrés, and Massimo Bottura.
Marlee Matlin appeared in a few Baby Einstein videos to perform sign language.
Inversion: The Tweenies have appeared on several episodes of Top of the Pops to sing several of their songs.
Orlando Magic player Dennis Scott appeared in an episode of Gullah Gullah Island.
Web Video
This trope is the entire conceit behind Pancake Mountain, a youtube show where they get real musicians to make music videos aimed at kids which usually involve puppets.
Western Animation
Many Disney animated shows often bring in celebrity guest stars to voice characters, with some even being those who star in another show on their television asset ABC:

Regis Philbin appeared in an episode of Lilo & Stitch: The Series.
Smash Mouth appeared as themselves in an episode of Kim Possible. In addition, there have been episodes featuring voice roles by Debbie Reynolds and Anneliese van der Pol.
The original run of Muppet Babies note included guest appearances from Stan Lee and Les Ballets Trockadero De Monte Carlo.
Phineas and Ferb has brought in several guest stars as themselves, including Clay Aiken, Chaka Khan, Slash (who actually plays The Movie's feature song with the crew), Kelly Clarkson (who didn't get to sing), and Bowling for Soup, who also perform the show's theme song. Also of note is when they brought in Luc Robitaille to serve as a celebrity referee in an exhibition hockey match that turned into Hockey-Z9.
Dave the Barbarian featured a guest spot from James Hetfield and Lars Ulrich.
Tangled: The Series features such celebrities as Sean Hayes, Jeffery Ross, Richard Kind and Carol Kane in regular roles.
Sofia the First featured guest spots by Cary Elwes, Viola Davis, and Tracey Ullman, among others. It also features Ariel Winter as the titular character and Tim Gunn as Baileywick.
Gravity Falls often featured celebrity guest voice actors. Some of these have included Larry King, T.J. Miller, Neil Degrasse Tyson, John Stewart, Weird Al Yankovic, Patton Oswalt and John Oliver.
The Legend of Tarzan featured the voices of Diahann Carroll, Craig Ferguson and Jason Alexander.
The titular character of Buzz Lightyear of Star Command is voiced by Patrick Warburton.
Recess featured guest spots from Tim Curry and Buzz Aldrin.
Handy Manny had Mrs. Portillo, voiced by Shelley Morrison from General Hospital.
The Proud Family had episodes where celebrities such as Ashanti, Steve Harvey, Smokey Robinson, Tim Conway, Mo'Nique, Kobe Bryant, Chick Hearn, Samuel L. Jackson and Shia LeBouf did guest voices.
Ed Begley Jr., Josh Duhamel, Gilbert Gottfried, Tim Gunn, and Carson Palmer played themselves in episodes of The Replacements.
Higglytown Heroes had guest spots from Betty White, Tim Curry, Kathie Lee Gifford, Cyndi Lauper, Ed McMahon, Phil LaMar, Cicely Tyson, Wayne Brady, Sharon Stone and Raven Symone.

An episode of Dennis the Menace (UK) featured the then-presenters of Blue Peter.
Arthur has always had an interesting variety of guest stars, including cellist Yo-Yo Ma, Fred Rogers of Mister Rogers' Neighborhood, Matt Damonnote , Idina Menzel, Philip Seymour Hoffman, 3 then-current Boston Red Sox baseball players, blues singer Koko Taylor, Art Garfunkel, Tom & Ray Magliozzi, Joshua Redman (as Francine's "uncle"), Michelle Kwan, Alex Trebek, Neil Gaiman, NASA astronaut Mike Fincke, Lance Armstrongnote , and (weirdly) architect Frank Gehry. Not to mention the time the characters did an interview with a live-action Larry King.

To say nothing of the special "Arthur, It's Only Rock 'n Roll", in which Muffy's obsession with the Backstreet Boys (who are mistakenly referred to as a rock band) prompts Francine to create a band of her own as part of a bet against her.

Dave Mustaine of Megadeth appeared in an episode of Duck Dodgers.
SpongeBob SquarePants has featured music by Pantera and Ween, and guest spots from David Bowie, The Cramps, The Dwarves, and Johnny Depp.

"Who're you?" "I'm David Hasselhoff."
Will Ferrell, Craig Ferguson, Tina Fey, Rosario Dawson, LeBron James, P!nk, Triumph the Insult Comic Dog and Robin Williams appeared in the 10th anniversary special. Ricky Gervais was the narrator.
Another notable one was Jon Hamm in the 200th episode, "Goodbye, Krabby Patty", where his character acted a lot like his role in Mad Men. Most viewers claimed that this was the best part of the episode, if not one of the best SpongeBob guest stars of all time.
Andy Samberg played Colonel Carper in "Hello, Bikini Bottom!".
A lot of famous musicians wrote songs for the Broadway musical, including The Flaming Lips, T.I. and Sara Bareilles.
Charles Nelson Reilly from Match Game played The Dirty Bubble.
The third movie, The SpongeBob Movie: Sponge on the Run, will feature two As Himself cameos from Keanu Reeves and Snoop Dogg, as well as a spot from Monsta X.
Sometimes, the celebrities given creds on SpongeBob are recurring characters:

Tom Kenny himself is this, having been a comedian before he took on voice acting.
The Flying Dutchman is voiced by Brian Doyle Murray, the brother of Bill Murray.
Mermaid Man and Barnacle Boy were played by Tim Conway and Ernest Borgnine.

Thomas the Tank Engine has had many celebrity narrators, among them, Ringo Starr (the original narrator), George Carlin, Alec Baldwin, and Pierce Brosnan.
VeggieTales had quite a bit of crossover with the Christian Rock scene, most likely due to the show's significant teenage Periphery Demographic.

In "Larry-Boy and the Rumor Weed", a ska-swing cover of "The Rumor Weed Song" by The W's plays over the end credits.
In Jonah: A VeggieTales Movie, an original song by the Newsboys, "In the Belly of a Whale", plays over the end credits.
Relient K did a split EP, with RK covering Larry the Cucumber's "The Pirates Who Don't Do Anything," and Larry covering RK's "Breakdown".
They released an entire album of Christian rock artists such as Skillet covering VeggieTales songs, entitled Veggie Rocks.
A lot of the videos made in The New '10s prior to VeggieTales in the House used guest voice actors. For instance, Amy Grant guest starred in Saint Nicholas: A Story Of Joyful Giving and Kellie Pickler played Mirabelle in Beauty and the Beet.

Happily Ever After: Fairy Tales for Every Child and Adventures from the Book of Virtues, two shows that retold classic stories, used celebrity voice actors for most of the characters in their stories, such as the voices of Malcolm McDowell, Ed Begley, Jr., Tim Curry, Shelley Duvall, Elijah Wood and Mark Hamill. Unfortunately, the celebrity roles in the latter were removed in later releases because of the series being redubbed.
The Alvin and the Chipmunks episode "Urban Chipmunk" had Dolly Parton.
Simple Plan appeared as themselves in the What's New, Scooby-Doo? episode "Simple Plan and the Invisible Mad Man". They also performed the show's opening theme.
Milli Vanilli appeared in The Adventures of Super Mario Bros. 3. Ironically, two weeks before they were exposed for lip synching, which utterly trashed their cred.

Before that, The Super Mario Bros Super Show! featured various guest stars, including Nicole Eggert, Sgt. Slaughter, Pam Matteson (once as herself and once as Cher), Harry Blackstone Jr., Magic Johnson, Brian Bonsall, Jim Lange, Vanna White, Roddy Piper, Cyndi Lauper, Ernie Hudson, Moon Zappa, Elvira, and Captain Lou Albano, who gets bonus points for playing the main character but still appearing as himself in one episode.

Speaking of Slaughter, he made occasional appearances in G.I. Joe: A Real American Hero as himself. As expected, he rarely uses guns.
Garfield and Friends had several celebrity guest stars like Imogene Coca, James Earl Jones, and Don Knotts. Some of these celebrity guest stars were recurring characters on the show, like Victoria Jackson as Garfield's love interest, Penelope, and Kevin Meaney as Aloysius Pig, Orson's bossy cousin who worked for (DA-DUM!) The Network. Kevin's role became so popular that he pursued a career in voice acting as a result. And like SpongeBob above, at least two of the celebrity roles were tied to the main cast, with Lorenzo Music playing Garfield and Howard Morris voicing Wade Duck, with the latter also voicing several incidental characters.
KISS appear as themselves in the "Wishology" trilogy of The Fairly Oddparents, though only Gene Simmons and Paul Stanley provided voices.
The My Little Pony: Friendship Is Magic series has had several guest actors appear on the show, from John de Lancie to "Weird Al" Yankovic, and even William Shatner. JdL's appearance as Discord proved so popular, he was brought back as a recurring character.
Weird Al has appeared As Himself in several iterations of Scooby-Doo.
Hip-Hop artists Childish Gambino and notoriously foul-mouthed Tyler, the Creator provided rapping for one-off characters in the rap battle-themed Regular Show episode "Rap it Up."
Flamboyant figure skater/reality TV star/commentator Johnny Weir appeared in a special promo that aired during the Dora the Explorer special "Dora's Ice Skating Spectacular!" to teach her how to do a figure skating jump and to mention the importance of sparkles.
Barbara Eden of I Dream of Jeannie fame got her cred when she appeared on Shimmer and Shine.
Dale Crover and King Buzzo of the Melvins voiced themselves in an episode of Uncle Grandpa.
This Old House master carpenter Norm Abram helped a couple of the contestants build their lemonade stand in one episode of WGBH stablemate FETCH! with Ruff Ruffman.
Norm Abram appears as himself in an episode of Freakazoid!, blackmailed by the Lobe to build a giant wooden horn.
Before They Might Be Giants even started making children's records, two songs from their third album Flood ("Particle Man" and "Istanbul (Not Constantinople)") appeared in an episode of Tiny Toon Adventures. Plucky and Hamton are even dressed like John Linnell and John Flansburgh respectively during a part of the Istanbul segment.

Even earlier than that, the band hosted an episode of Nick Rocks to promote the song "(She Was A) Hotel Detective", the lead single from their debut album.

While most celebrity appearances in Teen Titans Go! fall under So My Kids Can Watch, three of them do not:

In the first season episode "The Date", Ricky Jay played the voice in Robin's head, making this instance an example of Early Installment Weirdness.
Bob Uecker, whose children and grandkids are out of the target demographic for Teen Titans Go!, appeared in season five's "BBRBDay!", in the era when most guest voices did it for their kids. note
Rap group De La Soul, who guest starred in the episode "Don't Press Play", is this trope as none of the members of the group have children of their own.

Schoolhouse Rock!: While many songs are sung in-house, usually by the songwriters, The Tokens were brought in to sing about gravity.
Monsta X guest-starred in the We Bare Bears episode "Panda's Birthday".
BRIAN BLESSED voices Grandpy Rabbit in Peppa Pig.
Scooby-Doo and Guess Who? is an entire series that pairs the Mystery Gang wound up with a different guest each episode. Several of those guests fall into this territory, including Wanda Sykes, Sia, Neil DeGrasse Tyson, and more. For what it's worth, Steve Urkel's (reprised by Jaleel White, no less) episode falls into this, as Family Matters had ended its run some 20 years before Guess Who premiered.

Its spiritual predecessor was The New Scooby-Doo Movies which did more or less the same thing, pairing the gang wound up with guests as varied as Sonny and Cher, Dick Van Dyke and Tim Conway.

The 2019 Where's Waldo? cartoon contains many celebrity guest stars like Weird Al, Carlos Alazraqui, Retta and Oscar Nunez.
Steve-O appeared in the The Epic Tales of Captain Underpants episode "Captain Underpants and the Bombastic Blathering of the Brainy Blabulous".
Cher had a guest spot in an episode of Home: Adventures with Tip & Oh.
Summer Camp Island casts Whoopi Goldberg, Alia Shawkat, Elijah Wood, Mike Birbiglia and Cedric the Entertainer in minor roles.
Mel Brooks voiced one of the sheep in Jakers! The Adventures of Piggley Winks.
Judy Greer plays the titular character of Let's Go Luna!.
Rocket Power features guests like Brian Doyle Murray, Robert Pine, Steve Guttenberg, and, fittingly for the series' theme, Tony Hawk.
Kristin Davis of Sex and the City fame voices the titular character of Miss Spider's Sunny Patch Friends.
Lily Tomlin voices Miss Frizzle in the 1994 TV adaptation of The Magic School Bus, and Little Richard sings the title theme.

NFL player Dan Marino and Dolly Parton also guest starred in the first series.

Blue's Clues occasionally had celebrity guests appear on the show or provide voices, including Gloria Estefan, Rosie O'Donnell, Wynnona Judd, Casey Kasem and Kevin Clash.
Rugrats had several celebrities voice characters, including Ron Liebman, Mo'Nique, Pamela Adlon, Jon Farveau, Lou Rawls, Dan Castanella and Alex Trebek.
The Peep and the Big Wide World episode "One Duck Too Many" features Megan Mullally as a female duck who claims her name is Quack.
Pete the Cat featured guest spots from Jim Parsons, Jason Mraz and KT Turnstall.
Wow! Wow! Wubbzy! had Beyoncé guest star as the leader of the Wubb Girlz in the special "Wubb Idol".
Martin Short takes the epynomous role in The Cat in the Hat Knows a Lot About That!.
David Steele guest-starred as a bird musician on Littlest Pet Shop.
Warren Buffet and Jay-Z starred as themselves in Secret Millionaires Club, though Buffett didn't voice himself.
One of the earliest examples of this trope, happening the same year Sesame Street premiered, was radio host Casey Kasem playing Shaggy in Scooby-Doo, Where Are You!.
Tanya Roberts of That '70s Show fame guest starred in the children's shows The Angry Beavers and Fillmore!.
Christopher Plummer narrates Madeline.
Amvest Video, a public domain distributor, had a tape of cartoons hosted by Al Lewis as his Grandpa character (renamed Grampa for legal reasons) from The Munsters.
Several celebrity guests have appeared on Bluey, including Robert Irwin, Layne Beachly and Anthony Field.
In Cyberchase, Christopher Lloyd and Gilbert Gottfried play The Hacker and Digit, respectively.
---