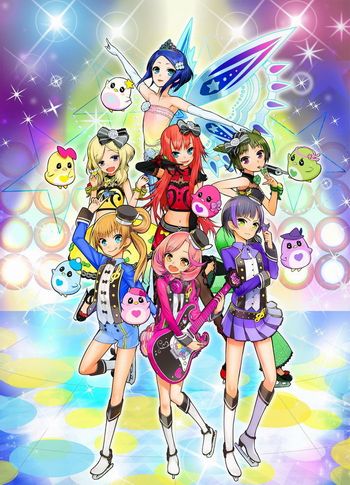 Pretty Rhythm Rainbow Live is the third anime series of the Pretty Series franchise, based on a tie-in arcade game of the same name by Takara Tomy. The anime series is set in a different setting to its predecessors, Pretty Rhythm Aurora Dream and Pretty Rhythm: Dear My Future.
In the world the anime takes place in, Prism Shows are the main form of entertainment. They are a combination of dancing, singing and ice skating. The main character is a 14-year-old girl, Naru Ayase, who can "see the colors of music" and has talent for decorating. The series follows her adventures when she meets a mysterious girl called Rinne, who has an unnatural skill as a Prism Star, and becomes the manager of a fashion shop that holds Prism shows.
It aired from April 6, 2013, to March 29, 2014, in Japan. An English dub aired in Animax Asia as well.
In 2016, the Rainbow Live anime received a Spin-Off film series titled King of Prism, which focuses on the male cast. King of Prism by Pretty Rhythm focuses on the male idol group Over the Rainbow and new character Shin Ichijo, and their struggle to win the Prism King Cup contest. It was followed up by the sequels Pride the Hero in 2017 and Shiny Seven Stars in 2019.
---
Tropes included:
---