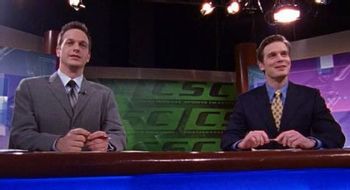 The single camera dramedy about an ESPN-style sportscast (see SportsCenter) created and (mostly) written by Aaron Sorkin went off the air after just two seasons on ABC from 1998 to 2000, but it remains a cult favorite and an influential example of the form.
The show's core cast consisted of Peter Krause (Six Feet Under, Parenthood) as Casey McCall, Josh Charles (Dead Poets Society and The Good Wife) as Dan Rydell, Felicity Huffman (Desperate Housewives) as Dana Whittaker, Sabrina Lloyd (Sliders) as Natalie Hurley, Joshua Malina (The West Wing) as Jeremy Goodwin and Robert Guillaume (Benson, Soap) as Isaac Jaffee, all of whom worked at a fictitious cable sports channel patterned after ESPN. (Characters on the show often referred to real-life athletes, teams, other television channels, Broadway musicals and various pop culture references in an attempt at verisimilitude.)
Most of the 22-minute episodes featured a similar pattern:
Workplace banter that introduces the week's major problem or theme
Slapstick gags or more banter that fulfilled the show's half-comedy billing
A sudden twist into the serious realm at about the halfway mark
One of the characters (usually Dana) flying off the handle for no good reason
Primary plot problem resolution
If subplot is present, a comedic or sentimental subplot resolution that points up a Double Aesop
During the first season, Sports Night employed a Laugh Track, with mixed results. Because Sorkin disliked the Laugh Track, it was gradually dialed down during the season, and disappears entirely for the second. At the beginning of season one, the Laugh Track points up the structure by cackling riotously for the first 12 minutes and then staying oddly silent throughout the latter acts.
---
This show provided examples of:
---