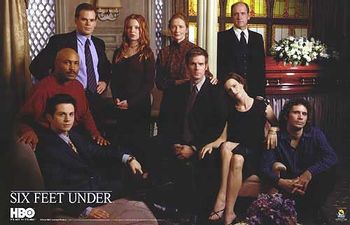 "Life is wasted on the living."
— Nathaniel Fisher Sr.
Six Feet Under is an HBO Ensemble Dramedy created by Alan Ball that originally ran from 2001 to 2005, comprising 5 seasons and 63 episodes.
The show follows the life of the Fishers, a family who runs a mortuary in Los Angeles. After family patriarch Nathaniel Fisher Sr. is killed in a car accident, his three children and widow take up running the family's funeral home business. Each episode begins with a death, which sets up that episode's funeral.
Has a Character Page under construction, any contributions would be appreciated.
Not to be confused with the Death Metal band of the same name.
---
This show provides examples of:
---