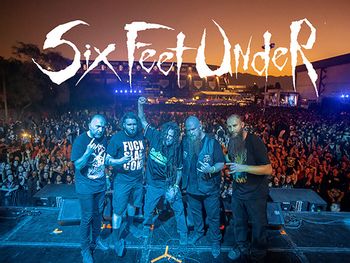 Six Feet Under (not to be confused with the show) is a Death Metal band formed in 1993 by ex-Cannibal Corpse vocalist Chris Barnes. Initially, the band was a side project between Barnes and Obituary guitarist Allen West, but it became a full-time band after Barnes left Cannibal Corpse. Despite being infamous as one of the most (if not the most) polarizing bands in death metal, Six Feet Under have come a long way from being "that band Allen West and Chris Barnes started", and are now one of the bigger names in the genre.
1995 marked the release of Haunted, the group's debut album, which showcased a slow, groovy approach to death metal not heard in Chris' work with CC. While it was criticized by some for sounding too much like Obituary, it was generally well-received and is still regarded as one of the band's best albums. It was the only album by the band made while they were still a side project, as well as the only album completed before Barnes' departure from CC, being recorded around the same time as the Created to Kill demos.
Two years later, their sophomore album Warpath dropped, being the final album to feature founding guitarist Allen West. Soundwise, it continued in the same vein as its predecessor and is also regarded as a good album. After this album, West left the band, and their musical direction began to change drastically. Once guitarist Steve Swanson, formerly of Massacre, joined, Maximum Violence was released, which had a more violent, blistering approach to their sound as opposed to the laid-back sound of the prior two albums, without sacrificing any of the groove that the band continues to be famous for. Like its predecessors, it received positive reviews, and is one of the only albums by the band to be enjoyed even by non-fans.
Unfortunately, however, things started to go downhill from there. The band's fourth album True Carnage was very poorly received, and to date is generally considered to be their worst album. It was widely criticized for its overly sludgy production, sluggish pace, lazy riffs, and prominent Nu Metal elements. However, some considered Barnes' temporary return to his Tomb of the Mutilated-esque vocal style to be a redeeming factor. 2003's Bringer of Blood fared a tad better in the production department, but overall wasn't much better. Barnes' voice was mixed loudly and sounded almost completely blown out, the lyrical content was among death metal's most juvenile, and the Nu Metal elements were severely dialed up. The song "Amerika the Brutal" even gained infamy for its absolutely cringeworthy music video. However, the album's title track became a fan favorite.
Luckily, they got back on their feet a bit with 13, though it did receive some backlash for its quiet production, requiring speakers to be turned to max volume to hear. The band's next two albums, Commandment and Death Rituals, were greeted positively but were pretty lukewarmly received overall by fans. After Death Rituals, drummer Greg Gall and bassist Terry Butler left, and due to the okay reception of the band's recent releases, Barnes decided to take a break and start everything over with Six Feet Under.
In late 2011, Barnes recruited guitarist Rob Arnold, formerly of Chimaira, and prolific death metal drummer Kevin Talley, and set out to bring SFU back to life. This lineup spent a while writing material for the band's ninth album Undead, and needless to say, it took the death metal community by storm and was certainly an album that nobody saw coming. To say the least, the band was indeed reborn; Barnes rested his voice and sounded completely revamped and ferocious, the riffs were much, much more technical than ever, the drumming was fast and more brutal than prior releases, and the band as a whole sounded more energetic and hungry. It even shut up the group's detractors, and it was clear that Barnes was finally back in peak form. The album went on to be their most critically acclaimed to date.
After Rob Arnold left, Barnes recruited guitarist Ola Englund of Feared and bassist Jeff Hughell formerly of Brain Drill, and was in full control of the band again, and less than a year after Undead, the band's tenth album Unborn dropped, and featured a diverse mix of playing styles and contributions from numerous other death metal musicians, including Ben Savage of Whitechapel and Jari Laine of Torture Killer.
As of 2015, Crypt of the Devil has been completed in collaboration with Phil Hall, Josh Hall, and Brandon Ellis, all of Cannabis Corpse. It came out on May 5 of that same year. In January 2016, Chris announced on his Twitter page that he was recording vocals for a new Graveyard Classics album, which came out May 27. The group's 12th album, entitled Torment, the first to feature original material from their new live lineup, came out in February 2017. A few months later, in a rather ironic twist, former Cannibal Corpse guitarist Jack Owen joined the band. The band's first EP in 22 years, Unburied, was released digital-only on July 6, 2018, consisting of 9 previously unreleased songs recorded during the Undead/Unborn and Torment sessions.
Their 13th album, Nightmares of the Decomposed, was released on October 2, 2020. The album reunites Chris with his old bandmate Jack Owen, marking the first time they have recorded together in studio in 26 years.
As of March 2023, songwriting for their 14th record has been completed with a release date to be determined. It will be their first album since Death Rituals to feature the exact same lineup as the previous.
Current lineup:
Chris Barnes - vocals (1995–present)
Jeff Hughell - bass guitar (2012-present)
Marco Pitruzzella - drums (2013-present)
Ray Suhy - guitar (2016-present)
Jack Owen - guitar (2017-present)
Former members:
Allen West - lead guitar (1995-1998)
Terry Butler - bass guitar (1995-2011)
Greg Gall - drums (1995–2011)
Matt DeVries - bass guitar (2011–2012)
Rob Arnold - rhythm guitar (2011–2012)
Kevin Talley - drums (2011-2013)
Ola Englund - rhythm guitar (2012-2013)
Steve Swanson - lead guitar (1998–2016)
Guest collaborators:
John Bush (Anthrax, Armored Saint) - vocals on "Blackout" (Graveyard Classics)
Ice-T (Body Count) - guest vocals on "One Bullet Left" (True Carnage)
Karyn Crisis (Crisis, Ephel Duath) - guest vocals on "Sick and Twisted" (True Carnage)
Iggy Pop - voice message on "Shot in the Head" (Death Rituals)
Ben Savage (Whitechapel) - songwriting and guitar on "Neuro Osmosis", "Decapitate", "Fragment", and "The Sinister Craving" (Unborn)
Rob Arnold (Chimaira) - songwriting and guitar on "Inferno" and "Psychosis" (Unborn)
Jari Laine (Torture Killer) - songwriting and guitar on "Zombie Blood Curse", "Incision", and "Inferno" (Unborn)
Ryley Dipaola (Dealey Plaza) - songwriting, guitar, and drums on "Illusions" (Unborn digipak edition)
Phil Hall (Municipal Waste, Iron Reagan, Cannabis Corpse) - songwriting, rhythm guitar, and bass (Crypt of the Devil)
Josh Hall (Cannabis Corpse) - drums (Crypt of the Devil)
Brandon Ellis (The Black Dahlia Murder, Cannabis Corpse, Arsis) - lead guitar (Crypt of the Devil)
Studio albums:
Haunted (1995)
Warpath (1997)
Maximum Violence (1999)
True Carnage (2001)
Bringer of Blood (2003)
13 (2005)
Commandment (2007)
Death Rituals (2008)
Undead (2012)
Unborn (2013)
Crypt of the Devil (2015)
Torment (2017)
Nightmares of the Decomposed (2020)
Cover albums:
Graveyard Classics (2000)
Graveyard Classics 2 (2004)
Graveyard Classics 3 (2010)
Graveyard Classics IV: The Number of the Priest (2016)
EPs:
Alive and Dead (1996)
Unburied (2018)
---
The band provides examples of:
---