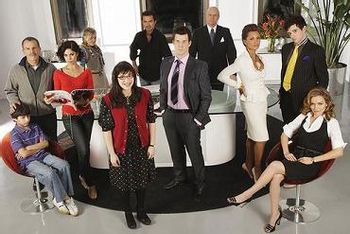 Ugly Betty
(2006–2010) is an
ABC
Dramedy
and an
Americanized version
of the Colombian
Soap Opera
Yo soy Betty, la fea
, which already had
dozens of versions around the world
.
Betty Suarez (America Ferrera) is a sweet but dowdy young woman from Queens, who hopes to one day run her own magazine. Despite her lack of experience, and her appalling fashion sense, Betty ends up hired at the high-end fashion magazine MODE, as the personal assistant to the editor-in-chief Daniel Meade (Eric Mabius). However, it's quickly revealed that Betty was only hired for her lack of sex appeal, so the infamous womanizer Daniel wouldn't be tempted to sleep with her. Unable to fire Betty, Daniel instead tries to humiliate her so that she'll quit on her own terms, leaving him free to hire a personal assistant of his own choosing.
Daniel realizes he's gone too far when a devastated Betty does quit, especially on realizing how hard she worked during her short time with him, and ends up begging for her to return. Betty accepts, and the two form a close working relationship, and eventual friendship.
Ugly Betty differs greatly from Yo soy Betty, la fea in that the show doesn't revolve around Betty pining after her boss and ultimately winning his love after much Will They or Won't They? drama. Instead Betty ends up entangled in the office politics involving the entire Meade family, along with facing off against Wilhelmina Slater (Vanessa Williams), who intends on taking over MODE magazine, no matter what it takes. Along the way, Betty learns to stand up against those who judge her for her dowdy looks, and how to balance her career with her family, to whom she is incredibly close to.
More importantly, Betty learns how to be proud of who she is, and it shows in that her string of lovers end up dating her because they love that she's so true to herself.
The show splits its time between Slapstick, fashion industry satire, occasional Deadpan Snarking, Soap Opera plots (kinda-sorta parodied) and Anvilicious Aesops about self-esteem and whatever other issues the writers want to make points about.
---
This show provides examples of:
Rich Bitch: Wilhelmina Slater and Victoria Hartley
The Rival:

Marc and Amanda are this for Betty in the early seasons, as they both have professional reasons to get her fired
Alexis and Daniel become rivals for the leadership of Mode in the first two seasons.
Stripping Snag: In "Betty's Wait Problem", Marc helps Amanda get the media's attention a red carpet event by deliberately (and somewhat apologetically) stepping on the hem of her dress, which caused her dress to be ripped off leaving her naked in front of a crowd of photographers. She's momentarily embarrassed, but soon gets over it as the flashbulbs start popping and begins posing and enjoying the attention.
"Well Done, Son!" Guy:

Daniel all the way. Eventually

subverted when his father says "I love you too son" when Daniel is out of earshot

Amanda demonstrates after upon learning her birth-mother was

the late Fey Sommers

.

White-and-Grey Morality: While things started out very clean-cut good and bad, the main villainous characters were just too appealing to stay flat. The turning point was probably the fourth episode "Fey's Sleigh Ride", which featured all the good and bad characters working together, and is highly regarded as one of the best episodes. Fully evil villains were a rarity even for antagonists outside the main cast.
---