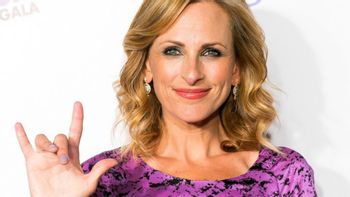 Marlee Beth Matlin (born August 24, 1965) is an American actor
notable for being a deaf actor frequently cast as deaf characters
. She won the
Academy Award
for Best Actress for her debut film performance in
Children of a Lesser God
. Apart from being the only deaf winner, she's also the youngest person to win in that category. She also made history at the Tony Awards in 2016 for being the first deaf presenter for a show's performance, introducing the show in which she was making her Broadway debut, a Deaf West production of
Spring Awakening.
Although Matlin (almost) always plays deaf characters, usually they will speak English for at least part of their screen time, either for dramatic or comedic effect as appropriate. This (naturally) reflects Matlin's own fluency in spoken English.
---
Tropes that apply to Marlee Matlin include:
Disabled Love Interest:

As she is deaf, this falls into any category where she has a love interest, in works like My Name Is Earl and The L Word.
Joey Lucas on The West Wing, a pollster and Temporary Love Interest of Josh Lyman who remains good friends with him even after she points out that Josh is already head over heels for Donna. She continues to lend her services to the Bartlet and Santos campaigns on a regular basis for the entirety of the show's run. Like the above example, Lucas also happened to be deaf.

Happily Married: To Kevin Grandalski since 1993.
Twofer Token Minority: Matlin herself is a deaf Jewish woman and appeared on The L Word as a deaf lesbian.
---