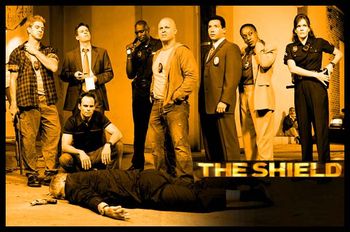 "Good cop and bad cop left for the day; I'm a different kind of cop."
The Shield is an American Police Procedural which ran over seven seasons from March 12, 2002 to November 25, 2008 on FX.
A hyperactive Shakespearian counterpart to the Dickensian The Wire, The Shield follows a team of police officers working at The Barn, an experimental police precinct situated within the fictional Los Angeles district of Farmington. Although the show revolves around corrupt detective Vic Mackey (Michael Chiklis), it gained a reputation as an ensemble show as the series explored the goings-on within the Farmington Precinct (including the various power struggles and interpersonal drama surrounding Mackey in the midst of the chaos and intrigue).
The focus of the show revolves around Mackey as he leads an elite anti-gang task force known as "The Strike Team". The LAPD tasked the Strike Team with the monumental job of keeping the streets of Farmington safe from drug dealers and gang members. Mackey and the other members of the close-knit group generally go about their task with violent efficiency and a little corruption on the side: the team will often enter into Faustian deals with Farmington's criminal elements—which give said criminals free rein to run the city's drug trade—in exchange for bribes, intel on other gang members, and a promise to keep their illegal antics at reasonable levels to ensure an illusion of peace.
Other aspects of the show deal with the rank-and-file members of the Farmington Precinct. The most notable of these cast members, detectives Holland "Dutch" Wagenbach and Claudette Wyms, deal with non-gang-related instances of rape and murder within the district. They serve as the moral opposite of Vic Mackey and the Strike Team, which leads to tension between the two sides when they work together on related cases (or when Dutch and Claudette have to clean up the inevitable fallout from the Strike Team's corrupt antics while trying to prove Vic's corruption). Several patrol officers—including Danielle "Danny" Sofer, her protégé Julien Lowe, and rookie cop Tina Hanlon—find themselves struggling to advance up the ranks while dealing with the unappreciated job of keeping Farmington safe.
Other characters include police captain-turned-politician David Aceveda, whose disdain for Vic Mackey and his corrupt antics clash with his political ambitions (and ends up driving him further and further into bed with Vic as the series progresses), and Vic's estranged ex-wife Corrine, who spends the bulk of the series trying to separate herself and her children from her ex-husband before his crimes destroy their lives.
Much like The Sopranos, The Shield goes to great lengths portraying Vic and the strike team as nuanced characters with good and bad sides. In spite of his corruption and violent tendencies, many of Vic's criminal actions often result from the stress of his job (i.e. the unrealistic pressures placed on him to shut down crime in the district) and the desire to provide for his family (two of his three children have autism). Vic has some lines he refuses to cross, however, and he has absolutely zero tolerance for rape, pedophilia, and domestic violence. He also shows a great deal of loyalty towards his teammates and often preaches the message of team loyalty to bond the four men into a surrogate family.
But Vic's conscience mainly exists thanks to the influence of Strike Team member Curtis "Lem" Lemansky. Lem serves as the counterpart to Vic's much abused "yes-man" partner, Shane Vendrell. Ronnie Gardocki, a quiet and nerdy police detective whose silent loyalty to Vic balances Lem and Shane's polar opposite personalities, rounds out the Strike Team.
If you're looking for the professional wrestling stable, you'll want to look here.
---
The Shield contains examples of:
Felony Murder: What ultimately dooms Shane and Mara. When Shane's attempt to rob a group of drug dealers goes wrong, she ends up shooting an innocent bystander by mistake. Regardless of if it was intentional, this results in Mara facing a first degree murder charge, since it took place during a crime in progress.
Oblivious Guilt Slinging: This quote sums it up.

Vic: I made a deal to bring Beltran and the drugs for immunity. I'm (going to) hold my end of it up.
Ronnie: Well I'm part of that deal to. We started this together, lets finish it together. *arm pat of friendship*

To clarify why, Vic has already signed his immunity deal and Ronnie believes his is already ironclad. It is not, and Vic's expression when Ronnie walks away shows this trope. If he's part of the deal, it's as a consolation collar for letting Vic get away with his crimes.

Odd Couple:

Dutch and Claudette.
Vic and Aceveda, once they start teaming up on a regular basis.

Oh, Crap!: Olivia's reaction when she hears Vic's confession and realizes just how filthy he really was. Up to that point, she was under the impression he was an effective cop who pushed the envelope from time to time.
Only Sane Man: Lem, and to a lesser extent Ronnie often fills this role within the Strike Team. Possibly Claudette, but her various moments of sanity ultimately are negated by a lot of the questionable decisions she makes (such as firing Kevin Hiatt for actually being a goody-goody and not a faux goody-goody who would get his hands dirty for Claudette so she could look good to her superiors).
Outlaw Couple:

In season 2, Dutch investigates a husband and wife team who are mutilating and killing women; he begins to suspect that the wife may herself be a victim who is being forced to participate in the crimes by her husband.

It turns out he's completely wrong, and if anything the wife is the main instigator.

Mara and Shane end up on the run after their plan to kill Ronnie and Vic goes south, and they end up robbing and killing someone in their attempts to flee the country.

Out of Focus: A lot of the non Strike Team characters, save for Dutch and Claudette, go through this eventually. Aceveda gets this for a while starting in season 4 but he comes back into play in seasons 6 and 7, albeit in a much less important way than at the show's start. Danny sort of Zig Zags this trope in most seasons after season 1. Julien probably got hit hardest with this trope and a bad case of Aborted Arc (his homosexuality) going from getting a lot of Character Focus in the first 3 seasons to having the least plot importance of any original character during the last 4 seasons.
Pater Familicide:

In order to avoid a hellish prison sentence, Shane kills his wife, son, unborn child and then himself in the finale

.
Peer Pressure Makes You Evil: The root cause for why Lem is a corrupt cop. Not to mention the catch-all excuse for Draco in Leather Pants Ronnie, as far as fans projecting motive for why Ronnie did evil.
Perp and Weapon: Vic pulls this on Margos when he corners him in Goma's house.

Unlike other examples, he shoots Margos on the spot, and then frames the scene to make it look like Margos was about to aim his gun at him.

Porn Stache: Ronnie in the first two seasons. It's allegedly supposed to help him get chicks but his attempts at hooking up say otherwise. He loses the stache after his face gets grilled, after which he switches to a beard to cover up the scarring.
Precision F-Strike: Not quite, as the f-word was not allowed on FX, but when Dutch

drives by Danny's house (after she had spurned his offer to help her study for her Detective's exam), only to see her let Vic in the house, for non-studying purposes

, Dutch lets out a perfectly enunciated "You've gotta be shittin' me!".

Said line later became a running gag, as far as various characters saying it whenever something bad happens. As for the F-word, ironically Shawn Ryan DID get it cleared for a single usage in season three but the Janet Jackson Nipplegate scandal deepsixed it).

Although The F-word is used several times in the video game of the series.
And according to the DVD commentary, CCH Pounder inadvertently blurted it out while filming the argument between Claudette and Dutch in the penultimate episode of the series. It apparently was so powerful (and worked so well in context) that Shawn Ryan briefly considered petitioning FX to leave it in.

The Profiler: Dutch's main forte. While he's has a California-sized ego and is socially awkward, there's no denying his skill in knowing how criminals function.
Promiscuity After Rape: Aceveda, despite being married, begins seeing a prostitute and acting out increasingly violent rape fantasies after being raped.
The Punishment: Vic, for all of his sins and magnificent bastardom and success at manipulating everyone around him, is rewarded by being given a $60,000 a year job as a Federal Law Enforcement Agent, with his supervisor (the one who was bamboozled into giving Vic immunity for his laundry list of sins and said job as an Agent of the US Government) having to neutralize the monster she empowered by giving him a cushy, if not unimportant, desk job for at least three years to keep him off the streets. It's also stated that, on top of her own duties, said supervisor will have to devote the next three years of her life, micromanaging Vic in order to make sure he stays neutered as well as bait him into quitting / committing an offense that would void his job contract/immunity deal, since if Vic manages to somehow last the full three years, his immunity becomes irrevocable and he can never ever be held accountable for his crimes. On the other hand, they can promptly throw him out. And with his laundry list public knowledge and his old nemesis slated to become the new mayor, his reputation as a Dirty, Dirty Cop is also permanent.
Put on a Bus: Army, who briefly joins the Strike Team. After an incident he is required to take a polygraph, refuses, and is never seen again.
Pyrrhic Victory: Vic's final fate. He certainly fares better than most of the others. He has a well-paying job in federal law enforcement and full immunity for his sins, but his victory is hollow. Vic has betrayed all of his friends, who are either dead or now rotting in jail. His ex-wife and their children have gone into the Witness Protection Progam far away from him, while his mistress is determined that Vic will have nothing to do with their son, who will inevitably learn all about what a monster their father was. Furthermore, Vic's biggest strengths (his charisma and people skills) have been permanently tarnished, due to the fact that his Karma Houdini required him to confess to all of his sins and as such; everyone knows now that he murdered a fellow law enforcement officer and betrayed one of his proteges in exchange for said immunity. And while he still has a job in law enforcement, the show portrays it as a three year prison sentence. He's working for people who can't stand the sight of him and intend to make his life such a hell he'll screw up, since the first and slightest violation of any term nullifies the deal. So not only is his new supervisor is going to have a lot of help and support to offset her new duties, none of them have to worry about being held accountable for any mistake he makes.
Rabid Cop: All four members of the Strike Team themselves, to varying degrees.
Rape as Drama: A theme of Season 3, which features Dutch's pursuit of a serial rapist targeting elderly women, as well as Aceveda's rape, which is played deadly serious with all the emotional trauma it would produce. In later seasons, Aceveda starts beating a prostitute in an attempt to reclaim his masculinity, and then makes a deal with Antwon Mitchell to have the rapist murdered in prison.
Real Stitches for Fake Snitches:

Shane

kills

Lem

with a hand grenade due to a false belief that the latter was going to cut a deal and testify against the Strike Team.
Red Oni, Blue Oni: Shane (Red Oni) and Ronnie (Blue Oni); Shane is impulsive and often seen wearing a red leather jacket, while Ronnie is quiet and introverted, and wore blue.
Red Shirt: Subverted with Ronnie, who kept surviving near-fatal incidents that would have killed most background characters over the course of the series.
Rejected Apology: When Ronnie learns that Vic made him The Scapegoat for all of the Strike Team's dirty deeds, Vic pathetically tries to apologize. He's having none of it.

Ronnie: You got immunity for yourself, and you're sending me to prison??!!

Vic: Ronnie, I'm sorry. My family...

Ronnie: You're GODDAMNED SORRY!!??

Removed from the Picture: In the final scene of the series,

Vic puts up a framed picture of himself and Lem, the only member of the team he didn't betray. The picture originally contained the entire Strike Team.

Retcon:

In Season 1, it's mentioned that Vic's daughter Cassidy is 7. A few seasons later (4 or 5), it's mentioned that she is now 11. But in Season 5, it's acknowledged that it's only been two years since Terry was killed in the first episode.
The flashback episode "Co-Pilot" is infamous for its continuity issues: the Strike Team being a new entity, Aceveda being the Barn's first Captain, Julien being present for the Barn's inception, etc.

Retired Bad Ass: Subverted with Vic's old mentor, played by Carl Weathers. Vic is initially eager to ride with him again, but it later turns out that he's using Vic because he was forced out of the LAPD years ago without a pension, and has become a down-on-his-luck loser.
Riddle for the Ages: The finale left many unresolved questions.

Ronnie's ultimate fate as far as which of his many sins he'll ultimately be charged with in court.
The shitstorm that Vic's confession/immunity deal and Ronnie's arrest will have upon not only the LAPD as far as overturned convictions, but also Aceveda's political ambitions, given that the finale ends with Aceveda on cloud nine as far as the predicted favorite to win the mayoral election, with Ronnie's arrest, Shane's murder-murder-suicide, and the subsequent shitstorm with Vic's scamming ICE for immunity for murdering a cop having yet to make the evening paper/news.
Danny's attempt to keep Vic out of her and her son's life.
Dutch's relationship with both Danny and Tina

Lem's relationship with a woman named Tigra, who's brother Lem shot after mistaking him for another gang member in season one is another dropped plotline.

Ripped from the Headlines: The ultimate fate of the Vendrell family was inspired by the real life murder-murder-suicide of Chris Benoit to his own family.

Additionally, Shawn Ryan has admitted to stealing plot ideas from Rotton.com when it comes to the crime of the week plotlines.
And of course, the Strike Team was inspired by the horrific Rampart scandal involving the LAPD's C.R.A.S.H. unit. Early previews/teasers for the series had even given it the title "Rampart".

The Rival: Dutch vs Vic. While the show technically switched horses in season two with Claudette replacing Dutch as Vic's main rival, the two remained heated rivals even after said dynamic retooling. And while he was denied the chance to have the last laugh against Vic himself, Dutch does score points for successfully turning Vic's ex-wife against him and pretty much setting into motion the events that renders Vic's Karma Houdini an empty, self-destructive victory by getting Corrine full-immunity before Vic could, as well as coming up with the plan to put her into witness protection to protect her from Vic.
Ruthless Foreign Gangsters: Armenians, Mexicans, El Salvadorians, even Koreans.
Sacrificial Lamb: Both Ronnie and Lem (a fact that is lampshaded in the "end of series" montage during the final credits)

Det. Terry Crowley, shot by Vic in the first episode as well

Screw the Rules, I Have Connections!: During season one, Vic Mackey used his close relationship with Assistant Chief Gilroy to do whatever he wanted, including defy the authority of Captain Aceveda, who was Vic's superior officer. This was displayed most notably in the pilot: Vic engages in outright insubordination, in front of his fellow officers, towards Captain Aceveda when Aceveda attempts to give Vic an order. Furthermore, the pilot (and later episodes in season one) established that Vic's relationship with Gilroy made it impossible for Aceveda to fire Vic, let alone get Internal Affairs to investigate the Strike Team since Gilroy would squash any attempts to investigate Vic.

This is later lovingly subverted in season five, when the new Assistant Chief (having replaced the corrupt Gilroy) basically tells Vic that the Detective pissed off so many people within the department, that he was being officially designated for forced early retirement and that NO ONE would lift a finger to save Vic from being forced out.

This was repeated in the final season, in a moment when Vic fucks up and gets his thirty day reprieve reduced to seven days. When his lawyer tells him that the only option left was to have Claudette Wyms (Vic's nemesis) intervene by pleading the case to the review board as to why Vic should stay a cop, Vic made the following comparision to his lawyer about the likely hood that Claudette would do so: he asked the lawyer if he could take his wife out of town for the weekend so that he could fuck her brains out and seduce her into leaving her husband in order to shack up with him, as far as summing up how much Claudette hates Vic and how she wouldn't piss on him if he was on fire as far as saving his career.

Shut Up, Hannibal!: Usually Ronnie's response to Shane in the later seasons, when Shane tries to convince Ronnie to betray Vic and join forces with him.

Vic does this to Shane in season six, when Shane throws Terry's murder in Vic's face.

Sliding Scale of Idealism Versus Cynicism: The rest of the cast compared to The Strike Team

Also fandom being split between Ronnie and Lem versus Shane and Vic as far as which members of the Strike Team were worthy of redemption/deserving to survive the series with their badges and lives intact and which ones should fry in the electric chair for their crimes.
The show's ending also falls into this trope: some fans take the idealism approach that Vic's beaten and will spend the next three years in pure hell and ultimately end up with no job, no prospects, and pretty much forever rejected by family and friends. Others however take the cynical approach to the ending: Vic will somehow, by force of will and charisma, rise from his ashes and not only neutralize those inside ICE that will make his life hell, but make new allies who will ensure he not only returns to working in the field, but also gets to stay a Federal Agent once his three years are up.

Smash Cut: Occurs when going into and coming out of a commercial break.
Smug Snake: Shane, Claudette, and Billings qualify as the biggest examples. Subverted with Aceveda and Vic, as both men generally have better track records than the other three (though Vic's smugness eventually catches up to him).
Sociopathic Hero: All four members of the Strike Team are arguably these, to varying degrees (Shane and Vic are on the extreme end of the spectrum, while Ronnie and Lem are on the more tame end of the spectrum).
Soul-Crushing Desk Job: Vic gets an office job, and it's implied he finds it extremely boring. Vic wants to be out on the streets in the thick of the action, busting people. Instead, he finds himself stuck in this soul-sucking position.
Status Quo Is God: The early seasons are hit hard with this, as every main character who seems to be leaving the Barn or being promoted ends up staying in/returning to their old positions (e.g. Aceveda, Danny, Dutch) and every broken partnership is eventually reestablished (e.g. The Strike Team, Dutch & Claudette). Eventually, the writers do begin averting the trope, such as with

Aceveda becoming a Councilman, Claudette's promotion to Captain, and Lem's murder

.
Stepford Smiler: Claudette (tries her best to keep Dutch from finding out about her failed career as a professional dancer, the fact that her daughter abandoned her husband to run off with another man, and her lupus) and Corrine (who spends the series desperately trying to cling to the illusion of a normal, if not divorced family for her children, until her husband's crimes are exposed to her by Mara is graphic detail and she is forced, against her will, by Shane and Mara, to aide their escape from the police).

Shane as well, to the extent that the need to maintain the mask drives him to the brink of madness and ultimately to

murder his family and himself, to ensure his children never find out what monsterous things he did.

Straight Gay: Julien; this is likely due to the fact that he's actively trying to suppress his homosexuality.
Surprisingly Realistic Outcome: When Wagenbach and Wyms discover that a city Public Defender was a drug addict. Revealing that she was on drugs would open up virtually her entire backlog of clients to appeal for Ineffective Assistance of Counsel relief. Dutch warns Claudette not to do it, but she does anyway, and the resulting fallout turns almost the entire LAPD against her.
Suspicious Spending:

In the first episode, a candidate for the Strike Team makes a pointed comment about Vic's boat and states that he wants to be "all the way in," implying that he knows about their illegal activities and wants a piece. However, he's actually a mole working for IA and Vic kills him, then stages it to look like he was killed in the line of duty.
Vic Mackey is the living embodiment of the idea. He's pretty smart about it, though: after

robbing the Armenian money train

at the end of season two, he forces the Strike Team to sit on the cash for at least six months (or closer to a year) before investing it in a real estate deal to launder it.

Of course, everything goes pear-shaped by the end of season three, but it could have been a lot worse.

Knowing they're under suspicion, Shane meticulously documents all of the expenses for the house he's building, to show that the money is coming from his legitimate salary. However, it's revealed that all of his salary is going towards the construction, raising the question where the money is coming from for the rest of his expenses.

Too Dumb to Live:

Shane.
Tina's initial incompetence is balanced with an ability to improvise and survive countless close calls when the Strike Team use her as an undercover operative during several operations.

There Is No Kill like Overkill: The El Salvadoran gang's usage of hand grenades
Throw the Book at Them: In one episode, Vic brutally beats the crap out a suspect with an encyclopedia.
Tragedy: The series plays out in such a fashion, with the Strike Team collectively serving as the Tragic Heroes. Quite a few reviewers have compared the show to Shakespeare.
Turn in Your Badge: Vic literally does this towards the end of season seven, mostly so

he can go after Shane without any interference

.
True Companions: The Strike Team members consider themselves family/brothers with Vic as the Papa Bear Protector of the group. Needless to say, this ends up being subverted in the end as the entire team ends up turning against each other and Vic selling the rest of the team down the river for immunity.

A straighter example would be Claudette and Dutch. They bicker constantly like a married couple, but they're always there for each other.

Twofer Token Minority: Julien (gay, black, practicing Christian), Tina (female, Hispanic), Claudette (female, black).

In fact, twofers become a common plot point because of the racial politics in the LAPD.

Unspoken Plan Guarantee: In Season 7, Episode 8 (Parricide),

we as an audience see Shane plan with Mara for an alibi while he kills Vic and Ronnie.

Of course the plan crashes and burns.
Unwitting Pawn:

Ronnie, is made to be the fall guy for Vic's crimes due to the immunity deal Vic struck behind his back. Had he fled, or been the least bit suspicious of Vic, he might have been able to escape his fate.
ICE Agent Olivia Murray is a big time example too. Vic cons her into giving him full immunity from all of his crimes and a job as a federal agent.
A random parolee, who the Strike Team frames with some of the Money Train cash because he happens to have family in Indio, where Mara had sent some of the marked bills. He is ultimately tortured to death by the Armenian Mob for a crime he never even knew about.

Utopia Justifies the Means: To try and bring an end to crime in Farmington, Monica Rawlings revives the controversial concept of asset forfeiture, meaning anything bought with the procedes derived from criminal activities will be seized by the police. Needless to say, this pretty much makes Rawlings horribly unpopular within the community and within the LAPD.
Villain of Another Story: Subverted with Kleavon Gardner. He appears to be one in his appearance in Season Four, as he is almost certainly a Serial Killer but is not the killer the team are looking for. Then he returns in Season Five with his killings as the focus of the story.
Villainous Breakdown: See Shane and Ronnie in the final episode.

Vic Mackey at the end of season one when his family leaves him. Subverted in the series finale however, as Vic (upon realizing that Claudette has decided to settle for watching Vic Mackey break down under the guilt of the

murder-murder-suicide of the Vendrell family

, responds by breaking the closed circuit camera Claudette was using to watch said breakdown.
In truth, Shane starts on one the moment

Vic shoots Terry

in the first episode, and finishes it seven seasons later.

Villain Protagonist: The Strike Team.
Vomit Indiscretion Shot: Many times throughout the series. Notably graphic in Season 4's Grave.
What Happened to the Mouse?: It is never established whether or not Vic is

the father of Connie's son, Brian

.
Whole Episode Flashback: Season 2's "Co-Pilot" takes place during the Barn's earliest days.
Wimp Fight: Shane and Tavon have a particularly brutal one in Shane's living room.

Dutch and Billings in season 4, after Billings joins in with the others mocking Dutch after Dutch has covered for him hiding during a shooting at a car wash instead of taking action as an officer, is probably a better example.

Xanatos Speed Chess: Vic Mackey's biggest survival skill, as Vic is able to survive for seven seasons by large due to the fact that he is able to think on his feet and talk his enemies into fighting against each other rather than killing him.
Yoko Oh No: Mara ends up in this role, as her relationship with Shane causes the team to fracture and disintegrate (specifically Shane and Vic) over the course of the series, leading to the Downer Endings that all the members will enter.
You Are Too Late: After seven seasons of turning a blind eye to Vic Mackey's corruption, Claudette Wyms finally goes after Vic after his ex-wife turns to Claudette with airtight evidence of his illegal activities as well as catching Ronnie Gardocki, Vic's partner on tape for aiding and abetting. Sadly, in typical Claudette fashion, she

doesn't seize the timing as far as flipping Ronnie for his testimony against Vic or arresting Vic on the spot. By the time she finally gives the order to arrest Vic, it's too late: Vic has used the delays to secure a Federal immunity deal, resulting in Claudette arriving mid-confession as Vic has already signed the paperwork.

She gets one hell of a consolation prize, though, beginning with having Dutch drop the bomb on Ronnie before Vic can alert him to the truth.
---
You can go now.