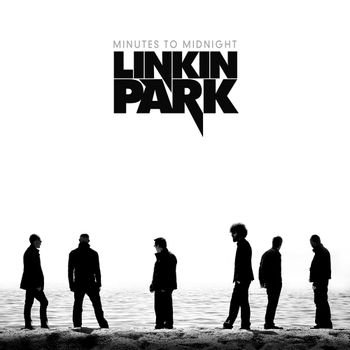 Minutes to Midnight is the third studio album by Linkin Park, released in 2007. This album marked an unusual change in the band's repertoire in many ways, spurred on by the band members' desire to experiment in the studio. Lighter and Softer tunes dominate the album, vocalist Mike Shinoda began to embrace singing and harmonizing over traditional rapping, and famous record producer Rick Rubin encouraged the change in musical direction by introducing new styles in Arena Rock.
The album became a massive hit, even though it undersold its predecessors. "Given Up" and "Bleed It Out" served as the heavier singles, while "Leave Out All the Rest", "Shadow of the Day", and "What I've Done" helped expand the band's appeal into mainstream Alternative Rock. The political themes of the Doomsday Clock, environmentalism, The War on Terror, and social unrest helped transition the band members into a more mature phase in their development. The recurring concerns of betrayal and loss helped keep the subject matter consistent with Linkin Park's previous work.
The change in the band's style heavily divided the fanbase, despite having praise for the lead singles. Older listeners who love the Nu Metal in Hybrid Theory and Meteora think the band sold out, while others embrace the newer direction because they tend to like softer rock. It has sold over 15 million copies, and helped Linkin Park remain relevant for the latter half of the decade.
---
Tracklist:
"Wake" (1:40)
"Given Up" (3:09)
"Leave Out All the Rest" (3:29)
"Bleed It Out" (2:44)
"Shadow of the Day" (4:49)
"What I've Done" (3:25)
"Hands Held High" (3:53)
"No More Sorrow" (3:41)
"Valentine's Day" (3:16)
"In Between" (3:16)
"In Pieces" (3:38)
"The Little Things Give You Away" (6:23)
---
Principal Members:
Chester Bennington – lead vocals
Mike Shinoda – vocals, rhythm guitar, keyboard, piano, production
Brad Delson – lead guitar
Dave Farrell – bass
Joe Hahn – turntables, samples, keyboard, programming
Rob Bourdon – drums, percussion
---
The Little Tropes Give You Away
---