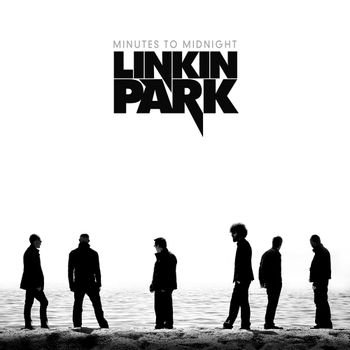 Minutes to Midnight is the third studio album by Linkin Park, released in 2007. The album marked a definitive shift in the band's repertoire in many ways, spurred on by the band members' desire to experiment in the studio.
Following the nu metal sound of their successful first two albums (Hybrid Theory, Meteora) steadily falling out of style nearing the end of the 2000s, Minutes marked the band's first foray away from that genre and towards arena-ready alternative rock and metal, overseen by record producer Rick Rubin. As such, the instrumentation used in songs is generally lighter, and lead vocalist Mike Shinoda embraces singing and harmonizing over his traditional rapping.
Further unique characteristics of Minutes include its political themes, revolving around the Doomsday Clock (which inspired the album's name), environmentalism, The War on Terror, and social unrest, which helped transition the band members into a more mature phase in their development. The recurring concerns of betrayal and loss helped keep the subject matter consistent with the band's previous work. The album also contains profanity unlike its predecessors, which made it the band's first full-length album to receive a Parental Advisory label.
While Minutes became a massive hit, debuting at #1 in 15 countries, the change in the band's style heavily split their fanbase, and remains a point of mild divisiveness in their history considering they would only experiment further with alternative influences in future releases. Older listeners who loved their work in nu metal thought the band sold out, while others who enjoyed softer rock and may not have had an entry point to the band embraced the newer direction.
---
Tracklist:
"Wake" (1:40)
"Given Up" (3:09)
"Leave Out All the Rest" (3:29)
"Bleed It Out" (2:44)
"Shadow of the Day" (4:49)
"What I've Done" (3:25)
"Hands Held High" (3:53)
"No More Sorrow" (3:41)
"Valentine's Day" (3:16)
"In Between" (3:16)
"In Pieces" (3:38)
"The Little Things Give You Away" (6:23)
---
Principal Members:
Chester Bennington – lead vocals
Mike Shinoda – vocals, rhythm guitar, keyboard, piano, production
Brad Delson – lead guitar
Dave Farrell – bass
Joe Hahn – turntables, samples, keyboard, programming
Rob Bourdon – drums, percussion
---
The Little Tropes Give You Away
---