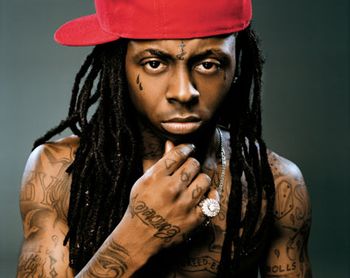 "This is all part of Lil' Wayne's ambitious project to collaborate with everyone in the music business, anywhere."
—
Todd in the Shadows
reviewing
"I Can Transform Ya"
.
Dwayne Michael Carter, Jr. (born September 27, 1982), better known by his stage name Lil Wayne, is an American rapper from New Orleans, Louisiana, known for his prolific output and his unique vocals and delivery, of which primarily about humorous and wordplay-heavy rhymes and lyrics and the huge influence he has on many modern day rappers and rap culture in general.
Born and raised in the crime-riddled areas of New Orleans, he was a straight-A student but never felt his true intelligence was expressed through any kind of report card. He found music was the best way to express himself, and after taking the name Gangsta D, he began writing rhymes. Combining a strong work ethic with aggressive self-promotion, the 11-year-old convinced Birdman, co-founder and CEO of Cash Money Records, to take him on, even if it was just for odd jobs around the office. A year later, in-house producer Mannie Fresh partnered him with the 14-year-old B.G. and dubbed the duo the B.G.'z. Although only B.G.'s name appeared on the cover, the 1995 album True Story has since been accepted as the B.G.'z debut album both by fans and the Cash Money label. The 1997 album Chopper City was supposed to be the follow-up, but when Wayne shot himself in the chest with a 9mm pistol in a failed suicide attempt, it became a solo B.G. release.
He later officially took the moniker Lil Wayne, dropping the "D" from his first name in order to separate himself from an absent father. He joined B.G., Juvenile, and Young Turk for another Fresh project, the teen hardcore rap group the Hot Boys, who released their debut album, Get It How U Live!, in 1997. In 1999, Wayne embarked on a successful solo career and the rest is history.
He has released twelve studio albums so far, the most famous being his trademark Tha Carter series, with the Grammy-winning Tha Carter III being the most iconic. Prior to Tha Carter III, he released a slew of mix tapes, most notably his Dedication series, Da Drought 3, and No Ceilings, against the wishes of his record label Cash Money. They ended up boosting his popularity underground, and Tha Carter III sold more than a million copies in its first week, being on the few albums in the 21st-century and the only four rap albums (the other three being Eminem's The Marshall Mathers LP and The Eminem Show and 50 Cent's The Massacre) to be certified platinum first-week.
In 2005, during the time were his popularity began to grow, he founded Young Money Entertainment, a imprint of Cash Money where he would release his mixtapes and find new talent. The most famous artists to come from Young Money being Nicki Minaj and Drake, the latter of whom surpassed Wayne in both popularity and sales and being of the most profitable artists of all time.
After years of being the face of Cash Money and seeing label-head Birdman as an father figure, Wayne's relationship with both the label and Birdman began to fall during the development of Tha Carter V. Originally planned to be released in 2014, Tha Carter V experienced several delays as a result of contractual disputes between Lil Wayne and Cash Money Records, as well as his numerous personal disputes with label-head, Birdman. Following a lengthy legal battle while releasing mixtapes and a Tidal-exclusive album in order to appease fans and to not fall into irrelevance, Lil Wayne was confirmed to have been released from his contract with Cash Money in June 2018 and released the album in September amidst many delays to positive reviews and high sales-figures.
Well liked by critics, especially during 2005-2008, with Rolling Stone in particular has even hailed him as the "greatest rapper alive", although that statement proved to be rather controversial by the rap community. (He has hailed himself as the greatest rapper alive, too.) He is definitely One of Us, as he loves skateboarding and is a gamer, at one point owning a modded Xbox. Lil' Wayne is also known for his attacks on George W. Bush and his administration for his response to Hurricane Katrina (Wayne is a native from Louisiana), and for appearing on half the rap singles on the radio during his peak in the late 2000s/early 2010s (even appearing on non-rap singles).
Discography:
open/close all folders
Studio Albums
The Block is Hot (1999)
Lights Out (2000)
500 Degreez (2002)
Tha Carter (2004)
Tha Carter II (2005)
Like Father, Like Son (with Birdman) (2006)
Tha Carter III (2008)
We Are Young Money (with Young Money) (2009)
Rebirth (2010)
I Am Not A Human Being (2010)
Tha Carter IV (2011)
I Am Not A Human Being II (2013)
Rich Gang (with Rich Gang) note (2013)
Rise of an Empire (with Young Money) (2014)
Free Weezy Album (2015) (a Tidal-exclusive release)
Tha Carter V (2018)
Funeral (2020)
Extended Plays
The Leak (2007)
In Tune We Trust (2017)
Mixtapes
The Dedication (2005)
Dedication 2 (2006)
Da Drought 3 (2007)
Dedication 3 (2008)
No Ceilings (2009)
Sorry 4 The Wait (2011)
Dedication 4 (2012)
Dedication 5 (2013)
Sorry 4 The Wait 2 (2015)
No Ceilings 2 (2015)
T-Wayne (with T-Pain) (2017)
Dedication 6 (2017)
No Ceilings 3 (2020)
Compilations
We Are Young Money (with Young Money) (2009)
Rich Gang (with YMCMB) (2006)
Young Money: Rise of an Empire (with Young Money) (2014)
---
"Pick the trope up and I'ma drop it on yo fuckin' head":
---