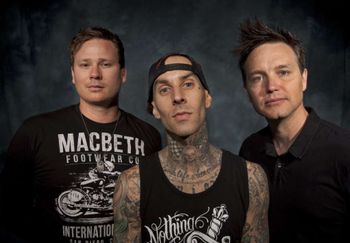 Always I know,
You'll be at my show,
Watching,
Waiting,
Commiserating.
— "All The Small Things"
blink-182 is a three-piece pop-punk band from Poway, California. The band was formed in 1992 by Tom DeLonge (vocals/guitar), Mark Hoppus (vocals/bass) and Scott Raynor (drums), under the name blink, eventually adding the 182 after being threatened with a lawsuit from an Irish band of the same name.
Raynor left the band in 1998, to be replaced by the semi-legendary Travis Barker (the guy with the tattoos who survived that plane crash). DeLonge left the group early in 2005, putting the band on hiatus until 2009, when they got back together "for real", according to them (due to Travis surviving said plane crash). After releasing their comeback album Neighborhoods in 2011, they celebrated their 20th anniversary the following year, released an EP Dogs Eating Dogs in December of that year, and released Califonia in 2016. Their current sound is a mixture of the traditional blink sound and various elements of the groups they formed during their hiatus.
As of 2015, Tom DeLonge was "confirmed" by his bandmates that he has left the group again, citing reasons to focus on other projects. The confirmation and the aftermath of it was...messy, to say the least. After months of shoving in and promoting him, Mark and Travis announced that Matt Skiba of Alkaline Trio would be their new vocalist. Their sound now is influenced by more modern pop punk as well as taking cues from both Alkaline Trio and older blink. The band is also known for their gross-out sense of humor, which they use for stage banter, and occasionally gets used for songs.
---
Band Members (Founding Members in Bold)
Tom DeLonge: Vocals, guitar (1992 - 2005, 2009 - 2015)
Mark Hoppus: Vocals, bass (1992 - 2005, 2009 - )
Scott Raynor: Drums, percussion (1992 - 1998)
Travis Barker: Drums, percussion (1998 - 2005, 2009 - )
Matt Skiba: Vocals, guitar (2015 - )
Discography
Cheshire Cat (1995)
Dude Ranch (1997)
Enema of the State (1999)
The Mark, Tom & Travis Show (2000)
Take Off Your Pants and Jacket (2001)
Untitled (2003)
Neighborhoods (2011)
Dogs Eating Dogs [EP] (2012)
California (2016)
Nine (2019)
blink-182 provide examples of:
---