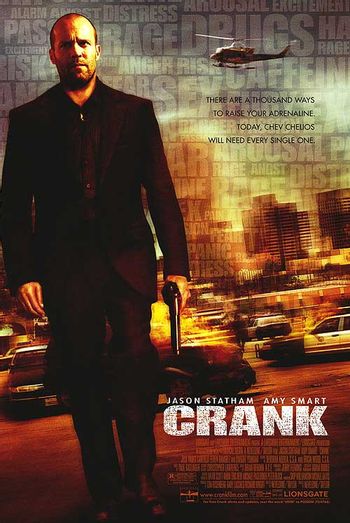 "Fuck you, Chelios!"
Crank is a 2006 action film where Jason Statham, as a hitman named Chev Chelios, kicks everyone's ass. Chelios has been injected with a slow-acting poison that will eventually cause his body to shut down. His doctor is far away and his flight was delayed. If he runs out of adrenaline, he will die.
Followed by a sequel, Crank: High Voltage, in 2009. After the events of the first movie, Chev pursues his heart, which has been literally stolen by Chinese gangsters. He must electrocute himself to charge his artificial heart and prevent himself from dying. Hilarity Ensues.
Character tropes go on to the Characters Sheet.
---
Both movies have examples of:
---
Crank has examples of:
---
Crank: High Voltage has examples of:
---