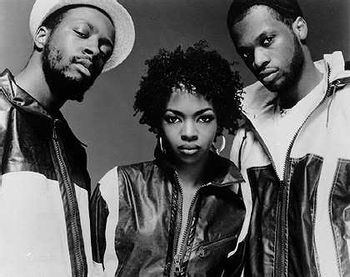 Fugees (or The Fugees) are a famous hip-hop trio from The '90s. Formed in 1992 in South Orange, New Jersey, the members of the group are rapper/singer/producer Wyclef Jean, rapper/singer/producer Lauryn Hill and rapper/producer Pras Michel.
The group is known primarily for jump-starting Alternative Hip Hop into the mainstream. Before them, most artists in the scene usually stayed in the underground. Now it's hard to get away from the scene, as roughly 50 percent of hip-hop heard on the radio is alternative.
Their first album, 1994's Blunted In Reality, fused elements of political rap, jazz and Neo Soul. Although it was positively received upon release, it's not nearly as acknowledged as their follow-up, 1996's The Score. This album was critically praised, won two Grammy Awards (further becoming the second rap album in history to be nominated for Album of the Year), and is now considered a classic of its decade and of all time. Notable on the album was "Killing Me Softly", which was a Roberta Flack cover.
After the album, the group split up due to internal conflict, and each member pursued a solo career. Hill has had the most successful one, primarily through the massive success of her debut solo album The Miseducation of Lauryn Hill (which later became a source of controversy when Hill was revealed to have not written most of the album's music). Wyclef has had a semi-successful career, gaining acclaim for his debut solo album The Carnival and subsequently scoring top 5 hits with Carlos Santana, Destiny's Child and Shakira. Pras focused on soundtrack recordings and acting, though he found commercial success with his song "Ghetto Supastar".
Unfortunately for the group, it was later revealed that Wyclef and Hill had been on-again, off-again lovers and that during production of Hill's solo album, the two had a nasty falling out that derailed any chances for a full-time reunion (though the trio have briefly reunited for live performances and reunion tours, most recently in 2023). While Wyclef and Pras continue to record, Hill has become a Reclusive Artist and only sporadically makes new material.
In 2007, MTV ranked them the 9th greatest hip-hop group of all time.
Discography:
This musical trio provides examples of:
---