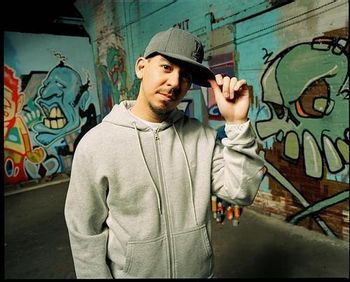 This is ten percent luck, twenty percent skill
Fifteen percent concentrated power of will
Five percent pleasure, fifty percent pain
And a hundred percent reason to remember the name!
Fort Minor is a Hip-Hop-based collaborative Solo Side Project band-thingy formed in Los Angeles by Linkin Park's Mike Shinoda. While Shinoda is the only member and plays almost all of the instruments on the record, Shinoda himself is not Fort Minor. Instead it's the name of his musical project, which is like calling him "Linkin Park". Thus, for the ease of this article, Fort Minor will be referred to as a band so "they" will be used.
Fort Minor was formed in 2004 by Mike Shinoda shortly after Linkin Park's Collision Course collaboration with Jay-Z (who executive-produced Fort Minor's album). Shinoda used the name "Fort Minor" to refer to his collaborations with Ryu and Tak of Machine Shop alumni Styles of Beyond. They quickly began working on their first album The Rising Tied. Their first single was a double A-side containing "Petrified" and "Remember the Name". While the former was mostly ignored, the latter quickly became a sports-anthem and has been featured numerous times throughout the media. The Rising Tied was released shortly after to positive reviews and moderate success.
In 2006, they released "Where'd You Go?" featuring then-labelmate Holly Brook (later known as Skylar Grey) and indie rock musician Jonah Matranga. This provided them their only radio hit, reaching the Top 5 of the Hot 100. Afterwards, Fort Minor went on an indefinite hiatus due to Shinoda's commitments with Linkin Park. In 2015, Fort Minor returned with their first single in nearly a decade, "Welcome"... and promptly went back into hiatus.
In 2018, one year after the death of Linkin Park lead singer Chester Bennington, Mike Shinoda finally released a second solo album, titled Post Traumatic. While very much a successor to Fort Minor's sound, Shinoda deliberately credited the album under his own name, not Fort Minor.
Discography
Tropes applying to Fort Minor:
---