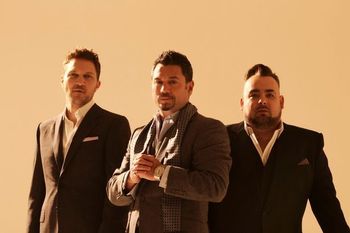 Fun Lovin' Criminals
are a band from
New York City
, and proud of it. They play a fusion of alternative hip hop with rock, pop, jazz, blues and Latin influences. The band's members are Hugh "Huey" Morgan, Brian "Fast" Leiser and Mark "Frank" Reid. Steve Borgovini is a former member.
They have long been more popular in the United Kingdom than in the United States. Their singer, Huey, is an Anglophile who lives in the United Kingdom and has made many TV and radio appearances not connected to the band. Another of their current members, Frank, is English.
Whilst they have not really had a hit since Loco in 2000, they have a loyal worldwide fanbase and Huey has kept in the public eye in the United Kingdom ever since.
Huey left the group in 2021 due to his various commitments, but Fast and Frank have stated the band is continuing as a duo. It is as yet unknown who their vocalist will be.
---
Fun Lovin' Tropes:
---