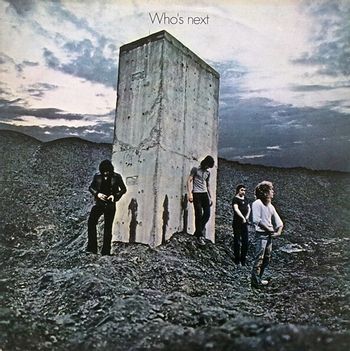 "Apart from
Live at Leeds
, the Who have never sounded as LOUD and unhinged as they do here, yet that's balanced by ballads, both lovely ("The Song Is Over") and scathing ("Behind Blue Eyes"). That's the key to
Who's Next
— there's anger and sorrow, humor and regret, passion and tumult, all wrapped up in a blistering package where the rage is as affecting as the heartbreak."
— Excerpt from Allmusic overview
Who's Next is the fifth studio album by The Who, released in 1971. It's widely agreed to be their best album and spawned some of their most popular songs, including "Baba O'Riley", "Behind Blue Eyes" and "Won't Get Fooled Again," along with some equally-beloved deep cuts like "Going Mobile" and "Bargain".
The band had a hard time trying to come up with a follow-up for Tommy; though they released a single, "The Seeker", and Live at Leeds in its aftermath. So began guitarist Pete Townshend's passion project, Lifehouse, intended to be an album, a live recording, and a film, all at the same time. The plot followed the search for the One Note to unite humanity, in the process rebelling against a society where music is illegal, and all entertainment is broadcast by the government through the Grid. Unfortunately for Townshend, the concept proved a bit too ambitious: the script followed a nonlinear, proto-Quentin Tarantino style, his concept of The Grid happened long before the internet was even a gleam in the public's eye and the One Note was deemed too Babaist. The result was his complete inability to explain the idea to anyone else, none the least of which the rest of the band, with Townshend eventually having a nervous breakdown and scrapping the project.
However, the project wasn't completely scrapped. Eight of the songs and "My Wife", a completely unrelated song written by bassist John Entwistle, were compiled to become the end result, Who's Next. The album was massively influential, having major usage of synthesizersnote the most major usage of this before the album was Abbey Road on "Bargain", "The Song Is Over", "Going Mobile", and "Won't Get Fooled Again" (but not on "Baba O'Riley", contrary to popular belief), without sacrificing the hard rock edge the band had perfected by then. To say their going back to their roots in the wake of their success paid off would be a quite apt description—the album was an immediate commercial success and was seen as one of the best hard rock albums ever made.
A documentary about the creative process behind the making of this album can be seen in the Classic Albums TV documentary series.
---
Tracklist:
Side One
"Baba O'Riley" (5:08)
"Bargain" (5:34)
"Love Ain't For Keeping" (2:10)
"My Wife" (3:41)
"The Song Is Over" (6:14)
Side Two
"Getting In Tune" (4:50)
"Going Mobile" (3:42)
"Behind Blue Eyes" (3:42)
"Won't Get Fooled Again" (8:32)
---
Bonus Tracks (1995 Reissue):
"Pure And Easy"
"Baby Don't You Do It"
"Naked Eye (Live)"
"Water (Live)"
"Too Much Of Anything"
"I Don't Even Know Myself"
"Behind Blue Eyes (Alternate Version)"
---
Principal Members:
Roger Daltrey - lead vocals on tracks 1-3, 6, and 8-9, backing vocals on track 5, harmonica
John Entwistle - bass, backing vocals, lead vocals on track 4, piano, brass
Keith Moon - drums, percussion
Pete Townshend - guitar, backing vocals on tracks 1-2, lead vocals on tracks 5, and 7, organ, VCS3, synthesizer, piano
---
Songs from Who's Next are the Trope Namers for:
---
I'm just tropin' on my old piano, I'm gettin' in tune to the straight and narrow:
---
---