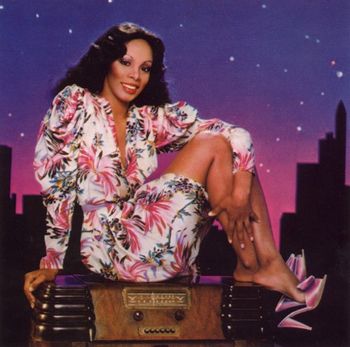 "Mommy, what's wrong with the lady on the record? Why is she moaning? Is she hurt?"
— A Last.FM user on "Love to Love You Baby". Presumably, this is what he said when he first heard the song.
Donna Summer (born LaDonna Adrian Gaines, December 31, 1948 – May 17, 2012) ...ah, how to describe her?
She was the Queen of Disco! Oh, but so much more.
LaDonna Gaines was born in Boston and originally trained as a gospel singer before becoming successful in R&B and Pop as well. She started her career in Europe, joining theatrical companies in Munich and Vienna and releasing several early singles in French and German. Her big break came when she met producers Giorgio Moroder and Pete Bellotte, who managed her for the rest of The '70s, and recorded the single "Love to Love You Baby" (1975). She made several concept albums before reaching her peak with Bad Girls (1979), a double album that mixed Rock & Roll, Funk, Blues, Soul and Electronic Music to massive success. She soon broke from Disco.
After the 1970s, she had success with songs such as "She Works Hard for the Money" and "This Time I Know It's for Real", although she never recaptured her former glory. Her last album, Crayons, was released in 2008.
She died at her home in Florida after a battle with lung cancer on May 17, 2012.
---
Studio albums:
Lady of the Night (1974). Two of the song off the albums were modest hits.
Love to Love You Baby (1975). Her breakthrough album, a certified gold album. The album was named after its major song, which became an international hit.
A Love Trilogy (1976). Certified gold.
Four Seasons of Love (1976). Certified gold.
I Remember Yesterday (1977). Certified platinum.
Once Upon a Time (1977). Certified gold.
Bad Girls (1979). Certified platinum. Her best-selling album overall, and called her best.
The Wanderer (1980). A New Wave-style album. Certified gold.
I'm a Rainbow (1981). Her last album with Moroder and Bellotte, recorded in 1981 but shelved. Bootlegged copies were circulated for years. Officially released in 1996. Never a major sales hit, but well-received by music critics and Summer's fanbase.
Donna Summer (1982). A Self-Titled Album. Certified gold. While several of its songs sold well when released as singles, the album underperformed in the sales charts.
She Works Hard for the Money (1983). Certified gold. The titular song, conceived as a tribute to the working woman, became her greatest hit of The '80s. Her popularity increased when its music video became a hit with the MTV audience.
Cats Without Claws (1984). First Summer album since the 1970s to not sell well enough to be certified golden. It peaked at #40 in the charts. Music critics view it as a decent but unspectacular effort.
All Systems Go (1987). A single song from the album, "Dinner with Gershwin", became a significant hit. Most of the other songs were considered forgettable, resulting in the album becoming a commercial and critical flop.
Another Place and Time (1989). A Europop-style album, a commercial and critical comeback. Certified golden in the United Kingdom, with several of its songs topping the charts across Europe. Curiously, the album underperformed in North America. "This Time I Know It's for Real", from this album, was her last Billboard top 10 (and top 40) hit, at least on the Hot 100.
Mistaken Identity (1991). A commercial flop. A single song off this album, "When Love Cries", became a notable Contemporary R&B hit.
Christmas Spirit (1994). Album mostly featuring traditional Christmas Songs, performed in the style of Soul Music. A few original songs were included, though nothing particularly memorable.
Crayons (2008). First album consisting only of original songs since 1991. The album peaked at #17 in the charts, her greatest commercial hit since the 1980s. Three of its songs reached #1 in the dance charts. It was, however, her last full album. A few singles followed the album, though it is still seen as her swan song.
Live albums:
Live and More (1978). Certified platinum.
Live & More Encore (1999). The most commercially successful Summer album of The '90s. Mostly covering older hits, but introduced two new songs. Both I Will Go with You (Con te partirò) and Love Is the Healer reached #1 in the dance charts of the year.
---
"Looking for some hot tropes, baby, this evening, I want some hot tropes baby tonight":
---