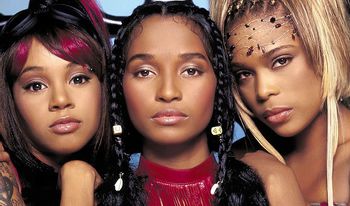 Influences:
Don't go chasing waterfalls,
Please stick to the rivers and the lakes that you're used to,
I know that you're gonna have it your way or nothing at all,
But I think you're moving too fast.
"Waterfalls"
If you're looking for the American TV network, please click here.
TLC is an R&B and hip hop group, consisting of Tionne "T-Boz" Watkins, Lisa "Left Eye" Lopes, and Rozonda "Chilli" Thomas.
Billboard magazine ranked the group as one of the greatest musical trios of all time. They have had several #1 singles, including "Creep", "Waterfalls", "No Scrubs", and "Unpretty", and have won four Grammy Awards. According to the RIAA and Billboard, TLC has sold more than 30 million records in the United States, making them the biggest selling R&B girl group of all time. In 2008, the group was inducted into the All-Time Hot 100 Artist Hall of Fame by Billboard, at 56th place. Their second album, CrazySexyCool (1994), was the first album by a female group to be awarded diamond certification by the RIAA, for selling over 11 million copies in the USA.
In 1990, Atlanta, Georgia, teenager Crystal Jones put out a call for two more girls to join her in a trio to be called 2nd Nature. Her request was eventually answered by Tionne Watkins, a native of Des Moines, Iowa, who moved to Atlanta with her family at an early age, and Lisa Lopes, a rapper who had just moved to the city from her native Philadelphia, Pennsylvania, with only a keyboard and $1,223 to her name. The group eventually managed to arrange an audition with R&B singer Perri "Pebbles" Reid, who had started her own management and production company, Pebbitone. Impressed by the girls, Reid renamed the group "TLC" (an acronym for "Tender Loving Care" and also the members' initials) and arranged an audition for them with local record label LaFace Records, run by Kenneth "Babyface" Edmonds and Reid's then-husband, Antonio "L.A." Reid. The latter Reid saw potential in Watkins and Lopes but felt that Jones should be replaced; within a few days, part-time Damian Dame backup dancer Rozonda Thomas was brought in to replace Jones. The girls were signed to LaFace through a production deal with Pebbitone (with Perri Reid taking the role of the group's manager) and almost immediately went into the studio with producers Reid and Edmonds, Dallas Austin, Jermaine Dupri, and Marley Marl to produce their first album.
The first TLC album, Ooooooohhh... On the TLC Tip, was released on February 25, 1992 by LaFace. The songs on the album are a blend of funk (Watkins), hip-hop (Lopes), and R&B (Thomas), similar to the "new jack swing" sound popularized by producer Teddy Riley in the late 1980s; TLC's sound was dubbed "new jill swing". The album was a critical and commercial success, being certified quadruple-platinum within a year and launching a number of US Hot 100 top ten singles with "Ain't 2 Proud 2 Beg", "What About Your Friends", and "Baby-Baby-Baby."
During the fall of 1994, TLC re-entered the studio with Dallas Austin, Tim and Bob, Jermaine Dupri, Babyface, Organized Noize, and Sean "Puffy" Combs to record their second album, CrazySexyCool. Lopes was released from rehab to attend the recording sessions, but the finished album featured significantly less of her raps and vocals. The album instead focused more on the contributions from Watkins and Thomas, and had a smoother, more fluid sound, similar to the most successful single from the first album, the US #2 hit "Baby-Baby-Baby". All four singles from CrazySexyCool reached the top 5 of the US Hot 100, while "Creep" and "Waterfalls" peaked at no. 1, while Red Light Special reached no. 2 and "Diggin' on You" reached no. 5. "Waterfalls", an Organized Noise-produced song that featured an old-school soul-based musical arrangement, socially-conscious lyrics criticizing drug dealing and unsafe sex, and an introspective rap from Lopes, became TLC's biggest hit, and its million-dollar music video was an MTV staple for many months.
CrazySexyCool eventually sold over 11 million copies in the US, became one of the first albums to ever receive a diamond certification from the RIAA, and won a 1996 Grammy Award for Best R&B Album and a 1996 Grammy Award for Best R&B Performance by a Duo or Group for "Creep". However, in the midst of their apparent success, the members of TLC filed for Chapter 11 bankruptcy on July 3, 1995.
They declared debts totaling 3.5 million dollars, much of it because of Lopes's insurance payments arising from the arson incident and Watkins's medical bills, but the primary reason being that each member of the group was taking home less than $35,000 a year after paying managers, producers, expenses, and taxes. They sought to renegotiate their 1991 contract with LaFace, under which they only received seven percent of the revenues from their album sales, and to dissolve their association with Pebbitone. Both Pebbitone and LaFace countered that TLC simply wanted more money and were in no real financial danger, resulting in two years of legal debates before the cases were finally settled in late 1996, which is why there was never a 96 follow up album to CrazySexyCool. TLC's contract was renegotiated, their production deal with Pebbitone and Perri Reid (who had separated from her husband by this time) was rescinded, and the group appeared on the Waiting to Exhale soundtrack with "This Is How It Works" and was set to re-enter the recording studio in 1997 after signing a new contract with LaFace.
Preliminary work on TLC's third album, FanMail, was delayed when friction arose between the group and their main producer Dallas Austin, who was by this time dating Thomas and helping to raise their young son Tron. Austin wanted $4.2 million and creative control to work on the project, resulting in a stand-off between the producer and the artists. TLC eventually began working with other producers for the FanMail album, until finally negotiating with Austin, who produced the bulk of FanMail and gave the album a futuristic, more pop-based feel. FanMail was another success for TLC, debuting at No. 1 on the Billboard 200 album sales chart and selling over 6 million copies in the U.S. The album featured the number-one hit "No Scrubs", produced by Kevin "She'kspere" Briggs, and the single "Unpretty," an alternative rock-styled song about self-love written by Watkins and Dallas Austin (another version of it sampled Dennis Edwards' 1984 hit "Don't Look Any Further"), that also reached #1 on the Billboard chart. At the Lady of Soul Awards, the group was honored with the Aretha Franklin Entertainer of the Year Award.
The videos for both songs were heavily featured on MTV and BET, and three more singles received decent radio play: "Silly Ho", "I'm Good at Being Bad", and Edmonds-written ballad, "Dear Lie". Like CrazySexyCool, FanMail won the Grammy for Best R&B Album of 2000 and Grammy Award for Best R&B Performance by a Duo or Group with Vocals for "No Scrubs". During and after the release of FanMail, Lopes made it known to the press on multiple occasions that she felt that she was unable to fully express herself working with TLC and Austin. Her contributions to the songs had been reduced to periodic eight-bar raps, and studio session singers such as Debra Killings often took her place on the background vocals for the groups' songs. In its November 28, 1999 issue, Entertainment Weekly ran a letter from Lopes that challenged her groupmates to record solo albums and let the fans judge which of the three was the most talented. The ladies eventually settled the feud, and The Challenge was never followed through. After the conclusion of the successful FanMail tour, the ladies, however, took some time off and pursued personal interests.
Before the recording of their fourth album 3D, there was a dispute between Lopes on one side and Watkins and Thomas on the other. Lopes originally wanted to withdraw from the group in order to see if they could duplicate their prior success without her contributions. Lopes eventually pursued solo stardom and recorded her first album Supernova, however it underperformed overseas and was never officially released in the United States.
Lopes had already started work on both her second solo album and on songs for the fourth TLC album 3D, when she tragically died in a car accident in La Ceiba, Honduras on April 25, 2002. She was the sole fatality of eight people in the vehicle. Lopes allegedly tried to swerve around a truck, but there was another vehicle heading towards them in the opposite direction. To avoid a head-on collision, Lopes swerved all the way off the road. The vehicle rolled several times after hitting two trees, throwing Lopes and three others out of the windows. She died from severe head injuries. The passenger in the front passenger seat was videotaping at the time, and so the entire accident was recorded on video. Controversy over leaked autopsy photos led to protests in the NASCAR world: in response to the leak, Dale Earnhardt, Jr. painted a stripe next to the left headlight decal on his #8 Budweiser Chevrolet Monte Carlo for the Pontiac Excitement 400 at Richmond International Raceway. Several other drivers reacted the same way. Similar controversy had erupted following Dale Earnhardt, Sr.'s death in the 2001 Daytona 500.
Returning from yet another hiatus after Lopes' death in 2002 while on missionary work in Honduras, Watkins, Thomas, and Austin decided that they would complete the remainder of their fourth album, to be called 3D, which also featured production from Rodney Jerkins, The Neptunes, Raphael Saadiq, Missy Elliott and Timbaland. The decision was also made that TLC would retire after the release and promotion of 3D, rather than replace Lopes and continue. Lopes had already completed her vocals for four songs; the remainder were performed by the remaining group members alone, who eulogized Lopes on a number of the tracks.
The first single for 3D was "Girl Talk", the video for which featured Watkins and Thomas alone in live-action segments and Lopes in animated segments. Its follow-up, "Hands Up", featured only Watkins and Thomas in its video, but took place in a nightclub named Club Lopes (Lopes' production company's "eye" logo was a prominent feature on the club's walls). The album only sold two million copies in its first year of release, and "Girl Talk" was the only single to reach the U.S. top forty with a peak position of number 28; "Hands Up" never charted, and a third single, "Damaged", reached number 53. However, the singles enjoyed a bit more success in Europe and Asia.
In June 2003, at Zootopia, an annual concert hosted by New York radio station Z100 held at Giants Stadium, TLC appeared in what was announced to be their last performance. The group, introduced by Carson Daly, showed a video montage dedicated to Lopes.
In October 2009, TLC announced plans to record new material to be released "sometime soon", later announcing a release date of October 2013. The album will contain the group's greatest hits and some new material. The same year, VH1 released a biopic based on the group entitled CrazySexyCool: The TLC Story, starring Keke Palmer as Chilli, Drew Sidora as T-Boz, and rapper Lil Mama as Left-Eye. The movie became the top-rated cable movie in VH-1 history. The group has sold over 50 million records worldwide, making them one of the best-selling female groups of all time.
They also did the theme song to All That.
Studio Albums:
1992: Ooooooohhh... On the TLC Tip
1994: CrazySexyCool
1999: FanMail
2002: 3D (Completed and released after the death of Lisa Lopes, with posthumous vocals)
2017: TLC
---
The group show examples of:
---