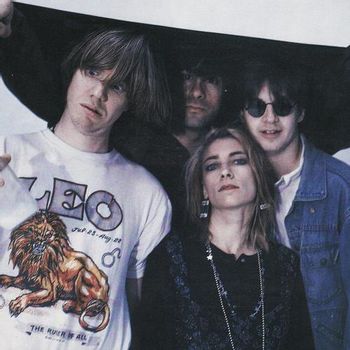 Sonic Youth was a legendary Noise Rock/Alternative Rock band known chiefly for their avant-garde tendencies and extensive use of prepared guitars, unorthodox tunings, heavy distortion, and feedback in their songs. They've been a significant influence on Alternative Rock in The '80s, and were a key influence on My Bloody Valentine and, by extension, the entire Shoegazing movement. Formed in 1981 in New York City, their final lineup was as follows:
Thurston Moore - Guitar, vocals
Lee Ranaldo - Guitar, vocals
Kim Gordon - Bass, vocals, nowadays guitar
Steve Shelley - Drums (1985-2011)
Mark Ibold - Bass (2006-2011)
Past members include:
Richard Edson - Drums (1981-1982); left the band for an acting career, better known as Vito from Do the Right Thing.
Bob Bert - Drums (1982-1983, 1983-1985);
Jim Sclavunos - Drums (1983); played on the Confusion is Sex album
Jim O'Rourke - Guitar, bass, synthesizer (2000-2005)
Anne DeMarinis - Keyboards (1981-1982); left before the band ever recorded anything, making her Sonic Youth's very own Pete Best.
Thurston's explanation for the name is that it's a combination of MC5 guitarist Fred "Sonic" Smith's nickname and the tendency of contemporary reggae acts to include "Youth" in their names (such as "Big Youth"). The "youth" part has kind of become bitterly ironic since Thurston, Kim, and Lee are in their sixties now, with Shelley and Ibold (the youngest members) not far behind.
Drawing on a wide variety of influences ranging from proto-punk acts like The Stooges and the Velvet Underground and Hardcore Punk to avant-garde musicians Glenn Branca, Rhys Chatham, and John Cage, Sonic Youth's early career was spent largely being a Sensory Abuse Noise Rock band and struggling with lack of recognition and cycling through a succession of drummers. Notably, the band sparred with music critic Robert Christgau over a dismissive review (renaming their song "Kill Yr Idols" to "I Killed Christgau with My Big Fucking Dick" in concert), had a disastrous debut in London ending in instrument destruction (which paradoxically got rave reviews) and released a mediocre debut suffering from horrible production, Confusion Is Sex, that hardcore fans love but everybody else tends to ignore. (Christgau and the band later reconciled, and he gave high ratings to many of their later albums, including an A+, his highest rating, to A Thousand Leaves.)
Starting with 1984-1985, the band managed to sort out their career, finally obtaining a permanent drummer with Steve Shelley of The Crucifucks (whose hyperactive style fit the group very well indeed), getting Record Producers with actual ears to work on their albums and toning down their extreme True Art-iness in favour of a middle ground between avant-garde noise and energetic Alternative Rock. With albums like Bad Moon Rising, EVOL, Sister, and its universally acclaimed double album Daydream Nation, the band refined its Signature Style, striking the perfect balance between arty, experimental Noise Rock and accessible, catchy Alternative Rock. Thurston and Kim also got married in this period and remained together until late 2011. However, not all was fun and games: The band suffered from distribution and payment issues from its indie record labels, Homestead, SST and Enigma — Thurston had some particular choice words for Enigma, deriding it as a "cheap-jack Mafioso outfit" and trashing them over their difficulty in supplying Daydream Nation to stores.
Sick of being jerked around by distribution deficient indie labels, Sonic Youth jumped ship and signed on to Geffen Records' sublabel DGC in 1990. Their first album for Geffen DGC, Goo, represented a concentrated blast of alt-rock noise, and accordingly sold better than previous albums and spawned the band's biggest hit: "Kool Thing." In the same year, Kim's staunch support persuaded Geffen to also bring on board devoted Sonic Youth fans Nirvana, making them indirectly responsible for the popularisation of Grunge in The '90s. Nirvana and Sonic Youth quickly became friends too (Sonic Youth's Whores Moaning EP was a blatant Shout-Out to Nirvana's Hormoaning, and its cover showed one of Kurt Cobain's toys). Their follow-up, Dirty, was produced by Butch Vig and engineered by Andy Wallace (the guys behind Nevermind) and also proved to be a decent success.
Many fans predictably whined It's Popular, Now It Sucks! after Sonic Youth went to a major label and gradually began abandoning the band in droves. This didn't initially affect their popularity much, as the band managed to pump out more successful albums and underwent a stylistic evolution starting with Washing Machine, abandoning their Punk Rock roots and indulging more freely in long noise jams. Kim also began playing guitar more often and eventually abandoned the bass entirely. They also found enough free time to release experimental records on their SYR label and collaborate with experimental noise musicians such as John Cage, Yoko Ono, Steve Reich, Christian Marclay, and Mission of Burma.
Sonic Youth hit a huge speedbump when all of their instruments, amps, and gear were stolen on July 4, 1999 during their tour and their new album NYC Ghosts & Flowers quickly got a massive panning due to its self-indulgent jamming and pretentious, humourless, Narmy lyrics. However, they managed to recover quickly through the addition of new member Jim O'Rourke and releasing Murray Street, which was roundly hailed as a return to form. Most of their material since has been more accessible and melodic, with the avant-garde freakouts reserved for the SYR releases. Ever since, they've recovered their stolen gear, lost O'Rourke in 2005, recruited former Pavement bassist Mark Ibold in 2006 and left Geffen in 2008, moving to indie label Matador Records. In 2011, Moore and Gordon divorced, and the band went on hiatus shortly afterward.
---
Discography:
1982 - Sonic Youth EP
1983 - Confusion Is Sex (Bundled together with the Kill Yr Idols EP on re-release by Geffen)
1985 - Bad Moon Rising
1986 - EVOL
1987 - Sister
1987 - Master-Dik EP
1988 - Daydream Nation (Double album, considered their masterpiece)
1988 - The Whitey Album (released as Ciccone Youth, a parody of pop and alternative rap with tongue in cheek covers of "Into the Groove" by Madonna and "Addicted to Love" by Robert Palmer)
1990 - Goo (First album released on a major label)
1992 - Dirty
1994 - Experimental Jet Set, Trash and No Star
1994 - TV Shit (Recorded with Yamatsuka Eye)
1995 - Washing Machine
1995 - Screaming Fields of Sonic Love (Compilation of material up to Daydream Nation)
1995 - Made in USA (Soundtrack recorded in 1986, released in 1995)
1998 - A Thousand Leaves
1998 - Silver Session for Jason Knuth EP (Its name is a tribute to a Sonic Youth fan who committed suicide)
2000 - NYC Ghosts & Flowers
2002 - Murray Street
2002 - In the Fishtank 9 EP (Recorded with The Ex)
2004 - Sonic Nurse
2006 - Rather Ripped
2006 - The Destroyed Room: B-sides and Rarities (Compilation)
2009 - The Eternal (First album after returning to an indie label)
Sonic Youth Recordings series:
1997 - SYR1: Anagrama
1997 - SYR2: Slaapkamers Met Slagroom
1998 - SYR3: Invito Al Ĉielo
1999 - SYR4: Goodbye 20th Century (Double album of covers)
2000 - SYR5
2005 - SYR6: Koncertas Stan Brakhage Prisiminimui (Live recording)
2008 - SYR7: J'accuse Ted Hughes
2008 - SYR8: Andre Sider Af Sonic Youth (Live recording from the Roskilde festival with Merzbow)
2011 - SYR9: Simon Werner a Disparu (Soundtrack for the French film Simon Werner a Disparu)
In 2011, the band announced they were taking an indefinite hiatus following the divorce of Thurston Moore and Kim Gordon.
---
"Confusion is Tropes:"
---