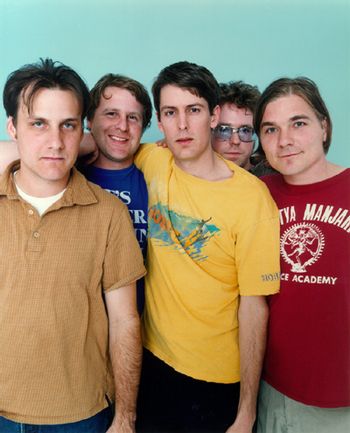 Pavement were a Cult Classic indie rock band from Stockton, California, initially active between 1989 and 1999. They were known as the figureheads of the indie rock movement in the USA during the 1990's and one of the Trope Makers for the lo-fi genre alongside Guided by Voices and Sebadoh. The band was one of the first indie rock bands to gain moderate success on Alternative Rock radio with their sole big hit "Cut Your Hair" in 1994.
Its members were:
Stephen Malkmus ("SM") - guitar, vocals
Scott Kannberg ("Spiral Stairs") - guitar, vocals
Bob Nastanovich - percussion, backing vocals, multiple instruments (1993-1999)
Mark Ibold - bass (1992-1999)
Gary Young - drums (1989-1993)
Steve West - drums (1993-1999)
First formed as a studio project for Malkmus and Kannberg, Pavement became a full-fledged band around 1992. While their initial material was marked by low recording quality and Noise Pop and Post-Punk influences (especially from The Fall), the band became more accessible, at least sonically, starting in The '90s - their albums Slanted and Enchanted and Crooked Rain, Crooked Rain established them as indie rock heroes and brought them a degree of popularity among indie kids. They moved away from outright indie into eclectic territory starting with Wowee Zowee (a change Malkmus attributed to excessive marijuana smoking), without losing their trademark messiness, while their last two albums are noticeably mellower and spacier (Terror Twilight verging on OK Computer at times due to sharing a producer in Nigel Godrich).
Pavement broke up in 1999 due to intra-band conflict (especially between Malkmus and the rest of the group), and they reunited pretty epically in 2010. However, Malkmus has said that no further tours are planned, and Nastanovich ruled out the possibility of new material, saying Malkmus no longer writes "songs in the Pavement mindset." They haven't ruled out the possibility of more performances at some point in the future, but said it wouldn't be anytime soon because they wanted to "keep it fun" and didn't want people who saw them in 2010 to feel ripped off that they had a second reunion so quickly. Some of the other members (Kannberg and Young, specifically) have joined Malkmus onstage at various solo shows, but there hasn't been a full reunion. Two 30th anniversary shows were planned for the 2020 Primavera Sound Festival in Spain, but due to the COVID-19 Pandemic, the Festival was rescheduled for 2021 and later cancelled a second time. The band later announced in September 21 that they planned a full-scale European tour for Fall 2022.
After the breakup of the band, Malkmus has had an extensive solo career, with six full-length albums released to date; Kannberg released two albums and an EP with his band Preston School of Industry and two albums as Spiral Stairs; Ibold has performed with a number of bands, including Sonic Youth and Free Kitten; Young has released three albums under the name Gary Young's Hospital; Nastanovich has performed with Silver Jews, Palace Brothers, Tall Dwarfs, Pale Horse Riders, and Misshapen Lodge; West currently sings in the band Marble Valley, which has released five albums and an EP.
They guest-starred in the Space Ghost Coast to Coast episode "Pavement", where they were misidentified as "The Beatles" and played a noisy cover of the show's theme song while Space Ghost attempted to interview another guest.
Discography:
Slay Tracks (1933-1969) EP (1989)
Demolition Plot J-7 EP (1990)
Perfect Sound Forever EP (1991)
Slanted and Enchanted (1992)
Watery, Domestic EP (1992)
Westing (By Musket and Sextant) (1993) - compilation featuring their first three EPs, some B-sides and compilation tracks
Crooked Rain, Crooked Rain (1994)
Wowee Zowee (1995)
Pacific Trim EP (1996)
Brighten the Corners (1997)
Terror Twilight (1999)
Major Leagues EP (1999)
Quarantine the Past: The Best of Pavement (2010)
Tropes represented by Pavement:
---