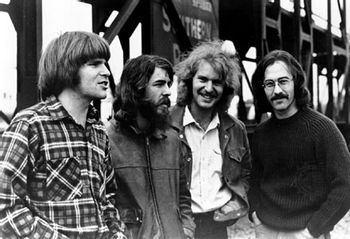 "Some folks are born made to wave the flag
Ooh, they're red, white, and blue
And when the band plays "Hail to the Chief"
Ooh, they point the cannon at you

Some folks inherit star-spangled eyes
Ooh, they send you down to war
And when you ask them, 'How much should we give?'
Ooh, they only answer, 'More! More! More!'"
Creedence Clearwater Revival, usually abbreviated as CCR (though diehard fans often prefer simply calling them "Creedence"), was a very popular rock band of the '60s and '70s. Like Lynyrd Skynyrd and The Allman Brothers Band, CCR helped define the Southern Rock genre of the era — this in spite of the band actually hailing from the San Francisco Bay Area.
The band members met in high school, first played together as The Blue Velvets in 1959, and signed to the jazz-based Fantasy Records label in 1964, initially as a singles-oriented Garage Rock act called The Golliwogs. In early 1967, they changed their name to Creedence Clearwater Revival and released their eponymous debut album. (The legend goes that they had a friend named Credence, and added an extra "e" to that; the "Clearwater" portion came from a beer ad.) Their cover of "Suzie Q" received lots of airplay and became their first in a string of Top 40 hits. Other notable songs from their career include "Proud Mary", "Bad Moon Rising", "Green River", "Down on the Corner", "Fortunate Son", "Run Through the Jungle", "Travelin' Band", "Lookin' Out My Back Door", and "Have You Ever Seen the Rain?".
Tom Fogerty quit in 1971, and the band broke up in 1972. They reunited in 1980 and 1983, though Clifford and Cook eventually founded Creedence Clearwater Revisited. John Fogerty started a solo career and eventually got sued for plagiarizing CCR because of a crooked deal he had inadvertently signed with Fantasy Records owner Saul Zaentz. He won the lawsuit,sidenote Fogerty's request for Fantasy to pay his attorney's fees went up to the Supreme Court, and remains a leading case on fee-shifting under the Copyright Act and under statutes authorizing discretionary fee-shifting more generally. and in 2007, he re-signed with Fantasy after the label's new owner reinstated his royalty payments for CCR's music. The bad blood between Fogerty, Cook, and Clifford persists, however; when CCR was inducted into the Rock & Roll Hall of Fame in 1993, Fogerty used his cachet to forbid Clifford and Cook from taking part in the live medley played by all of that year's inductees.
Tom died from AIDS (which he received from a blood transfusion during a back operation) in 1990. John has been a strong AIDS activist since.
In 2015, John Fogerty released his long-awaited autobiography, Fortunate Son. It goes into detail about what really happened with Creedence, Saul Zaentz, and John's years of musical inactivity.
Principal Members (Founding members in bold):
Studio and Live Discography:
<!—index—>
---
There's a bad trope on the rise:
"Well don't go 'round tonight
Well it's bound to take your life
There's a bad moon on the rise"
---