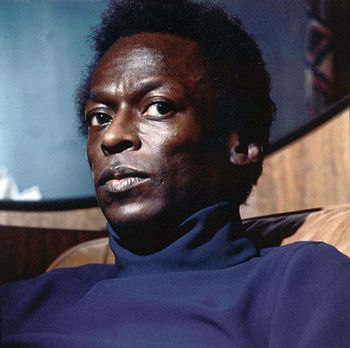 The hanging gardens of Babylon
Miles Davis the black unicorn
I give to you
Miles Dewey Davis III (May 26, 1926 – September 28, 1991) was a trumpeter, one of the most famous Jazz musicians and composers to have ever lived.
It's impossible to do justice to his long and innovative career, so we're going to try to sum up the highlights. To Make a Long Story Short: he started as a bebop musician playing trumpet with Charlie Parker, before ending up at the forefront of almost every major development in jazz after The '40s, helping pioneer subgenres such as cool jazz, modal jazz, Jazz Fusion and jazz-rock, and by his death he had become one of the most influential and innovative musicians of the 20th century. Basically he is sort of the Nirvana of jazz: everybody gets into him at a given moment.
His backing bands have included numerous musicians that would go on to become famous in their own right, such as saxophonists Gerry Mulligan, John Coltrane, Sonny Rollins, Cannonball Adderley, George Coleman, Wayne Shorter, and Kenny Garrett; trombonist J. J. Johnson; pianists Bill Evans, Herbie Hancock, Chick Corea, Joe Zawinul, Red Garland, Wynton Kelly, and Keith Jarrett; guitarists John McLaughlin, John Scofield and Mike Stern; bassists Paul Chambers, Ron Carter, Marcus Miller, and Dave Holland; and drummers Tony Williams, "Philly Joe" Jones, Billy Cobham, and Jack DeJohnette. He sometimes collaborated with Big Band-leader Gil Evans, and planned collaborations with Jimi Hendrix and Prince were cancelled due to the deaths of Hendrix and of Miles himself.
1959's Kind of Blue and 1970's Bitches Brew are often cited as the two top selling jazz albums ever made, with the former also being cited as the best jazz album ever made. His Psychedelic Rock-influenced jazz-fusion material from the 1970s has proved to be very influential among various rock and Alternative Rock acts (such as Radiohead, Brian Eno, King Crimson, Frank Zappa, Pink Floyd, Steely Dan, Talk Talk, Tangerine Dream, Talking Heads, Can), making him probably the most influential jazz musician when it comes to rock. His massive discography (48 studio, 36 live and 35 compilations over the span of 40 years) as a whole can be a frequent source of discontinuities due to containing every style of jazz in existence.
---
Albums with their own trope page:
---
Film soundtracks:
---
Tropes:
---