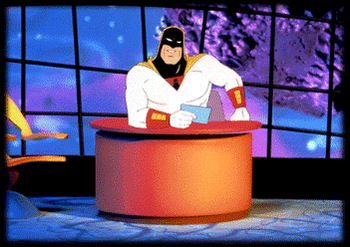 "Today, Space Ghost has suffered perhaps the ultimate humiliation any superhero can endure. He has become a talk show host."
What happens when you take stock footage from a 1960s action cartoon, have the people responsible imbibe some fine hallucinogens, and re-use it in a nonsensical talk show spoof? You'll get something like Space Ghost Coast to Coast, one of the earliest outputs of Ghost Planet Industries (now known as Williams Street Productions) and Cartoon Network's first fully produced original series.
Coast to Coast, which had 104 episodes produced between 1994 and 2008 note Not counting the Copa Toon episodes made specially for Latin America during 2002 and 2003 on a fairly sporadic basis, ostensibly followed the talk show career of titular former superhero Tad Ghostal (better known as Space Ghost) as he interviewed various celebrity guests — but the episodes usually degenerated into Space Ghost bickering with Zorak and Moltar (two former enemies of Space Ghost who SG forced to become his band leader and director respectively) or some other off-the-wall craziness.
The series is known for being one of Adult Swim's most notable creations in their history - the limited animation (and smaller budget), surreal stoner humor and pervasive tone of excessive weirdness inspired the creation of several other shows, like (most notably) Aqua Teen Hunger Force, which could be considered a Spiritual Successor to this show, despite the two running at basically the same time.
After its final episode in 2004, the show had a brief revival over Gametap in 2008. In The New '10s it had another mini revival with small scale interviews inbetween other shows as well as the April Fools interview with Tommy Wiseau. Unfortunately with the death of Clay Martin Croker (a writer for the show as well as the voice of Zorak and Moltar) in September of 2016, and George Lowe (the voice of Space Ghost) experiencing health issues in recent years, it is unlikely that the show will see any sort of revival in the foreseeable future.
---
This series includes examples of:
---