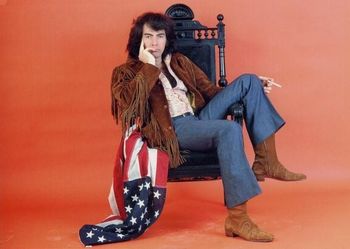 "What a beautiful noise
Coming into my room
And it's waiting for me
Just to give it a tune."
— "Beautiful Noise"
Neil Leslie Diamond (born January 24, 1941 in Brooklyn, New York) made his debut as a Singer-Songwriter in the mid-Sixties, with such hits as "Cherry Cherry", "Girl, You'll Be a Woman Soon", and "Sweet Caroline". Diamond also had a massive hit with 1972 concert album Hot August Night. He has revived his career many times, starting with the successful soundtrack album from the failed movie Jonathan Livingston Seagull. The momentum that had run out by the beginning of The '80s was given new force with the song "Heartlight", which was rejected from the soundtrack of the movie E.T. the Extra-Terrestrial but was accepted by millions of fans.
Diamond faded a bit in The '90s but still has a following.
Elected to the Songwriters Hall Of Fame in 1984 and the Rock & Roll Hall of Fame in 2011.
---
Album discography (excluding compilations):
open/close all folders
Studio albums
The Feel of Neil Diamond (1966)
Just for You (1967)
Velvet Gloves and Spit (1968)
Brother Love's Traveling Salvation Show (1969)note
Touching You, Touching Me (1969)
Tap Root Manuscript (1970)
Stones (1971)
Moods (1972)
Rainbow (his first Cover Album) (1973) - this is a compilation of covers that appeared on his Uni Records albums.
Jonathan Livingston Seagull soundtrack album (1973)
Serenade (1974)
Beautiful Noise (1976)
I'm Glad You're Here With Me Tonight (1977)
You Don't Bring Me Flowers (1978)
September Morn (1979)
The Jazz Singer soundtrack album (1980)
On the Way to the Sky (1981)
Heartlight (1982)
Primitive (1984)
Headed for the Future (1986)
The Best Years of Our Lives (1988)
Lovescape (1991)
The Christmas Album (1992)
Up on the Roof: Songs from the Brill Building (his second Cover Album) (1993)
Tennessee Moon (1995)
The Movie Album: As Time Goes By (his third Cover Album) (1998)
Three Chord Opera (2001)
12 Songs (2005)
Home Before Dark (2008)
A Cherry Cherry Christmas (2009)
Dreams (his fourth Cover Albumnote ) (2010)
Melody Road (2014)
Live albums
Gold: Recorded Live at the Troubadour (1970)
Hot August Night (1972)
Love at the Greek (1977)
Hot August Night II (1987)
Live in America (1994)
Stages: Performances 1970-2002 (2003)
Hot August Night/NYC (2009)
Film and TV appearances:
---
"They're troping to America, today":
---