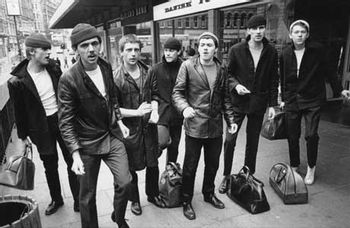 "
People call us arrogant, but just because we know we are right, it doesn't make us arrogant.
"
—Kevin Rowland's live show banter
A British New Wave group founded in Birmingham in 1978, Dexys Midnight Runners are probably one of the best known One Hit Wonders of all time, although to label them as such would be a misnomer. The band that brought us the ridiculously catchy single "Come On Eileen" was created by Kevin Rowland and Kevin "Al" Archer, two guitarists who had previously been members of a a Birmingham punk group called the Killjoys. Fans of soul music, this duo created Dexys Midnight Runners as a horn-driven Northern Soul outfit which achieved success with its early singles "Geno" and "There, There, My Dear" and their seminal album Searching for the Young Soul Rebels.
After several changes in their line-up, including the integration of strings into the group to create a fusion of Irish folk and soul music (heavily influenced by the work of Van Morrison) described by Rowland as "Celtic Soul," Dexys released a second album entitled Too-Rye-Aye, which contained the enormously successful single "Come On Eileen," the group's only American hit.
This was followed up by several further singles, a whittling down of the band from many members to a core quartet (Rowland, violinist Helen O'Hara, guitarist Billy Adams and saxophonist Nick Gatfieldnote Gatfield left the band before Don't Stand Me Down was released, but after recording was completed) and a third album, Don't Stand Me Down. Unfortunately for Rowland's vision, this album turned out to be a commercial failure, primarily due to his ardent perfectionism in the studio which saw the album (which he originally resolved to complete in three weeks) taking three years and at least as many producers to record, with costs running to half a million pounds. This was compounded by his refusal to release a single before the album was released (and it didn't help that the song eventually issued as a single, "This is What's She's Like," was twelve minutes long). Nevertheless, it is considered to be the band's ultimate artistic triumph, and frequently appears on "best album" retrospective lists in the British music press. The band would break up a short time later.
After a few solo efforts (most infamously the My Beauty Cover Album) and years spent battling personal demons, Kevin Rowland got the band back together in 2003 under the abbreviated name Dexys. A new studio album: One Day I'm Going to Soar was released in June 2012. A fifth album, Let the Record Show followed in 2016.
---
The band's albums are:
Searching for the Young Soul Rebels (1980)
Too-Rye-Aye (1982)
Don't Stand Me Down (1985)
One Day I'm Going to Soar (2012)
Let the Record Show (2016)
---
Notable songs include:
---
Tropes:
---