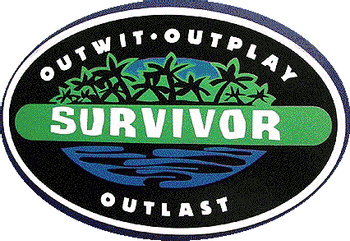 "Outwit. Outplay. Outlast."
Survivor is... it's...
Well, if The Real World is the grand-daddy of the reality show, Survivor is the daddy. It debuted in 2000, proved to be a huge hit and a big moneymaker for CBS, and launched a wave of reality shows that, even in The New '20s, we're still recovering from.
The story is as follows: a fixed number of men and women are stuck in a wilderness setting (typically, but not always, a deserted tropical island; all the better to get the contestants out of their clothes), where they're divided into at least two tribes (mostly random, but sometimes by gender, age or race). Then they must build a shelter and make fire so they can safely eat food and drink water. Oftentimes they get to take in a luxury item from home, or they'll have to win it. Each week, the tribes compete in a series of challenges, where they win rewards and Immunity, which allows them to avoid Tribal Council. The losers (who attend Tribal Council) then have to decide which of them will be Voted Off the Island. When a sufficient amount of time has passed, the tribes are merged into one and nearly all the challenges, rewards, and immunities become individual, rather than tribe-based. After 39 days, 2-3 people are left for the Final Tribal Council, where the recently eliminated contestants from the merged tribe form the Jury and vote to decide who wins the $1,000,000 prize.
A guilty pleasure if ever there was one, although some actually do watch the show for sociological purposes, like with Big Brother.
A number of podcasts dedicated to contestant interviews, remembering past seasons nostalgically, and discussing strategy exist online, including Rob Has a Podcast, Armchair Survivor, Survivor Oz, Dom And Colin
, and Survivor Historians
.
A list and summary of the US seasons can be found on the Recap page.
Based on a format created by Charlie Parsons. The first produced show based on the format was the Swedish reality game show Expedition: Robinson. The original concept was said during All-Stars to have been inspired by William Golding's 1954 novel Lord of the Flies.
Not to be confused with that one show that's actually about surviving. Or the third series from Erin Hunter. Or the band best known for "Eye of the Tiger". Or the game about trying to escape from a fire.
Note: The Australian version now has its own page.
WARNING: Spoilers ahead are unmarked. You have been warned.
---
Previously on... Survivor!
open/close all folders
General Tropes
Season-Specific Tropes A-M
Season-Specific Tropes N-Z
---
---