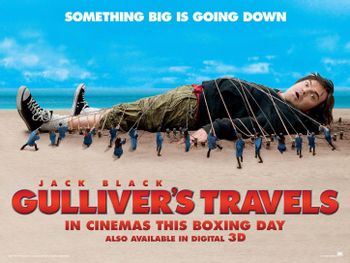 Gulliver's Travels
is a 2010 comedic "
adaptation
" of
Jonathan Swift
's
book
starring
Jack Black
. It opened to poor reviews and failed domestically in the USA, though it was saved from being a bomb by strong overseas sales.
Lemuel Gulliver is a thirty-something loser who has been working as a mail-room clerk for ten years, not having the drive or ambition to make anything of himself. But his world view is left shaken when a younger co-worker is promoted ahead of him in just one day, and he decides to try and make something of his life. In a botched attempt to ask out his attractive co-worker Darcy, who also happens to be the newspaper's travel editor, Gulliver instead asks if he can try writing a piece for her.
Gulliver has a knack for writing, or at least copying and pasting articles from more talented writers, and an impressed Darcy ends up sending him on an assignment to the Bermuda Triangle. Unfortunately Gulliver ends up shipwrecked on the island of Lilliput, which is filled with tiny people. He's captured and put to work by the General, until he ends up saving the King and Princess from invaders. He's then celebrated by the people instead. When his ship is found, along with his phone, Gulliver receives several angry voicemails from Darcy, who has found out that he copied his work from other people. Afraid to return, he decides to stay in Lilliput.
However the General isn't happy with that, especially when the King asks him to step down from his position so that he can promote Gulliver to General. He decides to take matters into his own hands, to show the people of Lilliput that Gulliver isn't the hero he claims to be.
---
The movie provides examples of: