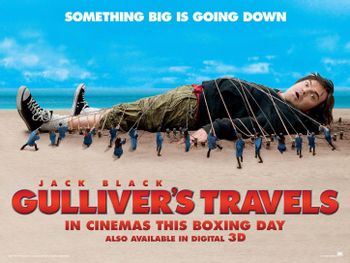 Gulliver's Travels
is a 2010 fantasy adventure comedy film directed by Rob Letterman and
loosely based on
the first part of
Jonathan Swift
's
book of the same name
. It stars
Jack Black
, with
Jason Segel
,
Emily Blunt
,
Amanda Peet
,
Billy Connolly
,
T.J. Miller
and
James Corden
among the supporting roles.
Lemuel Gulliver (Black) is a thirty-something loser who has been working as a mail-room clerk for ten years. After a long time of not having the drive or ambition to make anything of himself, he decides to try and make something of his life. In a botched attempt to ask out his attractive co-worker Darcy (Peet), who also happens to be the newspaper's travel editor, Gulliver instead asks if he can try writing a piece for her.
Gulliver has a knack for writing — or at least copying and pasting articles from more talented writers — and an impressed Darcy ends up sending him on an assignment to the Bermuda Triangle. Unfortunately, Gulliver ends up shipwrecked on the island of Lilliput, which is filled with tiny people. He's captured and put to work by the General, until he ends up saving the King and Princess from invaders, after which he's then celebrated by the people instead.
When Gulliver gets word that Darcy has found out about his plagiarism, he decides to stay in Lilliput out of fear, which doesn't bode well with Lilliput's commander, General Edward Edwardian (Chris O'Dowd), who sets out to show the people of Lilliput that Gulliver isn't the hero he claims to be.
---
The movie provides examples of:
---