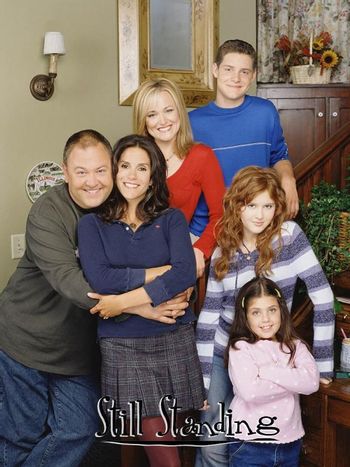 "I wouldn't have it any other way,
Cause you make me happy..."
Still Standing is a family Sitcom that aired on CBS for four seasons from 2002-2006, characterized by notoriously bad parents. Despite this fact, their three kids are actually (relatively) well-adjusted.
Set in Chicago, Bill (Mark Addy) and Judy (Jami Gertz) Miller have never really given up their high-school antics, despite having three children to raise: brainy Brian (Taylor Ball), spoiled Lauren (Renee Olstead), and strange little Tina (Soleil Borda). Judy's unlucky-in-love sister Linda (Jennifer Irwin) often pops in to trade barbs with Bill. The end of episodes usually deal with a role reversal by having the kids teach a lesson to the adults.
Has nothing to do with the Glurge-filled Strawman Political autobiography penned by a Miss USA contestant, the documentary/stand-up series
about troubled small towns in Canada, or the Elton John song "I'm Still Standing".
---
Still Tropes:
---