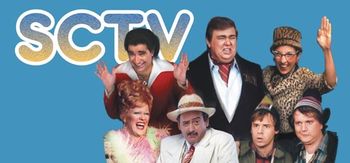 "There were six people who loved to watch television, but they didn't like what they saw—so they decided to do something about it..."
Proof that Canadians are attempting to control America through comedy.
In 1976, there was a small group of comedians from Toronto's Second City Theatre troupe. Several of them were simultaneously working together for a season on the much-more-hyped-at-the-time-but-now-forgotten The David Steinberg Show (a variety/sketch/sitcom hybrid they appeared on, but did not write). While working on Steinberg's show, they got together, and wrote and starred in their own sketch comedy show around the premise that the sketches were episodes of local shows (or commercials for local businesses) being produced and aired by a television station in the mythical city of Melonville. It debuted the same week as The David Steinberg Show...
Their ragtag, no-budget show, SCTV (Second City Television), went on to have probably more impact on American comedy than virtually any other North American show you can name.
How is that? Well, let's run down the original cast: John Candy, Joe Flaherty, Eugene Levy, Andrea Martin, Catherine O'Hara, Harold Ramis (for seasons one and two), and Dave Thomasnote the same one who voiced the Elliot Ness-esque chief of police Rex Banner on the season eight Simpsons episode where alcohol gets banned in Springfield after Bart gets drunk at the town's St. Patrick Day parade. Add in latecomers Rick Moranis and Martin Short (and the perennially forgotten feature players Robin Duke and Tony Rosato, who are now mostly remembered for being overshadowed by Eddie Murphy and Joe Piscopo during Saturday Night Live's shaky years between 1980 and 1983), and you have a veritable who's who of '70s-'80s Canadian comedynote Although Flaherty, Martin and Ramis were actually American, they were working in Canada.. Due to the connections between the Chicago and Toronto branches of the Second City comedy troupe, there was considerable constructive feedback between this show and Saturday Night Live.
The show started with a thirty-minute format on the Global Television Network, which ran from 1976-1979. After that, the show was picked up by CBC and expanded to an hour. During this era, the show's most popular characters, Bob and Doug McKenzie, debuted. It also aired in US syndication. The show was expanded to ninety minutes in 1981 when NBC picked it up as late-night programming (this version was known as SCTV Network 90). During this stretch of the run, coupled with the fact that it was neither live nor taped before a live audience, it was able to push the boundaries of traditional sketch comedy. It won 15 Emmys over its network lifespan. A final season of 45-minute episodes aired on Superchannel in Canada and Cinemax in the U.S. (as SCTV Channel) over 1983-84.
Strange Brew was the sole film based on any of the skits from the show.
---
SCTV provides examples of:
What the Hell Is That Accent?: Andrea Martin's Perini Scleroso and Mojo each had bizarre and unplaceable foreign accents (but different ones!)

Supposedly Perini Scleroso was Turkish according to one sketch, but who knows?

Where the Hell Is Springfield?: The show is set in a town called Melonville, with a location only ever pinned down to the country: the United States of America. American currency is regularly featured when currency is used (despite the show being filmed in Canada for its entire run) and a number of P.O. boxes are located in various American towns. Various gags and lines in the show seem to place Melonville in southern California, somewhere around Los Angeles: Encino is close enough to Melonville for Moe Green to commute from his apartment, the first season news sketches occasionally included a look at celebrity gossip in Hollywood, and Sammy Maudlin's guests repeatedly refer to Hollywood as "this town" (and it's confirmed that Maudlin tapes at SCTV). Bobby Bittman also mentions owning a house in Bel Air.

The fact that they piped in content from the CBC in one episode and Earl Camembert goes down to San Francisco in another seems to point to Melonville being somewhere in the far northern U.S., near the Canadian border, but this doesn't really narrow it down much (anywhere from New England to the far northern Midwest to the northern reaches of the Rockies to The Other Rainforest). Much like the trope namer, Melonville is everywhere and nowhere.
One SCTV News skit had Mayor Shanks being quoted as "moving the 10,000 (unemployed residents) to Plattsburgh, let them worry about it." Plattsburgh is in real life a town on the border between New York and Vermont, and is relatively close to the Canadian border, so it might be somewhere near there, too.

Melonville is also in a climate that's cold enough for them to get substantial amounts of snow during the Christmas season, which makes it unlikely that Melonville is anywhere in the southwestern U.S. (including Los Angeles), unless there's a freak snowstorm or they're situated very high up in the Rockies. The most likely candidate for Melonville's location is somewhere in New England or the upper Midwest... but that still leaves the issue of the references that put it in L.A., which also complicate the fact that it's stressed that San Francisco is south of Melonville and the fact that they receive snow in the winter.
In the episode where Johnny LaRue runs for a seat on the Melonville city council, the election coverage makes use of Canadian election terminology, further muddying the waters.

Melonville was sometimes described as being in the Tri-State area.
You Say Tomato: John Candy and Eugene Levy as Yosh and Stan Schmenge each pronounced their last name slightly different (which was part of the joke). Candy pronounced it "Shmen-gee", while Levy's pronunciation sounded more like "Schman-gee."

Earl Camembert always pronounced his last name "Cannonbear", the subtle joke being that he's so dense he doesn't know how to say his own name!

However, Floyd Robertson also pronounced Camembert as "cannonbear," so either that's how it's really pronounced or they are both just that dense!
Earl's name is actually mentioned in a season 1 news sketch. Floyd asks why "Camembert" is not pronounced like the cheese but like "Cannonbear," and Earl replies with "That's just how I say it, Floyd."

Zoom In Zoom Out: A method of simulating "3-D" effects on the cheap. Averted by the makers of the "Dr. Tongue" series, who were apparently too cheap or incompetent even for that. Instead, the actors simply thrust objects toward the camera, then pulled them back again, to the tune of zoom-in-zoom-out music.
---