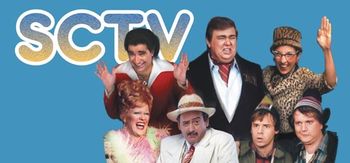 "There were six people who loved to watch television, but they didn't like what they saw—so they decided to do something about it..."
Proof that Canadians are attempting to control America through comedy.
In 1976, there was a small group of comedians who had worked together for a season on a previous series, The David Steinberg Show — a sort of It's Garry Shandling's Show a good decade before Garry Shandling did it. They got together and produced a sketch comedy show around the premise that the sketches were episodes of local shows (or commercials for local businesses) being produced and aired by a television station in the mythical city of Melonville.
This show, SCTV (Second City Television), has probably had more impact on American comedy than most American shows.
How is that? Well, let's run down the original cast: John Candy, Joe Flaherty, Eugene Levy, Andrea Martin, Catherine O'Hara, Harold Ramis (for seasons one and two), and Dave Thomasnote the same one who voiced the Elliot Ness-esque chief of police Rex Banner on the season eight Simpsons episode where alcohol gets banned in Springfield after Bart gets drunk at the town's St. Patrick Day parade. Add in latecomers Rick Moranis and Martin Short (and the perennially forgotten feature players Robin Duke and Tony Rosato, who are now mostly remembered for being overshadowed by Eddie Murphy and Joe Piscopo during Saturday Night Live's shaky years between 1980 and 1983), and you have a veritable who's who of '70s-'80s Canadian comedynote Although Flaherty, Martin and Ramis were actually American, they were working in Canada.. Due to the connections between the Chicago and Toronto branches of the Second City comedy troupe, there was considerable constructive feedback between this show and Saturday Night Live.
The show started with a thirty-minute format on the Global Television Network, which ran from 1976-1979. After that, the show was picked up by CBC and expanded to an hour. During this era, the show's most popular characters, Bob and Doug McKenzie, debuted. It also aired in US syndication. The show was expanded to ninety minutes in 1981 when NBC picked it up as late-night programming (this version was known as SCTV Network 90). During this stretch of the run, coupled with the fact that it was neither live nor taped before a live audience, it was able to push the boundaries of traditional sketch comedy. It won 15 Emmys over its network lifespan. A final season of 45-minute episodes aired on Superchannel in Canada and Cinemax in the U.S. (as SCTV Channel) over 1983-84.
---
SCTV provides examples of:
---