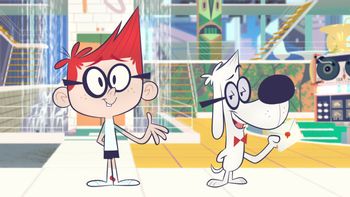 "Ladies and Gentlemen, DreamWorks Animation proudly presents your hosts: Mr. Peabody and his boy Sherman!"
The Mr. Peabody & Sherman Show is a Netflix created by DreamWorks Animation. It serves as both a reboot of the "Peabody's Improbable History" segments in Rocky and Bullwinkle and a spin off of the 2014 animated feature also produced by DreamWorks.
The series, as with the previous incarnations, stars Peabody, the world's smartest dog, and his adopted son Sherman as they travel through time and encounter comical versions of various Historical Domain Characters. However, as their Time Travel exploits have been exposed to the world at large, here, they've decided to capitalize on it by turning it into a Variety Show.
Max Charles, who played Sherman in the film, reprises his role while Chris Parnell plays Mr. Peabody.
Ran for four seasons from 2015-2017. Likewise played on Universal Kids.
---
The New Mr. Peabody & Sherman Tropes:
---