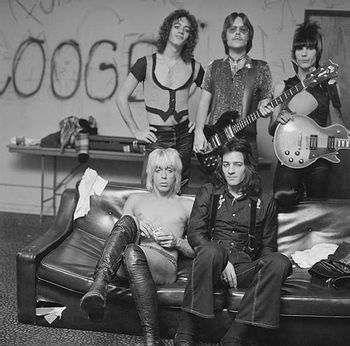 "I am the world's forgotten boy
The one who's searchin' only to destroy"
The Stooges
, "Search and Destroy" -
Raw Power
.
The Stooges were a Proto Punk band from Ann Arbor, Michigan, active between 1967-1974 and from 2003 onwards, who along with their fellow Michiganders MC5 proved to be enormously influential on the development of Punk Rock.
The band's Signature Style was aggressive, incredibly simple proto-punk based around Ron Asheton and later James Williamson's heavy, hypnotic riffs, Scott Asheton's tribal rhythms and Iggy Pop's awesomeness. One of the original Crazy Awesome front-men of rock, Pop was famous for his extreme behaviour during live concerts, which included rolling around in broken glass, smearing himself with peanut butter, performing without a shirt, inventing crowd-surfing and baiting and verbally abusing the audience.
The Stooges, much like their fellow protopunkers the MC5, only released three albums during their initial career. Their first two albums were The Stooges (Album) and Fun House. These didn't sell well but attracted a cult audience and were later Vindicated by History, recognised as classic Protopunk albums influencing countless Punk Rock, New Wave and Alternative Rock bands. The group temporarily collapsed in 1971 after being dropped from their record label and suffering from severe heroin abuse, but were quickly rallied by David Bowie, who got them a new contract and produced their final album Raw Power. Bowie's mix was frequently the source of controversy as he was brought in to salvage the album after a botched, amateurish mix by Iggy. The band barely lasted another year before breaking up for good. Iggy went on to a solo career and remained friends with Bowie until the latter's death in 2016.
Iggy was personally responsible for the controversial- to say the least- 1997 remaster of Raw Power, which is always cited as the worst possible example of the Loudness War. He also reunited the band in 2003, thankfully stayed away from the remasters of their other two albums and recorded a new Stooges album, The Weirdness. Fan reaction has largely been... mixed, with frequent invoking of Fanon Discontinuity. The Stooges released a new album in 2013, Ready to Die, which was received much better than their previous effort. Since Scott Asheton died in 2014, Iggy Pop is the only remaining founding member of the band, which now faces an uncertain future.
---
Studio Discography:
---
"Now I wanna be your tropes!":
---