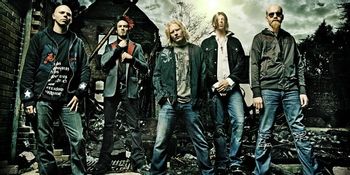 Stone Sour is an American Hard Rock / Alternative Metal band from Des Moines, Iowa, founded in 1992 by then-future Slipknot vocalist Corey Taylor and drummer Joel Ekman. The group disbanded in 1997 after Taylor and guitarist Jim Root joined Slipknot, but reunited in 2002 and have been active ever since.
Although not as famous or successful as Taylor's other band, Stone Sour has received critical and commercial acclaim (including gold certification from the Recording Industry Association of the America and may top 10 album charts across the world), a top 40 hit on the Billboard Hot 100 in "Through Glass" from their sophomore album, Come What(ever) May, and Grammy nominations for Best Metal Performance for "Get Inside" (2003), "Inhale" (2004), and "30/30-150" (2006).
On August 10, 2020, Taylor has announced that the group is on an indefinite hiatus.
---
Final line-up:
Corey Taylor - lead vocals, guitar (1992-1997, 2000-2020)
Josh Rand - guitar (1993, 2000-2020), bass (2000-2001)
Roy Mayorga - drums (2006-2020)
Johny Chow - bass, backing vocals (2012-2020)
Christian Martucci - guitar (2014-2020)
Former members:
Joel Ekman - drums (1992-1997, 2000-2006)
Shawn Economaki - guitar (1993), bass (1994-1997, 2000-2011)
Jim Root - guitar (1993-1997, 2000-2014)
---
Studio Discography
2002 - Stone Sour
2006 - Come What(ever) May
2010 - Audio Secrecy
2017 - Hydrograd
---
Live discography
---
I'm looking at you through the tropes:
Concept Album: House of Gold & Bones is a double concept album that comes with a graphic novel of the same name. Though both albums were released beforehand, the graphic novel was released in four parts throughout 2013. The plot revolves around a character called the Human, who wakes up in a strange world

which is later revealed to be a manifestation of his consciousness and life experiences

, and is told by his doppelganger Allen that he must find the House of Gold and Bones before an event called The Conflagration happens, all the while being pursued by Black John and his gang of Numbers.
Early-Installment Weirdness: "Get Inside" and several other songs from the first album sound like slightly tamer outtakes from Iowa, which was being produced around the same time.
Jade-Colored Glasses: Come What(ever) May is an album rich with varying degrees of cynicism.
Lighter and Softer: While they can get quite heavy in their right at times, especially on their self-titled debut, they are this compared to Corey Taylor's other band, Slipknot.
Silly Love Songs:

"Say You'll Haunt Me" is dedicated to Corey Taylor's then-spouse, Stephanie.note
"Song #3" focuses on the strong feelings after meeting that special person. Namely, the desire, the doubt, the uncertainty, and also the complete devotion. Corey described it as a song about a certain kind of love songwriters don't really talk about.

Soprano and Gravel: Taylor is a one-man version; his vocals often alternate between shouts and melodic singing.
Stone Sour's music videos provide examples of:
Performance Video: "Say You'll Haunt Me" and "Absolute Zero" have projections of the band performing.
Take a Third Option: The man in "Absolute Zero" is tempted to press one of the two buttons (one black, one gold) on a table in the back half of the song, but ultimately settles for neither.
---