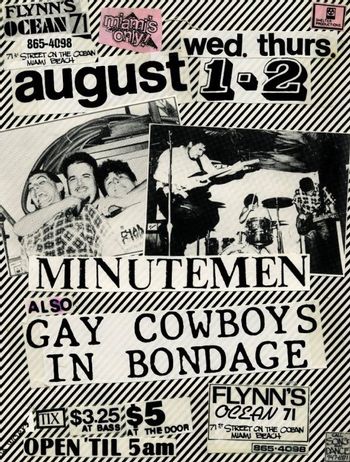 "Our band could be your life!"
—The Minutemen, "History Lesson, Pt. II"
Minutemen were a punk rock band from San Pedro, California.
One of the well known bands from the US underground rock scene of the 1980s. A Rock Trio consisting of guitarist D. Boon, bassist Mike Watt and drummer George Hurley, they started out creating very short, simple punk songs, usually with a political theme. Unusually they incorporated jazz influences as well various other styles that reflected their DIY ethic.
They were active from 1980 to 1985, when their frontman D. Boon died in a van crash in Arizona. In 1986, Watt and Hurley formed a new band, fIREHOSE, with new lead singer and guitarist Ed Crawford. That band played together until 1994, after which Watt embarked on a solo career.
Studio releases
Paranoid Time EP (1980)
Joy EP (1981)
The Punch Line (1981)
Bean Spill EP (1982)
What Makes a Man Start Fires? (1983)
Buzz or Howl Under Influence of Heat EP (1983)
Double Nickels on the Dime (1984)
Tour-Spiel EP (1984)
Project: Mersh EP (1984)
3-Way Tie for Last (1985)
Minuteflag EP (1986, with Black Flag)
---
Double Tropes on the Dime:
---